Diana's Desserts - www.dianasdesserts.com
See more recipes in
Chocolate Sweets
Gianduja Pate'
in Diana's Recipe Book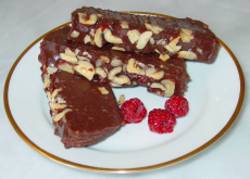 [Be the first to post a review!]
Servings: 8-12
Comments:
Gianduja Pate'(Chocolate Hazelnut Pate')

"I first tasted this blend of flavors in Italy and thought I'd died and gone to heaven. There's really no better combination in the world than chocolate and hazelnuts. Judge for yourself!

This dessert is very rich, and even I can only eat a small piece at a time"............A Chocolate Lover

Ingredients:

1 1/4 cups heavy cream
1/2 stick (4 tablespoons or 2 ounces) unsalted butter
1 pound Gianduja or bittersweet dark chocolate, chopped (I recommend Valrhona)**
1 cup ground toasted hazelnuts (toast nuts in sauté pan, grind to a powder and then measure)
1 teaspoon pure vanilla extract
Sliced Hazelnuts, for sprinkling top of pate'

FOR GARNISH:
Raspberry sauce and fresh berries, crème anglaise, or a dusting of powdered sugar.

Instructions:
1. Line a 8.5 x 4.5 x 2.5 inch loaf pan* with plastic wrap, smoothing it out as much as possible. Let plastic wrap hang over sides of pan (this is so it will be easier to lift pate' out of pan after chilled overnight).

2. Bring cream and butter to a simmer in a heavy bottomed saucepan over medium heat. Reduce to low and add the chocolate. Stir until smooth and shiny. Remove from heat and stir in the ground toasted hazelnuts and the extract.

3.Sprinkle top of pate' with sliced hazelnuts, and pour into the prepared pan. Chill, covered, overnight.

4. Remove from the refrigerator immediately before slicing thinly, using a hot, wet, knife. Plate immediately before the pâté has a chance to soften.

PRESENTATION SUGGESTIONS:
Serve with a Raspberry Sauce or with Crème Anglaise if you really want to be decadent.

*Note: If you like, you may use a "pate' mold" instead of a loaf pan to make this chocolate pate'. Pate' molds can be purchased at Cooking.com. Click on their banner on my website to search for pate' molds.
The molds can also be purchased at other cooking and baking supply stores on the Internet and elsewhere, or at gourmet cooking stores.

**Note
Valrhona Brand makes a Gianduja Chocolate for confectionery and baking use.

Valrhona Gianduja Chocolate can be purchased online at Chocosphere. Their URL web address is: http://www.chocosphere.com.
Source: DianasDesserts.com
Date: July 29, 2002