Diana's Desserts - www.dianasdesserts.com
See more recipes in
Candy and Confections
Chocolate Gianduja Cups
in Diana's Recipe Book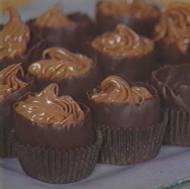 [Be the first to post a review!]
Servings: Makes 30 1-inch cups
Ingredients:

FOR THE FILLING:
9 ounces bittersweet chocolate, chopped
1 cup heavy cream
1/4 cup coarse-ground espresso beans
2 tablespoons Kahlua or other liqueur, optional
4 tablespoons unsalted butter, softened
8 ounces Gianduja chocolate, (milk or bittersweet chocolate with finely
ground hazelnuts)*
About 3 tablespoons chopped roasted hazelnuts, for garnish

FOR THE SHELLS:
1-2 lbs. bittersweet chocolate, chopped
Several wooden dowels, about 2 inches long, or wine corks,
wrapped in plastic wrap


Instructions:
FOR THE SHELLS:
Slowly melt about 3/4 of the chocolate in a double boiler.
When the chocolate is completely melted (approx.120°),
remove from the heat and add some of the remaining
chocolate. This will lower the temperature and begin to bring
the chocolate into temper to avoid streaking. Stir until the
chocolate is approximately 90°.

When the chocolate is ready, dip the wrapped dowel sections
halfway into the tempered chocolate. Set upside down, and
allow the chocolate to set completely (15-20 min.). Remove
the chocolate shell, carefully peeling the plastic away from
the chocolate cup. Repeat for desired number of chocolate
cups.

FOR THE FILLING:
Place the chocolate in a mixing bowl.

In a saucepan, bring the cream to a boil. Add the espresso
beans, remove from the heat, and infuse for 5 minutes. Return
to the heat and return the cream to a boil. Pour the cream
through a fine strainer over the bowl of chocolate. Discard the
beans. Stir the chocolate into a smooth ganache. Add liqueur, if using.
and allow to cool to room temperature.

Cream the butter and fold into the cooled ganache. Place in a
pastry bag fitted with a plain tip, and pipe the mixture into the
chocolate cups, filling each cup 3/4 full.

Chop the Gianduja chocolate into small pieces. Place in a
mixer bowl over a pot of hot water. When 1/4 melted, place in
a mixer with paddle attachment. Mix the chocolate until it is
creamy, smooth and pipeable. Reheat it as necessary for a
smooth consistency. Quickly place in a pastry bag fitted with
a #4 star tip and pipe rosettes onto the top of the dark
chocolate filling. Garnish with chopped hazelnuts if desired.

*Note: Valrhona makes a Gianduja Chocolate for confectionery use and baking.
Valrhona Chocolate can be purchased online at Chocosphere. Their web URL is: http://www.chocosphere.com.

Source: DianasDesserts.com
Date: July 23, 2002