Diana's Desserts - www.dianasdesserts.com
See more recipes in
Chocolate Sweets
Chocolate Hazelnut Biscotti
in Diana's Recipe Book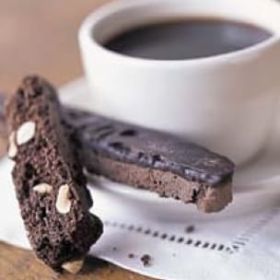 [Be the first to post a review!]
Servings: Makes 30 Biscotti
Comments:
These biscotti (Italian cookies) taste best with a nice hot cup of coffee or espresso. Dunking the biscotti in the coffee is the traditional Italian way of eating these wonderful treats.
Ingredients:

Biscotti:
4 oz. semisweet chocolate, coarsely chopped
1 cup firmly packed light brown sugar
1 3/4 cups unbleached all-purpose flour
1/3 cup unsweetened cocoa, preferably dutch process cocoa
1 1/2 tbsp. instant espresso powder
1 tsp. baking soda
1/4 tsp. salt
3 large eggs
1 1/4 tsp. vanilla extract
1/2 tsp. almond extract
1 cup hazelnuts, toasted and coarsely chopped

Chocolate Coating:
8 oz. semisweet or bittersweet chocolate, chopped
2 tsp. vegetable shortening
Instructions:
Preheat an oven to 300ºF/150ºC. Line a large baking sheet with parchment paper or waxed paper.

In a food processor fitted with the metal blade, combine the chocolate and brown sugar and process until the chocolate is very fine; set aside. Alternatively, use a blender, processing 1 oz. chocolate and 1/4 cup sugar at a time.

Sift together the flour, cocoa, espresso powder, baking soda and salt into a bowl; set aside. In a large bowl, combine the eggs, vanilla extract and almond extract. Using an electric mixer set on medium speed, beat to blend. Reduce the speed to low and mix in the sugar and flour mixtures until a stiff dough forms, adding the hazelnuts when the dough is about half mixed.

On a floured surface, divide the dough in half. Form each half into a log 12 inches long. Transfer the logs to the prepared baking sheet, spacing them well apart, and pat to even the shapes. Bake until almost firm to the touch, about 50 minutes (logs will spread during baking). Remove from the oven and let cool for 10 minutes. Leave the oven set at 300ºF/150ºC.

Using a spatula, carefully transfer the logs to a work surface. Using a serrated knife, cut logs on the diagonal into slices 1/2 to 3/4 inch thick. Arrange the slices, cut side down, on the baking sheet. Bake for 25 minutes. Turn the slices over and bake until crisp and dry, about 25 minutes more. Turn off the oven and let the biscotti cool completely in the oven with the door slightly ajar.

Meanwhile, make the chocolate coating: In the top pan of a double boiler, combine the chocolate and shortening. Place over but not touching simmering water in the lower pan and melt, stirring occasionally, just until smooth. Remove from the heat. Alternatively, melt the chocolate and shortening in a heatproof bowl placed over but not touching simmering water in a saucepan.

Dip one side of the cooled cookies in the hot chocolate coating and set, chocolate side up, on a baking sheet. Refrigerate until set. Store in an airtight container in the refrigerator for up to 2 weeks.

Makes about 30 biscotti.
Date: July 22, 2002