Diana's Desserts - www.dianasdesserts.com
See more recipes in
Easter
Russian Easter Bread (Kulich)
in Diana's Recipe Book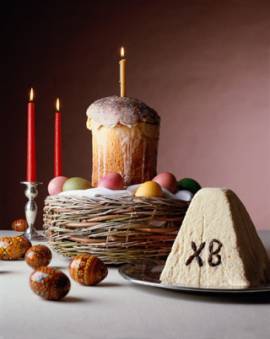 [Be the first to post a review!]
Servings: Makes 2 loaves
Comments:
A cross between brioche and challah, this bread (called kulich or babka) is a lightly sweetened, egg-glazed cylinder, often baked in a coffee can to make a tall loaf. The loaf would sit proudly in the center of the family Easter basket, surrounded by meats, cheeses, butter, and eggs. It's a central part of the Russian Easter meal, served with Sweet Paskha Cheese* (See recipe for Sweet Paskha Cheese on this website under Easter category), or unsalted butter.
Ingredients:

1 cup whole milk
1/2 cup sugar plus a pinch
3/4 cup (1 1/2 sticks/6 oz./170g) unsalted butter
Pinch of saffron threads, crumbled
2 teaspoons salt
2 1/2 teaspoons (1/4 ounce/7 grams) active dry yeast
1/4 cup lukewarm water (105 to 115 degrees F/40 to 46 degrees C)
6 cups all-purpose flour plus additional for dusting
4 large eggs

Confectioners' Sugar Glaze
(Optional-See recipe below)

Garnish: (optional)
Candied fruit or sliced almonds

Special equipment: 2 (5 to 6-cup) soufflé dishes or 2 (2 pound) cleaned empty coffee cans.
Instructions:
For the Dough:
Heat milk, sugar, butter, saffron, and salt in a 1-quart heavy saucepan over moderate heat, stirring occasionally, until butter is melted and sugar is dissolved, about 2 minutes. Remove from heat and cool to lukewarm.

Meanwhile, stir together yeast, warm water, and pinch of sugar and let stand until foamy, about 5 minutes. (If mixture doesn't foam, discard and start over with new yeast.)

Put flour in a large bowl and make a large well in center. Lightly beat 3 eggs and add to well along with milk and yeast mixtures. Carefully stir together with a wooden spoon, gradually incorporating flour, until a soft dough forms. Transfer dough to a lightly floured surface and knead, dusting with just enough flour to keep dough from sticking, until smooth and elastic, about 10 minutes. Put dough in a lightly oiled large bowl, turning to coat with oil, and let rise, covered with a clean kitchen towel, in a draft-free place at warm room temperature until doubled in bulk, about 3 hours.

Punch down dough and let rise again, covered with towel, until doubled in bulk, about 1 hour.

Form the Loaves:
Generously butter soufflé dishes. Punch down dough and divide in half. Loosely wrap 1 piece in plastic wrap and set aside. Cut away one third of remaining piece of dough and reserve, then roll remaining two thirds into a large ball and transfer to a soufflé dish.

Roll reserved piece of dough into an 18-inch-long rope on work surface with palms of your hands. Cut rope into 3 equal pieces and lay pieces vertically side by side on work surface, about 1/4 inch apart. Gather 3 ends farthest from you and press them together, then braid strands, pressing together other ends to secure braid. Lay braid over top of dough in soufflé dish (trim braid if using coffee cans). Form another loaf with remaining dough in same manner.

Cover loaves with clean kitchen towel and let rise in draft-free place at warm room temperature until doubled in bulk, about 1 1/2 hours (loaves will rise about 1 inch above rims of dishes).

Bake the Loaves:
Put oven rack in middle position and preheat oven to 350 degrees F/180 degrees C.

Lightly beat remaining egg with a large pinch of salt, then brush egg over top of each loaf. Bake loaves until golden brown and bread sounds hollow when tapped on bottom, about 1 hour. Turn loaves out onto a rack, then turn right side up and cool completely. When completely cooled, drizzle with glaze (see recipe below), if desired.

Makes 2 loaves.

Note:
Raisins and/or candied fruit or slivered almonds may be added to the dough, if desired. Also, if you'd like to make a confectioners' sugar glaze to drizzle over the tops of the loaves, see recipe below.

Tips:
Cover the bread with aluminum foil as soon as it starts to brown, and cover the loaves with a damp dish towel for 10 minutes as soon as they come out of the oven.

Bread can be made 1 day ahead and kept, wrapped in plastic wrap, at room temperature or frozen 2 weeks.

Confectioners' Sugar Glaze (optional)

Ingredients:
1 cup confectioners' sugar (icing sugar)
4 tsp. fresh lemon juice
1/4 tsp. almond extract

Instructions:
Whisk together the sifted confectioners' sugar, lemon juice, almond extract, and 2 - 4 teaspoons of water (or enough to make a pourable glaze) in a bowl. Set the kulich on a plate and drizzle the glaze over it, letting the glaze drip down the sides. Let the kulich stand until the glaze has hardened and then transfer it to a serving plate.
Date: April 1, 2008