Diana's Desserts - www.dianasdesserts.com
See more recipes in
Halloween
Spiderweb Chocolate Cupcakes
in Diana's Recipe Book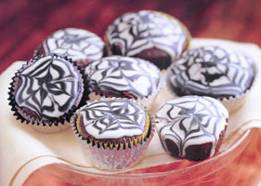 Average Rating:
(total ratings: 9)
[Read reviews]
[Post a review]
Servings: 12 cupcakes
Comments:
Follow this fun technique for creating
cobwebs with two different colors of
frosting. You can do this on cookies and
cakes, too. Kids can line the muffin tins,
mix the ingredients, spoon the batter
into the muffin cups and, of course,
supervise the icing.



Ingredients:

2 cups unbleached all-purpose flour
3 Tbs. unsweetened cocoa powder,
preferably
Dutch process
1 tsp. baking powder
1/2 tsp. baking soda
1/4 tsp. salt
4 Tbs. (1/2 stick) softened unsalted
butter
1 1/2 cups sugar
1 egg
2 tsp. vanilla extract
1 cup buttermilk

For the icing:
2 egg whites
2 1/2 to 3 cups confectioners? sugar
1 tsp. vanilla extract
2 Tbs. fresh orange juice
Black or dark brown food coloring




Instructions:
Preheat an oven to 350°F. Butter 12
muffin-tin wells or line them with paper
muffin cups.

In a medium bowl, whisk together the
flour, cocoa, baking powder, baking soda
and salt; set aside.

In a large bowl, using an electric mixer,
beat together the butter and sugar on
medium-high speed until light and fluffy.
Add the egg and vanilla and beat well.
Beat in the flour mixture in three
additions, alternating with the buttermilk.


Spoon the batter into the prepared
muffin tins, filling each one about
two-thirds full. Bake until a toothpick
inserted into the center of a cupcake
comes out clean, 16 to 20 minutes.
Remove from the oven, let the cupcakes
cool in the pan for 5 minutes, then
transfer to a rack and let cool to room
temperature.

To make the icing, in a bowl, using an
electric mixer, beat the egg whites on
high speed until soft peaks form. Add the
confectioners? sugar, vanilla and orange
juice and continue to beat until thick and
shiny. The icing should spread easily. If
too thick, add more orange juice. If too
thin, add more confectioners? sugar.

Transfer one-third of the icing to a small
bowl and color with black or dark brown
food coloring. Spoon this dark icing into
a pastry bag fitted with a tip, or pour it
into a plastic squeeze bottle.

Now, ice the cupcakes and make the
cobwebs: Spoon the white icing into the
center of a cupcake and spread with a
small spatula or butter knife. Starting at
the center of the cupcake, pipe a spiral
of the dark icing from the center to the
outer edge. Then drag a sharp knife
point from the center of the spiral to the
edge of the cupcake. Wipe the knife
clean, move about 1/2 inch to the left or
right, and drag the knife in the opposite
direction from the outer edge to the
middle of the cupcake. Continue in this
way until you have worked your way
around the cupcake and formed the
cobweb. Repeat with the remaining
cupcakes. Makes 12 cupcakes.

Source: DianasDesserts.com
Date: July 21, 2002
Reviews
Reviewer:
Tara
Rating:
Review:
I wouldn't put orange juice in the icing
Reviewer:
Haley Hinchman
Rating:
Review:
I'm only 14 years old, but I love to bake. And I loved this recipe. I made it, and my dad ate it all! I'm going to make it again for my halloween party tomorrow!...Thanx Diana! they were great
Reviewer:
peter
Rating:
Reviewer:
Annalee
Rating:
Review:
They look so yummy.I'm defintily going to cook these for halloween and right now.
Reviewer:
gwen
Rating:
Review:
it really looks yummy! i will try to cook these at home
Reviewer:
Holly
Rating:
Review:
I don't understand the icing part.
Reviewer:
Tiffany
Rating:
Review:
I just finished making these and they turned out great!HAPPY HALLOWEEN!
Reviewer:
lexi
Rating:
Review:
i loved this idea. Me and my friends are making a halloween lunch at our school lunchtable, so this will be perfect!
Reviewer:
Vittoria
Rating:
Review:
These were great, I also doubled the recepie which doesn't always work and they were fantastic.