Diana's Desserts - www.dianasdesserts.com
See more recipes in
Spoon Desserts - Gelatins - Puddings
Mascarpone Custards with Summer Berries
in Diana's Recipe Book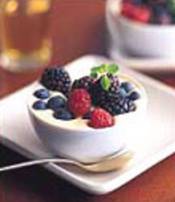 [Be the first to post a review!]
Servings: 8
Comments:
Mascarpone Cheese

Definition: [mas-kar-POHN; mas-kahr-POH-nay] Hailing from Italy's Lombardy region, mascarpone is a buttery-rich double-cream to triple-cream cheese made from cow's milk. It's ivory-colored, soft and delicate, and ranges in texture from that of a light clotted cream to that of room-temperature butter. It's versatile enough to be blended with other flavors and is sometimes sold sweetened with fruit. But in truth, this delicately flavored cheese needs little embellishment other than being topped with fruit.

Source: The New Food Lover's Companion by Sharon Tyler Herbst.
Ingredients:

8 large egg yolks
1 cup sugar
3/4 cup plus 2 tablespoons "sweet" Marsala wine
1 1/2 cups brewed espresso, cooled
4 dozen (1 1/2-inch) Italian amaretti cookies
2 cups (16 ounces) mascarpone cheese* (see note below), at room temperature
2 cups mixed fresh berries, such as blueberries, blackberries and raspberries
Instructions:
These lovely, creamy custards are based on a traditional zabaglione. You will need eight 3 1/2-inch ramekins.

The mascarpone custards can be refrigerated, covered, for up to 2 days. Serve chilled.

1. In a large stainless steel bowl, beat the egg yolks with the sugar until slightly thickened, about 2 minutes. Set the bowl over a medium saucepan of simmering water. Gradually whisk in the Marsala wine and whisk constantly until the mixture triples in volume, about 8 minutes. Remove the bowl from the pan and continue whisking for another minute.

2. Pour the espresso into a shallow bowl. Dip the amaretto cookies in the espresso one by one and use them to line the bottoms of eight 3 1/2-inch ramekins; use any broken cookies to fill the spaces.

3. In a medium bowl, beat the mascarpone with a rubber spatula until creamy. Add the Marsala custard and fold together until smooth. Spoon the mixture into the ramekins and refrigerate until firm, about 2 hours. Garnish with the berries and serve.

*Note: Mascarpone cheese may be found in the dairy, gourmet or cheese section of major supermarkets, at gourmet food stores, or Italian delicatessens or markets.

Mascarpone Substitution:
Blend 16 ounces softened cream cheese with 1/2 cup whipping cream, or: Blend 16 ounces softened cream cheese with 2 tablespoons cream or butter or milk, or: Blend 16 ounces softened cream cheese with 1/2 cup butter and 1/2 cup heavy cream .

Makes 8 servings.
Date: June 28, 2003