Diana's Desserts - www.dianasdesserts.com
See more recipes in
Diabetic and Lower Carb Treats
Lemon Meringe Pie
in Diana's Recipe Book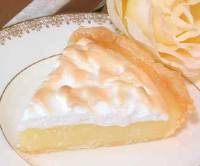 [Be the first to post a review!]
Servings: 8
Ingredients:

Ingredients
Pastry for single crust, 9-inch pie

For Lemon Filling:
2-1/4 cups water
1/2 cup lemon juice
1/3 cup plus 2 tablespoons cornstarch
10-3/4 teaspoons EQUAL® FOR RECIPES or
36 packets EQUAL® sweetener or
1-1/2 cups EQUAL® SPOONFUL™
2 large eggs
2 egg whites
1 teaspoon finely grated lemon peel(optional)
2 tablespoons margarine
1-2 drops yellow food color (optional)

For Meringue:
3 egg whites
1/4 teaspoon cream of tartar
3-1/2 teaspoons EQUAL® FOR RECIPES or 12 packets EQUAL® sweetener*

*NOTE: Equal® Spoonful™ cannot be used in meringue recipes.



Instructions:
For Crust:
Roll pastry on lightly floured surface into circle 1 inch larger than inverted
9-inch pie pan. Ease pastry into pan; trim and flute edge. Pierce bottom and side of pastry with fork. Bake in preheated 425°F oven until pastry is
browned, 10 to 15 minutes. Cool on wire rack.

For Lemon Filling:
Mix water, lemon juice, cornstarch and 10-3/4 teaspoons Equal® for
Recipes in medium saucepan. Heat to boiling over medium-high heat, stirring constantly; boil and stir 1 minute. Beat eggs, 2 egg whites and lemon peel, if desired, in small bowl; stir in about half of hot cornstarch
mixture. Stir this egg mixture into remaining cornstarch mixture in saucepan; cook and stir over low heat 1 minute. Remove from heat; add margarine, stirring until melted. Stir in food color, if desired. Pour mixture
into baked pie shell.

For Meringue:
Beat 3 egg whites in medium bowl until foamy; add cream of tartar and beat to soft peaks. Gradually beat in 3-1/2 teaspoons Equal® for Recipes, beating to stiff peaks. Spread meringue over hot lemon filling,carefully sealing to edge of crust to prevent shrinking or weeping.

Bake pie in preheated 425°F oven until meringue is browned, about 5 minutes. Cool completely on wire rack before cutting.

Note: I do not have the nutritional information on this recipe.

Source: Equal Brand Sweetener
Date: July 21, 2002