Diana's Desserts - www.dianasdesserts.com
See more recipes in
Quick and Easy
Kenny's Fried Plantation Bananas
in Diana's Recipe Book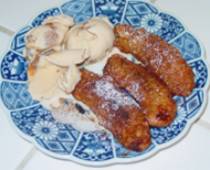 [Be the first to post a review!]
Servings: 4 (3 Plantation Bananas per serving)
Comments:
"This recipe is from my husband Kenny. He surprized me one night after dinner with these "oh so yummy" Fried Plantation Bananas. He served them with Creme Caramel Pecan Ice Cream by Haagen Dazs, but you can use any flavor ice cream you like"...................Diana
Ingredients:

12 Plantation Bananas, or 12 "very small" regular bananas
2/3 cup all-pupose flour
1 tbsp. granulated sugar
2 eggs
1/2 cup milk
Vegetable Oil, for frying

For Garnish-Optional
Confectioners' sugar
Ground cinnamon
Ice Cream, flavor of your choice


Instructions:
1). Heat 2 inches of vegetable oil in a very deep saucepan, or deep fryer until very hot (375 degrees F).

2). In medium size mixing bowl, combine all ingredients, except bananas.

3). Dip bananas in batter and thouroughly coat. Let excess batter drip back into batter mixing bowl.

4). Deep fry 3 or 4 bananas at a time in hot vegetable oil.

5). Turn bananas with tongs after 1 or 2 minutes, and continue to fry until deep
golden brown; about 1 or 2 more minutes.

6). With tongs, carefully remove fried bananas from pan, and drain on paper towels.
Garnish with ground cinnamon and confectioners' sugar. Serve with ice cream flavor of your choice.


Servings: 4 servings (3 bananas per serving).
Source: Kenny
Date: July 18, 2002