Diana's Desserts - www.dianasdesserts.com
See more recipes in
Autumn - Winter
Gingerbread Layer Cake with Candied Kumquats
in Diana's Recipe Book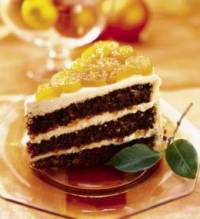 [Be the first to post a review!]
Servings: 12
Comments:
Since Kumquats are a winter fruit, this wonderful cake makes a perfect dessert for Christmas or Hanukkah.
Ingredients:

For the Cake:
1 cup cola (any brand)
1 1/2 teaspoons baking soda
1 cup mild-flavored (light) molasses
2 cups all-purpose flour
2 tablespoons ground ginger
1 1/2 teaspoons baking powder
1 1/4 teaspoons ground cinnamon
3/4 teaspoon ground cloves
1/2 teaspoon ground nutmeg
1/2 teaspoon salt
1 cup dark brown sugar, firmly packed
3/4 cup vegetable oil
3 large eggs

For the Candied Kumquats:
1 cup water
3/4 cup honey
1/4 cup sugar
15 whole cloves
2 cinnamon sticks, broken in half
1 vanilla bean, split lengthwise
22 ounces kumquats, cut into 1/4-inch-thick rounds, seeded

For the Frosting:
1 1/3 cups dark brown sugar, firmly packed
1/2 cup plus 1 tablespoon whipping cream
2 8-ounce packages cream cheese, room temperature
3/4 cup (1 1/2 sticks/6 oz./170g) unsalted butter, room temperature
1 tablespoon vanilla extract

1 cup pecans, toasted, chopped
1/3 cup chopped crystallized ginger
Instructions:
For the Cake:
Preheat oven to 350°F/180°C. Butter and flour 3 nonstick 9-inch round cake pans with 1 1/2-inch-high sides.

Bring cola to boil in heavy medium saucepan. Remove from heat; whisk in baking soda, then molasses. Transfer to large bowl; cool to room temperature. Whisk flour and next 6 ingredients in medium bowl to blend. Whisk sugar, oil, and eggs into molasses mixture. Whisk in dry ingredients. Divide batter among prepared cake pans (about 1 2/3 cups batter for each).

Bake cakes in preheated oven until tester inserted into center comes out clean, about 18 minutes. Cool cakes in pans on racks 15 minutes. Turn cakes out onto racks; cool cakes completely.

For Candied Kumquats:
Bring first 5 ingredients to boil in heavy large skillet, stirring to dissolve sugar. Scrape in seeds from vanilla bean; add bean. Add kumquats; reduce heat to medium and simmer until almost tender, stirring often, about 6 minutes. Using slotted spoon, transfer kumquats to plate. Boil syrup until reduced to 2/3 cup, stirring often, about 8 minutes. Cool syrup.

For Frosting:
Stir brown sugar and whipping cream in heavy small saucepan over medium heat until sugar dissolves; cool caramel completely. Transfer 1/4 cup caramel to small bowl and reserve. Using electric mixer, beat cream cheese, butter, and vanilla in large bowl until smooth. Beat remaining caramel into frosting until well blended.

Chop enough candied kumquats to measure 1/3 cup; mix in small bowl with 1 tablespoon kumquat syrup. Place 1 cake layer on platter. Spread 3/4 cup frosting over. Dot with half of chopped-kumquat mixture. Drizzle with half of reserved caramel. Top with second cake layer. Spread 3/4 cup frosting over. Dot with remaining chopped-kumquat mixture. Drizzle with remaining reserved caramel. Top with third cake layer. Spread remaining frosting over top and sides of cake. Arrange enough sliced kumquats in single layer atop cake just to cover.

Mix pecans and ginger in small bowl. Press nut mixture halfway up sides of cake. Chill 1 hour. (Cake can be made 1 day ahead. Cover cake with cake dome; chill overnight. Cover remaining kumquat syrup; let stand at room temperature.) Drizzle some kumquat syrup over kumquats atop cake. Serve cake cold or at room temperature.

Makes 12 servings.
Source: Bon Appétit Magazine, December 2003
Date: January 21, 2008