Diana's Desserts - www.dianasdesserts.com
See more recipes in
Thanksgiving Desserts
Souffled Pumpkin Puddings
in Diana's Recipe Book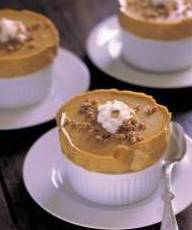 [Be the first to post a review!]
Servings: 12
Comments:
What a light and delicious dessert for a Thanksgiving Dinner. Your family and guests will love these lovely souffle puddings. Not your typical pumpkin pie dessert for Thanksgiving, something a little different, and so very good.......................Diana
Ingredients:

For The Pudding:
3 cups pumpkin puree,
(use fresh cooked pumpkin
or canned 100% pumpkin)
1/2 cup granulated sugar
2 Tbsp. orange juice
1/4 tsp. ground cinnamon
4 egg yolks
1/4 cup unsalted butter
1 Tbsp. all-purpose flour
1/4 cup crystallized ginger, optional
2 large egg whites
1/4 cup granulated sugar
1/2 cup pecans, chopped

For The Vanilla-Praline Sauce:
1 lb. dark brown sugar
1-1/4 cups light corn syrup
4 oz. unsalted butter
1 tsp. salt
2 cups heavy cream
1 tsp. vanilla extract

For The Creme Fraiche Topping:
2 cups creme fraiche
1 Tbsp. granulated sugar
1 vanilla bean, split
lengthwise and scrape out seeds
(use vanilla bean seeds in recipe)
2 Tbsp. light or dark rum

Instructions:
For The Pudding:
Preheat the oven to 400 degrees F. If using fresh pumpkin, cook, and puree. If using canned pumpkin (no need to puree). In a small saucepan, heat the pumpkin puree, sugar, orange juice and cinnamon. Cook gently for five minutes. Remove from the heat and whisk in butter, yolks, flour and ginger. Cool.
Whip the whites with the sugar until stiff peaks form. Fold whipped whites into pumpkin mixture. Fill oven-safe 4" ramekins with pumpkin mixture; sprinkle with sugar and pecans. Place ramekins in oven and bake at 400 degrees F for 20-25 minutes. Remove from oven to cooling rack. To serve, top with Vanilla-Praline Sauce and Creme Fraiche Topping.

For The Vanilla-Praline Sauce:
In a saucepan, slowly bring brown sugar, corn syrup, butter and salt to a boil. Remove from the heat and add the cream and vanilla.

For The Creme Fraiche Topping: Slit the vanilla bean in half lengthwise, and scrape the seeds out. Combine the seeds with other ingredients.
Combine all ingredients and whip to soft peaks.
Serve the puddings while still warm with two tablespoons of the sauce over tops of each souffle followed by a large dollap of the whipped creme fraiche mixture.


Source: Adapted from: Pastry Chef Nicole Plue
Date: July 17, 2002