Diana's Desserts - www.dianasdesserts.com
See more recipes in
Valentine's Day
Chocolate Amaretti Heartbreakers
in Diana's Recipe Book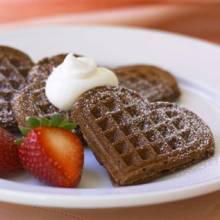 [Be the first to post a review!]
Comments:
These are really waffled cakes—moist, cocoa-rich and flecked with ground amaretti (Italian macaroons) and bittersweet chocolate. They're delicious as is with just a sprinkling of confectioners' sugar, luscious with lightly sweetened, softly whipped cream, and downright indulgent with ice cream and hot fudge sauce.
Ingredients:

3 large double amaretti (or 6 amaretti from 3 paper-wrapped packets)
2 oz. high-quality bittersweet chocolate
5 tbsp. (70g) unsalted butter
1 1/4 cups all-purpose flour
1 1/2 tsp. double-acting baking powder
1/4 tsp. baking soda
Pinch of salt
3/4 cup granulated sugar
1/3 cup cocoa, preferably Dutch process
1 1/2 cups milk
1 tsp. vanilla extract
1/4 tsp. almond extract
2 eggs
Confectioners' sugar, sweetened whipped cream, ice cream and/or hot fudge sauce for serving (optional)
Instructions:
Place the amaretti and bittersweet chocolate in the work bowl of a food processor or in a blender and process until pulverized; set aside.

Preheat a waffle iron. If you'd like to serve the waffles warm, preheat an oven to 350°F/180°C.

Melt the butter; set aside. In a large bowl, whisk together the flour, baking powder, baking soda, salt, granulated sugar and cocoa. In another bowl, whisk together the milk, vanilla, almond extract and eggs until well blended. Pour the liquid ingredients over the dry ingredients and stir with the whisk to combine. Fold in the amaretti-chocolate mixture and the melted butter.

Lightly butter or spray the grids of the waffle iron, if needed. Brush or spray the grids again only if subsequent waffles stick.

Spoon out 1/3 cup of batter (or the amount recommended by the manufacturer's instructions) onto the hot iron. Use a metal spatula or wooden spoon to spread the batter evenly over the grids. Close the lid and bake until just set. Bake these slightly less than you do other waffles because chocolate has a tendency to burn easily. There's no need to worry, but you do want to keep an eye on these. Transfer the finished waffles to a cooling rack while you make the rest. If desired, just before serving, warm the waffles briefly, about 2 minutes, in the oven. They're good at room temperature, too.

To Serve:
You can present a full five-of-hearts to each person, shaking a dusting of confectioners' sugar over the entire waffle and then scooping some whipped cream or ice cream onto the center. Hot fudge sauce is both luscious and luxurious over these. Broken into individual hearts and filled with ice cream, these make fabulous sandwiches.

Makes about 10 full five-of-hearts or about six 6 1/2-inch round waffles.

Adapted from Waffles from Morning to Midnight, by Dorie Greenspan (Weldon Owen, 2001).
Source: Williams-Sonoma
Date: January 20, 2008