Diana's Desserts - www.dianasdesserts.com
See more recipes in
Pastry
Pâte Brisée (Short Pastry)
in Diana's Recipe Book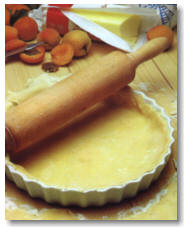 [Be the first to post a review!]
Servings: 1 (9-inch) pie crust or 1 (9-inch) tart crust
Comments:
Pâte Brisée

Definition: [paht bree-ZAY] A French term for "short pastry," a rich flaky dough used for sweet and savory crusts for dishes such as pies, tarts, quiches and barquettes.

Source: The New Food Lover's Companion, Second Edition, by Sharon Tyler Herbst

Ingredients:

1 1/4 cups all-purpose flour
3/4 stick (6 tablespoons) cold unsalted butter, cut into bits
2 tablespoons cold vegetable shortening or lard
1/4 teaspoon salt
Instructions:
Can be prepared in 45 minutes or less but requires additional unattended time.

In a large bowl blend the flour, the butter, the vegetable shortening (or lard), and the salt until the mixture resembles meal. Add 3 tablespoons ice water, toss the mixture until the water is incorporated, and form the dough into a ball. Knead the dough lightly with the heel of the hand against a smooth surface for a few seconds to distribute the fat evenly and re-form it into a ball. Dust the dough with flour, wrap in plastic wrap and chill in refrigerator for at least 1 hour.

Makes enough dough for 1 single crust 9-inch tart or pie.
Date: February 3, 2002