Diana's Desserts - www.dianasdesserts.com
See more recipes in
Pastry
Saint Honoré Cake
in Diana's Recipe Book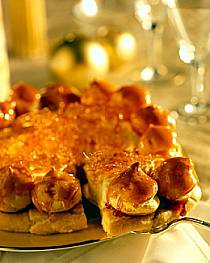 Average Rating:
(total ratings: 8)
[Read reviews]
[Post a review]
Servings: 8-10
Comments:
What is a Saint Honoré Cake?

Definition:
(san-toh-naw-RAY): A traditional French cake named for Saint Honoré, the patron saint of pastry bakers. It consists of a base of pâté brisée topped with a ring of cream puffs that are dipped in a caramel coating prior to being positioned on the base. This caramel coating "glues" the puffs together. The center of the ring is then filled with Saint-Honoré cream--crème pâtissière lightened with beaten egg whites or whipped cream.

Source: The New Food Lover's Companion, Second Edition, by Sharon Tyler Herbst
Ingredients:

FOR PASTRY BASE:
1 cup all-purpose flour
1/8 teaspoon salt
1 egg, slightly beaten
1 tablespoon superfine bakers sugar
6 tablespoons unsalted butter
2 tablespoons cold water

FOR CHOUX PASTE:
1 cup (8oz/236ml) water
1/2 cup (1 stick/4 oz/113g) unsalted butter
1/8 teaspoon salt
1 cup all-purpose flour
4 large eggs

ST. HONORE CREAM (pastry cream filling):
1/8 teaspoon salt
2 cups scalded milk
2 tablespoons orange liqueur or 2 tablespoons rum or brandy
4 egg whites
3/4 cup superfine bakers sugar
2/3 cup all-purpose flour
1 tablespoon vanilla extract
4 egg yolks

FOR CARAMEL SYRUP:
3/4 cup superfine bakers sugar
1/4 cup water

Instructions:
INSTRUCTIONS FOR PASTRY BASE:
Mix all pastry ingredients together by hand or with food processor. Roll into a disk, cover with plastic wrap and chill for at least 30 minutes. Roll out to a 9 1/2-inch circle. Transfer to cookie sheet. Cut 9-inch circle with pastry wheel or sharp knife. Remove and discard excess. Prick circle well with fork. Refrigerate.

INSTRUCTIONS FOR CHOUX PASTE:
Combine water, butter, and salt in heavy saucepan. Boil. When butter is melted, add flour. Stir until mixture forms ball and follows your spoon. Add eggs, one at a time. Beat well. Spoon into pastry bag without tip. Heat oven to 400 degrees F (200 C). Remove pastry circle from refrigerator. Press paste onto edge of pastry circle to form 1-inch wide rim. Press remaining choux paste into 16 to 18 small cream puffs on same cookie sheet. Bake the circle and puffs 15 minutes. Reduce heat to 375 degrees F (190 C). Bake 15 to 20 minutes until puffed and golden. Transfer to rack.

INSTRUCTIONS FOR PASTRY CREAM:
Combine egg yolks, sugar, and salt in heavy saucepan. Beat until mixture is pale yellow and smooth. Add flour. Stir until well blended. Add milk. Boil over medium heat, stir constantly. Simmer few seconds, and remove from heat. Add vanilla and liqueur (or rum or brandy). Cool. Beat egg whites until stiff. Fold into yolk mixture.

TO FILL PUFFS:
Put 1 to 1-1/2 cups cream into pastry bag with plain tube. Slit side of each puff with point of small knife. Pipe filling into puff.

INSTRUCTIONS FOR CARAMEL SYRUP:
Combine sugar and water in small heavy saucepan. Boil over medium heat. Cook until syrup turns amber in color. Dip bottom of cream puff into syrup. Place carefully onto the choux paste ring on pastry circle. Repeat until ring is covered. Pour remaining syrup onto puffs in a thread-like stream. Fill center of cake with remaining cream. Put cream puff in center, and drizzle with caramel.

NOTE: VARIATION
If desired, you may pipe whipped cream rosettes attractively in between cream puffs, and place one maraschino cherry in the center of each whipped cream rosette.

Makes 8-10 servings.
Source: DianasDesserts.com
Date: July 11, 2002
Reviews
Reviewer:
DJ Johansen
Rating:
Review:
Great recipe...easy to follow
Reviewer:
Cornelia Sltz
Rating:
Review:
I prepared this cake and it was good. It takes some time, but the results were great.
Reviewer:
Carol
Rating:
Review:
I want to thank you so much for this recipe. I have been searching for years for a recipe of this favorite cake I remember from my childhood.
Reviewer:
Kelsey
Rating:
Review:
thanks for the recipe, i wanted to make it for my high school French Project, i'll be sure to mention it in my works cited page! Thanks
Reviewer:
Claudia Franco
Rating:
Review:
Great recipe, thanks for having it.
Reviewer:
Babette
Rating:
Review:
A Saint Honore is made with puff pastry (pate feuilletee) and not pate brisee.
Reviewer:
Susan E
Rating:
Review:
Just wanted to let you know this cake brings back memories of my Daddy making it for me. He is 70 yrs old and I'm making it for my boys birthday cake tomorrow (combined party) and this is exactly how my Dad made it. He made one for me when I was 18 yrs old and the cream puffs were put on the cake to write out the numbers 1 and 8. I loved it. He is a baker by trade and I grew up in his Swiss and Italian bakery (but he made French things too).
Reviewer:
Vovo Farinha
Rating:
Review:
This cake was excellent! I made it on my birthday for all my grandchildren...