Diana's Desserts - www.dianasdesserts.com
See more recipes in
Pastry
Pâte à Choux Dough and Pastry Cream
in Diana's Recipe Book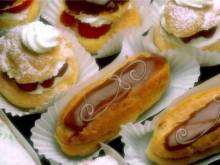 Average Rating:
(total ratings: 5)
[Read reviews]
[Post a review]
Servings: 15-20 éclair shells or 40-45 cream puff shells
Comments:
Pâte à Choux

Definition: (pat a shoo) Also called choux paste, pâte à choux and cream-puff pastry. This special pastry is made by an entirely different method from other pastries. The dough, created by combining flour with boiling water and butter, then beating eggs into the mixture, is very sticky and pastelike. During baking, the eggs make the pastry puff into irregular domes (as with cream puffs). After baking, the puffs are split, hollowed out and filled with a custard, whipped cream or other filling. Besides cream puffs, choux pastry is used to make such specialties as éclairs, gougère and profiteroles.

Source: The New Food Lover's Companion, 2nd Edition by Sharon Tyler Herbst

Ingredients:

Pastry Cream (see recipe below) or Plain or Chocolate Whipped Cream, to fill éclairs or cream puffs (see recipe below)

Pâte à Choux:
6 tablespoons (3/4 stick/3 ounces/85g) unsalted butter
3/4 cup water
1 cup all-purpose flour
1/8 teaspoon salt
1 teaspoon granulated sugar
4 large eggs
Instructions:
1. Preheat oven to 450 degrees F (230 C).

2. In 2 quart saucepan, combine the butter and water.

3. On a piece of wax or parchment paper, sift together the flour, salt and sugar. Bring the water and butter to a rolling boil, remove from heat and dump the flour mixture in all at once. Stir with a wooden spoon or paddle to incorporate.

4. Return the saucepan to high heat and cook, stirring, for about one minute. The mixture will form a ball and coat the pan with a thin film.

5. Transfer the mixture to a mixing bowl or stand mixer equipped with the paddle attachment. Mix the dough for a minute or so, on low speed, to release some of the heat. Add the eggs, one at a time, completely incorporating each one before adding the next. Beat until the dough gets thick and ribbony.

6. Fit a pastry bag with a round #5 tip and fill with the warm dough. Line a heavy cookie sheet with parchment paper and anchor it to the tray with a little dab of the dough at each corner. Pipe about 40 to 45 (1 1/2-inch) mounds (or 15 to 20 3-inch strips for éclair shells) about 2 inches apart on a cookie sheet lined with parchment paper. Bake for 10 to 15 minutes, until golden and puffed. Reduce heat to 350 degrees F (180 C) and bake for another 10 minutes or until they are golden brown and there are no droplets of moisture in the crevices. Turn off oven and leave the choux to dry for another 10 minutes.

7. Fill with pastry cream or whipped cream (chocolate or plain) when cool, or freeze, wrapped in a plastic bag, for 2-3 months.

Makes 40 to 45 cream puff shells or 15 to 20 éclair shells.

Pastry Cream

Pastry cream is a classic of the dessert world. It is used as a filling or topping for tarts, éclairs and cream puffs, and is called for in a number of desserts.

Ingredients
2 1/4 cups milk
1/2 cup heavy cream
3/4 cup granulated sugar
5 tablespoons cornstarch
1 whole egg, plus 1 egg yolk
1 teaspoon vanilla extract

Instructions
1. In a heavy saucepan over medium heat, combine 1 1/2 cups of the milk, the cream and sugar and bring almost to a boil, whisking once or twice to dissolve the sugar.

2. While this mixture is heating, place the cornstarch in a small bowl and add 1/2 cup of the milk, stirring to dissolve the cornstarch. Add the remaining 1/4 cup milk, the whole egg, egg yolk and vanilla. Whisk together until smooth.

3. When the hot milk mixture is about to boil, pour in the cornstarch mixture, whisking continuously until completely blended. Continue to heat the mixture, whisking constantly, until it boils and thickens to the consistency of custard pudding.

4. Remove from the heat, pour into a bowl and press a piece of plastic wrap directly onto the surface to prevent a skin from forming. Let cool completely before using or refrigerating.

Note: Can be refrigerated for up to 1 week before use.

Makes 3 cups pastry cream, or 24 (2 tablespoon) servings (will make enough to fill 40 to 45 cream puffs).

Note:
Double recipe to fill 15 to 20 éclairs shells.

Whipped Cream Filling

Makes 4 cups

Ingredients
2 cups whipping cream
1/4 cup granulated sugar
1/2 teaspoon vanilla extract

Instructions
Beat whipping cream and sugar in small mixer bowl at high speed, scraping bowl often, until stiff peaks form (1 to 2 minutes). Gently stir in vanilla. Store refrigerated.

Variation
Chocolate Whipped Cream Filling

Add 1/4 cup unsweetened cocoa powder to mixture, and use 1/2 to 2/3 cup sugar instead of 1/4 cup that is called for in the plain whipped cream.
Source: DianasDesserts.com
Date: July 14, 2002-Recipe revised August 28, 2004
Reviews
Reviewer:
samantha
Rating:
Review:
i haven't tried it yet although it looks yummy. i just have a question i prefer my eclairs with whipped cream but what do you do to stop it from turning runny after a while? thanks a ton.
Reviewer:
Nancy
Rating:
Review:
I have made this recipe several times and it is excellent, The pastry cream is great also. Recommend highly!
Reviewer:
Krista
Rating:
Review:
Samantha, After a while the whipped cream will start to break back down in to heavy cream. I don't think there is any way you can stop it from breaking down.
I haven't tried the recipe yet but i love to make eclairs and i like to try new recipes.
Reviewer:
Jane
Rating:
Review:
I have not tried the pate a choux recipe, but the custard filling recipe is delicious!
Reviewer:
Rob
Rating:
Review:
I make cream and eclairs all the time. They are most excellent. I use a shortcut method for the filling, cook and serve vanilla pudding mix using 1/2 the amount of milk. Cool and whip smooth; then and add 2 cups of whipped cream folded in.These go like hotcakes (if I can use that phrase) at all my church functions and school bake sales