Diana's Desserts - www.dianasdesserts.com
See more recipes in
Holidays and Celebrations
Elegant Black Forest Cake
in Diana's Recipe Book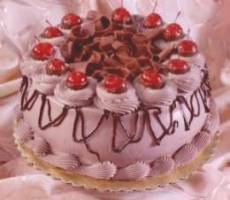 Average Rating:
(total ratings: 34)
[Read reviews]
[Post a review]
Servings: 8-10
Comments:
History of Black Forest Cake

Black Forest gateau (also commonly called Black Forest cake in the USA and Australia) is the English name for the southern German dessert Schwarzwälder Kirschtorte (literally "Black Forest Cherry Cake"). It originated in the Black Forest region of southern Germany, but it is a popular dessert throughout Germany, Austria, and the world.

Typically, Black Forest gateau consists of several layers of chocolate cake, with whipped cream and cherries between each layer. These layers are topped with additional whipped cream, maraschino cherries, and chocolate shavings. In some European traditions sour cherries are used both between the layers and for decorating the top. Traditionally, the cake is saturated with Kirschwasser (cherry brandy), although other liquors are also used (rum is common in Austrian recipes). In the USA, Black Forest gateau is most often prepared without alcohol.

Source: wikipedia.org
Ingredients:

For The Cake:
6 ounces bittersweet chocolate, cut into bits
6 tablespoons (3/4 stick/3 oz/85g) unsalted butter
1 teaspoon vanilla extract
l/3 cup water
6 large eggs, at room temperature
1 cup granulated sugar
1 cup cake flour
1/2 teaspoon salt

For The Filling:
2 pounds canned sour cherries, drained, reserving the juice
l/3 cup granulated sugar
5 teaspoons cornstarch
2 tablespoons Kirsch (cherry liqueur or brandy)

For The Syrup:
1/2 cup granulated sugar
1/2 cup water
l/4 cup Kirsch (cherry liqueur or brandy)

For The Chocolate Whipped Cream Topping:
l envelope (1/4 oz./7g) unflavored gelatin
3 tablespoons Kirsch (cherry liqueur or brandy)
3 cups well-chilled heavy cream
3/4 cup unsweetened cocoa powder
1/3 cup sifted confectioners' sugar
l teaspoon vanilla extract

For Garnish:
1-1/2 cups chocolate shavings or chocolate curls
Glaceed or Maraschino cherries
Instructions:
To Make the Cake:
Preheat oven to 350 degrees F (180 C). Butter three 7-inch cake pans, line them with wax paper and butter and flour the paper. In the top of a double boiler set over simmering water melt the chocolate with the butter, vanilla and water, stirring until smooth. Remove the pan from heat. Into a bowl sift together the flour and salt. In a bowl with an electric mixer beat the eggs with the sugar for 5 to 10 minutes, or until batter ribbons when beaters are lifted. Fold flour mixture into egg mixture until just combined and fold in chocolate mixture gently but thoroughly.

Pour batter into pans, smoothing the tops, and bake for 10 to 15 minutes, or until cake tester inserted in center comes out clean. Let cool in pans 5 minutes. Run knife around edge of pans and invert onto racks to cool completely.

To Make the Filling:
In a saucepan combine reserved cherry juice, sugar and cornstarch. Bring mixture to a boil over moderate heat, stirring, and simmer, stirring, for 1 to 2 minutes, or until thickened. Stir in cherries and kirsch, transfer to a bowl and let cool. Filling may be made 1 day in advance and kept covered and chilled.

To Make the Syrup:
In a saucepan combine the sugar and water, bring to a simmer, stirring, and simmer until sugar is dissolved. Remove pan from heat and stir in Kirsch. Let cool.

To Make the Whipped Cream Topping:
In small saucepan combine gelatin and Kirsch and let soften 5 minutes. Gently heat mixture over low heat, stirring, until liquid is clear. Remove from heat. In chilled bowl with chilled beaters beat cream until it holds soft peaks, add sugar, cocoa, and vanilla and beat until it holds stiff peaks. Add gelatin mixture in stream, beating, and beat until it holds stiff peaks.

Assembling the Cake:
Invert one layer of cake onto a cardboard round, brush with some of syrup and spread half cherry filling over it. Spread 1 1/2 cups of whipped cream over cherries, sprinkle with 1/4 cup chocolate shavings and invert second layer of genoise onto cake. Brush with syrup, spread with remaining cherry filling and top with 1 1/2 cups whipped cream, spreading it into an even layer. Sprinkle with 1/4 cup of chocolate shavings and invert third genoise layer onto cake. Brush top with syrup and spread remaining whipped cream over top and sides of cake reserving about 2/3 cup for garnish. Transfer remaining whipped cream to a pastry bag fitted with a large star tip, pipe rosettes decoratively around top and bottom edge of cake and top the rosettes (on top edges of cake) with glaceed cherries. Sprinkle top of cake with remaining chocolate shavings and let cake stand, covered and chilled, for at least 3 hours and up to 8 hours. Store cake in refrigerator.

Makes 8 to 10 servings.
Source: DianasDesserts.com
Date: July 6, 2002
Reviews
Reviewer:
Gari
Rating:
Review:
Very good recipe but the bit about making Schwarzwalder Kirschtorte without alcohol prompts me to say: "You can make steaks without meat too but they just aint the real thing"
Gari the Swiss gourmet who'd like to print your recipe (with credits and link of course) in his http://culinary.senses.com
Reviewer:
Peach
Rating:
Review:
I just made the cake.. I am so frustrated. The filling and whipped cream is leaking from between layers and the whole thing looks terrible. I stuck it back in the fridge and hope to be able to finish it a little later. I am not sure where I went wrong, cause whipped cream is really stiff and not runny at all. I am also worried that the cake itself did not rise at all (I didn't use cake flour but regular all purpose flour) so not sure what it's going to taste like.. The layers are kinda thin. One question - is the cake supposed to be topped with whipped cream with or without the cocoa added?
Thanks
Reviewer:
Diana, Diana's Desserts
Rating:
Review:
Hi Peach, To answer your question, yes the cocoa should be added to the whipped cream topping......Diana, Diana's Desserts
Reviewer:
Diana, Diana's Desserts
Rating:
Review:
Hello Louise-Mary,
I hope I can answer your questions so you understand the recipe.
One envelope of unflavored gelatine (here in the USA we usually use Knox Brand Unflavored Gelatine) contains 7 grams or 1/4 ounce of unflavored gelatine.
Cake Flour contains less gluten than all-purpose flour (plain flour) and produces a more tender texture.
Though results won't be the same, in an emergency, you can substitute 7/8 cup of all-purpose flour (plain flour) for one cup of cake flour.
Self-Raising (or self-rising) Cake Flour contains baking powder and a pinch of salt. Plain Cake Flour does not contain these ingredients.
If you only have Self-Raising cake flour and not plain cake flour (without the added baking soda and salt), then I would recommend substituting the cake flour in this recipe with 1 cup minus 2 tablespoons plain flour (all-purpose flour) for 1 cup of cake flour.
I hope this information helps you out.....Diana, Diana's Desserts
Reviewer:
louise-Mary
Rating:
Review:
I NEED to know what cake flour is.. i need to know what an envelope of gelatin is.. i need to know how anybody could get this cake to work!!! i live in australia and we have self raising flour is this cake flour...i need to know!!!
Reviewer:
parkeman
Rating:
Review:
This is my wifes favorite cake, so I used this recipe to make it for her birthday. The cake turned out great, although I was unable to duplicate the fancy decorations like in the photo. I was a little conservative with the syrup because I was afraid the cake would become soggy, but it didn't. So next time I know to add more. Most importantly, it made the wife very happy. This may be my new secret weapon for getting out of trouble. Thanks Diana http://www.flickr.com/photos/parkerman/2379569556/
Reviewer:
Cocoa
Rating:
Review:
This recipe is not working at all. The cake layers are extremely thin and difficult to work with. I followed the recipe exactly.. I don't know what I could have done wrong. Why didn't the layers rise?
Reviewer:
Betty
Rating:
Review:
Question: The cake I used to get in the German bakeries had the gelatin cream layer as in this recipe, but it was white, not chocolate. Do I need to make any adjustments, or can I just leave out the chocolate?
If people are having so much trouble with the chocolate cake, why not just use a devil's food mix? With the Kirschwasser, you probably wouldn't notice the difference!
I used to assemble the cake in a springform pan. That way it would stay stable until the gelatin has the chance to stiffen up in the refrigerator. I then took it out of the pan to add the whipped cream topping and garnish.
Reviewer:
Diana
Rating:
Review:
Hi Betty, Yes, you can just leave out the cocoa for the topping if you want a plain whipped cream topping, not a chocolate whipped cream topping.......Diana, Diana's Desserts
Reviewer:
Ingrid
Rating:
Review:
Louise-Mary, I live in Australia (Vic) and I found cake flour in SAFEWAY in the flour section. Our SAFEWAY also has unflavoured gelatin - otherwise any good health store will sell it. I loved this cake. Tell me how you go.
Reviewer:
ChaCha Lynne
Rating:
Review:
Very yummy and delicious!!!!!!!
Reviewer:
Bikky
Rating:
Review:
I have searched for several recipes online to get the most accurate and moist (really moist) black forest cake. I think I have found it here! Most of the ckaes dont have any liquid added and it tastes very dry with lumps of frosting. Im planing to go with a plain whipped cream frosting with cherries and chocolate shavings on top.
Reviewer:
anonymous
Rating:
Review:
I tried to make the cake part with regular flour, and forgot that it won't rise. I then made it again with cake flour, and again it wouldn't rise... so I am not too impressed with the cake batter, the rest turned out great!
Reviewer:
Edwin R Fajardo
Rating:
Review:
The recipe for the topping requires confectioner's sugar to be added to the cream. Doing this, the cream became watery and similar to butter. Do you have any idea why this happened and how to fix it?
Reviewer:
Ashwini
Rating:
Review:
The cake is very tasty and moist but did not rise very well. For this, I added about 1/4 tsp. of baking powder and a pinch of baking soda and that worked well. Overall a tasty cake!!
Reviewer:
Lincoln
Rating:
Review:
I made this cake for my wife's birthday and she says that it is the best cake she's ever had in her life. It took me over 3 hours to make but worth every minute. Everything turned out perfect. I will definitely be making this again. Thanks!
Reviewer:
Danielle
Rating:
Review:
I am using this cake for a 4H project and i was wondering what you would suggest to replace the kirsch with?
Reviewer:
Rich
Rating:
Review:
Edwin:
Adding powdered sugar will not cause cream to become watery. You most likely over whipped your cream and actually turned it into butter. The watery part is just that, water and milk solids. This part was traditionally called the buttermilk, although it is not too similar to the commercially cultured buttermilk sold today.
Reviewer:
Luca
Rating:
Review:
Extraordinary. Not easy but of full effect. I entirely modified the decoration, using different kinds of chocolate.
Reviewer:
Marian
Rating:
Review:
I think the cake recipe is excellent, but I did have to cut the amount of cherry filling because it started to ooze out the sides. Also, if you are in a warm climate, plan on doing this in stages because you will have to keep popping this back in the fridge to keep it from melting. Beautiful cake though!!
Reviewer:
lo
Rating:
Review:
This is a pre-review. I just tackled a very complicated german chocolate cake for my mother's birthday. This one is for my grandmother. I'm off to the store to find the flour (wish me luck) and waiting on my dad to get me the krish (not 21, boo). I'll let you know how it goes.
Reviewer:
Emily
Rating:
Review:
Could you please tell me if this has already been altered for high altitude? If not, could you tell me what I need to do? I'm at about 6000 feet. Thanks
Reviewer:
andri
Rating:
Review:
I am a at home baker and I make cakes all the time. Found this cake and decided to use it as a base for my daughters 21st birthday cake. It turned out fabulous. I kicked it up a notch by adding the chocolate frosting to the middle with bing cherries. I also added the cherry juice to make the color and flavor. This recipe can be modified to what ever you want it to be. You just need imagination. Great for my own ideas and yet elegant and soft, not your average little kid's birthday cake. Thanks.
Reviewer:
Carly
Rating:
Review:
I made this cake for my fathers 60th birthday because it's his favourite. Drove three hours to the cottage (it only suffered minor icing sliding) and was a huge success! Thanks!
Reviewer:
Linda
Rating:
Review:
The cake is simply beautiful!
Reviewer:
diland
Rating:
Review:
I finally tried it and it came out fine! I had to wait to find kosher gelatin. I had to skip the alcohol too - for religious reasons. I tried another recipe before but that was too dry. In this recipe I made some other adjustments too, I put in half the amount of fruit filling and I made it with substitute of cake flour and some baking powder. Also I felt I needed more whipped topping.
Reviewer:
Liv
Rating:
Review:
Highly incredible with an extremely good blend of cream and chocolate. This cake was impeccable both to my friends and myself. Fantastic!
Reviewer:
mercy chatyoka (Zimbabwe)
Rating:
Review:
I made the cake for my mother's birthday and she loved it, said it was awesome and that I should constantly make it for her. Thank you, its the best recipe for the cake.
Reviewer:
Shaun Zandberg (South Africa)
Rating:
Review:
Absolutely fantastic, came out just like the picture. Will be tasting tonite with friends....love these recipes! Thank you! 10 out 10!
Reviewer:
Bernice Nel (south Africa)
Rating:
Review:
I have made this cake, changing a few things for my own liking (by not adding cocoa in the cream). Everyone raved about the cake. Absolutely a delicious cake.
Reviewer:
Leni
Rating:
Review:
I love this cake. Personally, if you do not want to have a runny whipped cream, take the cream out of the fridge and leave in the freezer for 1 hour before using. I do not like to add butter because in my opinion the real whipping cream you only need sugar and vanilla. As per the following: 500 grams of cream 35,2 spoons of sugar and 1 table spoon of vanilla extract. However when you start beating all ingredients you have to know when to stop beating, otherwise everything will turn into butter. Do not worry if this happens once, it is not the end. Just try again. Good luck everyone. Cheers.
Reviewer:
Tracy
Rating:
Review:
Just about to start this magnificient recipe the day before the dinner party. But it says that the cake should be in fridge for maximum 8 hours. Why? Why Can't I assemble it the day before and decorate the exterior the next day? Thanks for your quick response !!
Reviewer:
Tina
Rating:
Review:
Finally!!!!!! It came out fine. Thanks a lot.
Reviewer:
Catzie
Rating:
Review:
Made this cake as a Valentine's gift for my BF and came out great. He and the family liked it. Thanks!