Diana's Desserts - www.dianasdesserts.com
See more recipes in
Pies and Tarts
Chocolate Raspberry Cheesecake Pie
in Diana's Recipe Book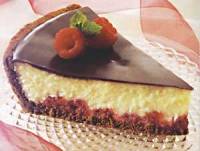 Average Rating:
(total ratings: 18)
[Read reviews]
[Post a review]
Servings: 8
Comments:
This chocolate topped raspberry cheese pie looks very elegant but is so easy to make. Serve it at your next party and impress your friends or family.


Ingredients:

For Cheesecake Pie:
2 (3-oz.) packages cream cheese, softened
1 can (14-oz.) sweetened condensed milk
1 large egg
3 tablespoons lemon juice, fresh or concentrated
1 teaspoon vanilla extract
1 cup fresh or frozen raspberries
1 ( 6-oz.) ready-made graham cracker pie crust or ready-made chocolate cookie pie crust
Chocolate Glaze (see recipe below)

Garnish: (optional)
Fresh Raspberries
Mint Sprigs
Instructions:
1) Preheat oven to 350° F (180°C). With mixer, beat cream cheese until fluffy. Gradually beat in sweetened condensed milk until smooth. Add egg, lemon juice, and vanilla and mix well.

2) Arrange raspberries on bottom of crust. Slowly pour cheese mixture over fruit.

3) Bake in preheated 350°F (180°C) oven for 30 to 35 minutes or until center is almost set. Cool completely.

Chocolate Glaze:
Ingredients:
2 (1 oz. squares) squares semisweet chocolate
1/4 cup heavy whipping cream

Instructions:
In small saucepan, over low heat, melt chocolate squares with whipping cream. Cook and stir until thickened and smooth. Remove from heat. Top cheesecake with Chocolate Glaze and chill. Garnish with raspberries and mint sprig, if desired.


Makes 8 servings.

Date: July 5, 2002
Reviews
Reviewer:
Linda
Rating:
Review:
This recipe is the bomb....is good and so so so easy to make. Not a lot of ingredients but oh so tasty!!! Linda, 12-4-05
Reviewer:
Theresa
Rating:
Review:
I needed a delicious, fast, and easy dessert. This fits the bill.
Reviewer:
denise
Rating:
Review:
It was excellent when I saw the recipe, I knew I had to try it immediately. It was absolutely delicious!!
Reviewer:
Phoenix Peters
Rating:
Review:
This is awesome, the best recipe that i've tried yet! I've tried loads of these kind of recipes, only this one passed.
Reviewer:
juhayan
Rating:
Reviewer:
Diane Landers
Rating:
Review:
It is smooth and lovely. Melts in your mouth. Great!
Reviewer:
betty
Rating:
Review:
Reviewer:
Mikaela
Rating:
Review:
This recipie was very delicious and i wish to have more of this kind!
Reviewer:
Brianna
Rating:
Review:
I absolutely LOVE this recipe! Definitely rich though. You'll only want small slices. I'd lost my recipe and been looking all morning to try and find it again. So glad I found it! Thanks!
Reviewer:
Ahna
Rating:
Review:
So easy to make and tastes elegant. I will use it at Christmas for a fine ending for dinner. Thin piece will be plenty...add a touch of whipped cream with couple of fresh raspberries and a mint leaf.
Reviewer:
tasha
Rating:
Review:
i used this for my culinary arts class and we made it for some of our banquets we held and the WHOLE sanilac county loved it
Reviewer:
bill
Rating:
Review:
Not certain how its going to turn out, but I made a huge mistake and read the directions in a hurry. It calls for "2 (3oz)Packages of Cream Cheese. I m so used to recipes calling 8 oz a package, that I have enough filling for 4 cheese cakes
Reviewer:
Kristy
Rating:
Review:
I love this recipe! I make it for every special occasion! It tastes so elegant. Very rich though.. only use fresh raspberries!
Reviewer:
Corey
Rating:
Review:
It is 2 8oz packages. It's a misprint .
Reviewer:
Dani
Rating:
Review:
Even making this a long time now! It has become a family tradition!
Reviewer:
Diana, Diana's Desserts
Rating:
Review:
Hi Carolyn,
You need to use two (3 ounce) packages of cream cheese.
Sincerely, Diana
Reviewer:
Carolyn
Rating:
Review:
I had this at a dinner party recently and it is OUTSTANDING, but need to know if it is 2 three ounce or 2 eight ounce packages of cream cheese?
Reviewer:
Barbara
Rating:
Review:
Last time I made this, I made the same mistake as Bill, above. The recipe is correct: use 6oz. of cream cheese.