Diana's Desserts - www.dianasdesserts.com
See more recipes in
Autumn - Winter
Fresh Pumpkin Pie
in Diana's Recipe Book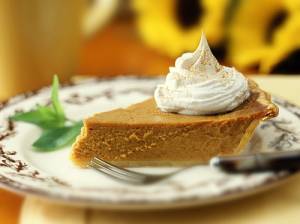 [Be the first to post a review!]
Servings: 8
Comments:
For those of you who insist on using fresh ingredients in your dessert recipes, try this fresh pumpkin pie recipe. Using fresh pumpkin is so much tastier than using canned pumpkin.
Ingredients:

Pumpkin Puree:
You will need: 1 (5 to 8-pound) pumpkin* (See Note Below)

Crust and Filling:
1( 9-inch) unbaked pie crust (store bought or homemade)
3/4 cup firmly packed dark brown sugar
1/4 cup granulated sugar
2 tablespoons all-purpose flour
1 tablespoon molasses
1 1/2 teaspoons ground cinnamon
1 teaspoon ground ginger
1/4 teaspoon ground nutmeg
1/4 teaspoon ground cloves
1/4 teaspoon salt
2 cups fresh pumpkin puree* (see instructions below)
3 large eggs, beaten lightly
1 3/4 cups heavy cream

Garnish:
Sweetened whipped cream
Instructions:
Instructions for Making Fresh Pumpkin Puree:

1. Cut off the top of the pumpkin and scrape out all the seeds and membrane (a large metal serving spoon works well).
2. Carefully cut it into sections with a paring knife.
3. Cut the skin off the flesh. Steam the flesh until tender.
4. Puree in a food processor or blender until smooth.

Important Note:
Do NOT boil pumpkin - it will soak up the water and make a watery pie.

To Prepare and Bake Pie:
1. Preheat oven to 425 degrees F (220 degrees C). Line a 9-inch pie plate with unbaked pie crust.
2. Combine brown sugar, sugar, flour, molasses, cinnamon, ginger, nutmeg, cloves and salt in bowl. Stir in pumpkin puree. Add eggs and heavy cream to the pumpkin mixture; mix well.
3. Pour filling into unbaked pie crust (See Tip below). Bake pie in the middle of oven for 15 minutes then reduce oven temperature to 350 degrees F (180 degrees C) and bake for 45 minutes longer, or until knife inserted in center comes out clean. Cool completely. Keep refrigerated.
4. Serve with a dollop of sweetened whipped cream, if desired.

Makes 8 servings.

Tip:
To help prevent the pie crust from becoming soggy in a custard-style pie, carefully break one of the recipe's eggs into unbaked pie crust, swish it around to cover entire surface with egg white and then pour the egg out into your mixing bowl for the filling.

*Note:
Small, immature pumpkins provide the most flavor. Pumpkins smaller in size are more tender and less stringy than the larger variety. Select pumpkins anywhere between five to eight pounds.
Date: September 20, 2007