Diana's Desserts - www.dianasdesserts.com
See more recipes in
Autumn - Winter
Fresh Pumpkin Bread
in Diana's Recipe Book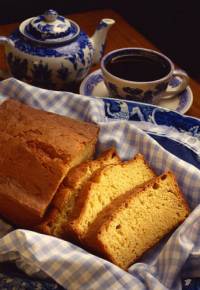 Average Rating:
(total ratings: 5)
[Read reviews]
[Post a review]
Servings: Makes 1 (9 x 5-inch) loaf, 10 servings
Comments:
The honey not only lends flavor to this bread, but also draws water to the bread, keeping it moist longer! Fresh pumpkin also creates a better flavor. Directions for preparing fresh pumpkin follow the recipe below.
Ingredients:

1/2 cup (1 stick/4 oz./113g) butter
2 cups all-purpose flour
1 tsp. baking soda
1/2 tsp. salt
1/2 tsp. ground cinnamon
1/2 tsp. ground nutmeg
1 cup honey
1 cup fresh puréed pumpkin* (See Preparing Fresh Pumpkin below)
2 eggs
2 tsp. lemon juice
1 tsp. vanilla extract
Instructions:
Preheat oven to 350 degrees F/180 degrees C. Grease a 9 x 5-inch loaf pan and line bottom of pan with parchment paper. Grease parchment paper also.

Whisk together flour, baking soda, salt, ground cinnamon and ground nutmeg in a medium bowl to blend.

Using an electric mixer, beat butter in large bowl until fluffy. Gradually add honey, beating until blended. Beat in eggs, 1 at a time. Beat in pumpkin, lemon juice and vanilla. Stir in dry ingredients.

Transfer mixture to prepared loaf pan. Bake in preheated oven for 75 to 90 minutes, or until a toothpick inserted in center of bread comes out clean. Cool bread in pan for 10 minutes, then remove from pan and let cool completely on a wire rack. (Can be made 2 days ahead. Wrap and store at room temperature.)

Makes 1 (9 x 5-inch) loaf, 10 servings.

Preparing Fresh Pumpkin

There are many different ways to prepare pumpkin, but this is the easiest and quickest method I have found yet.

Small "Sugar" pumpkins are recommended, but I have used jack-o-lantern sized pumpkins, and even giant 50-100 pound pumpkins, with good results. In general, the smaller the pumpkin, the more sweet the meat. You may need to add more honey with a larger pumpkin (taste before baking).

Tip:
Any pumpkin purée not used immediately in recipes can be stored for up to 2 days in the refrigerator, or can be stored in the freezer indefinitely. If you store in the freezer, place a 1 cup portion in a plastic bag - this is the most common amount required by most recipes.

Ingredients:
1 (8-pound) pumpkin (preferably a sugar pumpkin)
1 1/2 tablespoons unsalted butter, melted

Instructions:
Slice off the stem end of the pumpkin 2 1/2 inches from the top, reserving it, scrape out the seeds and the membranes, reserving the seeds for toasting if desired, and brush the inside of the pumpkin with the melted butter. Top the pumpkin with the reserved stem end and bake it in a shallow baking pan in the middle of a preheated 375°F/190°C oven for 1 1/2 hours, or until the pulp is tender, and let it cool in the pan until it can be handled. Discard any liquid that may have accumulated in the pumpkin, scoop out the pulp, and in a blender purée it in batches, transferring it as it is puréed to a large sieve or colander lined with overlapping large coffee filters and set over a large bowl. Cover the surface of the purée with plastic wrap and let the purée drain, chilled, overnight. Use 1 cup drained puréed pumpkin in above recipe.
Date: August 12, 2007
Reviews
Reviewer:
Ingrid
Rating:
Review:
Turned out and looked just like the picture. To me it tastes like a honey cake...great with a good strong coffee.
Reviewer:
lynda d
Rating:
Review:
fresh pumpkin was good in this. I put some nuts in it too. I made a second one with dried cranberries in it.
Reviewer:
Jennifer
Rating:
Review:
So delicious and velvety! It came out better the second time because my fresh pumpkin was a bit watery, so I cooked out some of the moisture.
Reviewer:
Gayathri Kumar
Rating:
Review:
I prepared an eggless version, substituting the egg with Tofu. I also added some roasted pumpkin seeds for some crunchiness. It was great. Thanks a lot for this yummy recipe.
Reviewer:
Brianna
Rating:
Review:
I used fresh lime juice instead of lemon and omitted the nutmeg. It was delicious! I have this recipe bookmarked. My grandpa has been trading his fresh pumpkins for a loaf of this bread. Perfect :-)