Diana's Desserts - www.dianasdesserts.com
See more recipes in
Holidays and Celebrations
Chocolate Meringue and Mint Ice Cream Cake
in Diana's Recipe Book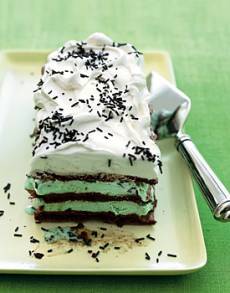 [Be the first to post a review!]
Servings: 8-10
Ingredients:

10 1/2 tablespoons sugar, divided
1/2 cup confectioners' sugar
3 tablespoons unsweetened cocoa powder
4 large egg whites
2 pints mint chip ice cream, slightly softened
1/2 cup chilled whipping cream
1/4 teaspoon vanilla extract
1/4 cup chocolate sprinkles
Instructions:
Position 1 rack in top third and 1 rack in bottom third of oven and preheat to 200°F/100°C. Line 2 large baking sheets with parchment paper. Trace two 12x4-inch rectangles, spaced slightly apart, on 1 paper. Trace one 12 x 4-inch rectangle on second paper. Turn papers over (marked lines should show through).

Sift 3 tablespoons sugar, powdered sugar, and cocoa into medium bowl. Using electric mixer, beat egg whites in large bowl until frothy. Add 1 1/2 tablespoons sugar and beat until soft peaks form. Gradually add 5 tablespoons sugar, beating until whites are stiff and glossy. Fold in cocoa mixture. Spread 1/3 of meringue (about 1 1/2 cups) evenly over each marked rectangle. Bake meringues until dry, reversing sheets every hour, about 4 hours total. Turn off oven; leave meringues in oven overnight.

Lift meringues from parchment. Place 2 meringues on work surface. Gently spread 1 pint ice cream over each, being careful not to press hard to avoid cracking meringues. Place 1 filled meringue on long platter. Top with second filled meringue, then third meringue, pressing lightly to adhere. Cover and freeze assembled cake at least 2 hours and up to 1 day.

Beat cream, vanilla, and remaining 1 tablespoon sugar in small bowl until peaks form. Spread whipped cream on top layer of meringue to cover; scatter chocolate sprinkles evenly over. Cut crosswise into slices and serve.

Makes 8 to 10 servings.
Source: Bon Appétit, August 2006
Date: July 20, 2007