Diana's Desserts - www.dianasdesserts.com
See more recipes in
Miscellaneous Desserts, Etc.
Golden Syrup Sweet Dumplings
in Diana's Recipe Book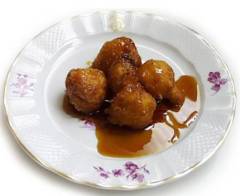 Average Rating:
(total ratings: 25)
[Read reviews]
[Post a review]
Servings: Serves 4
Comments:
This is a recipe I found in an Austrailian cookbook, and I thought these sweet dumplings sounded and looked so good, that I would put the recipe on my website. They are definitely a "comfort" food. Great on a chilly winter's day.

Try these little goodies for breakfast, or as a snack in between meals. They go very well with coffee, tea or a cup of hot cocoa......Diana
Ingredients:

For The Dough:
1 cup self-rising flour
3 tablespoons unsalted butter, cut into small pieces
1 large egg
1 tbsp. milk

For The Golden Syrup:
1 cup sugar
3 tablespoons unsalted butter
2 tbsp. golden syrup (light corn syrup, maple syrup or light treacle syrup may be substituted for the golden syrup)
Juice from 1 lemon
Instructions:
Sift the flour and a pinch of salt into a bowl. Using your fingertips, rub in the butter until the mixture is fine and crumbly, and make a well in the center. Using a flatbladed knife, stir the combined egg and milk into the flour mixture to form a soft dough.

To make the syrup, put 2 cups water in a large pan with the sugar, butter, golden syrup (or use Light Corn Syrup, Maple Syrup, or Light Treacle Syrup) and lemon juice. Stir over medium heat until combined and the sugar has dissolved.

Bring syrup to a boil, then gently drop dough by tablespoons into the syrup. Cover and reduce the heat to a simmer. Cook for 20 minutes, or until a knife inserted into a dumpling comes out clean. Spoon dumplings onto serving plates and drizzle with the syrup.

Serve the warm dumplings immediately. If desired, serve with whipped cream, or a scoop of vanilla ice cream.

Makes 4 servings.
Source: Cooking-A Commonsense Guide, Murdoch Books
Date: June 15, 2002
Reviews
Reviewer:
Ms. L. Storme
Rating:
Review:
Light, airy, little puffs of golden sweetness nestling in a puddle of sticky, gooey, amber liquid with a hint of butteryness just peeping through. Delightful.
Reviewer:
Nick H
Rating:
Review:
This recipe didn't turn out too great for me, the lemon was far too dominant. I'm sure it has potential though so don't let me put you off.
Reviewer:
GEMMA PEARCE
Rating:
Review:
absolutly lovely my mother inlaw used to make theese for my husband when he was a child he had not had them for a long time so i used this recipe and he gives it top rating
Reviewer:
G East
Rating:
Review:
Excellent recipe although just a little less lemon. I remember these little treats when I was a child (now almost 60). It is certainly worth trying especially for children.
Reviewer:
tarz
Rating:
Review:
Absolutely delicious!!!
Reviewer:
Diana, Diana's Desserts
Rating:
Review:
From Diana, Diana's Desserts:
Since so many of you stated that the amount of the lemon juice called for in this recipe is "too much", I have changed the amount to "juice of 1 lemon" instead of 1/4 cup.......Diana
Reviewer:
lindsay
Rating:
Review:
This treat is wonderfully delicious. It's absolutely the best dessert ever. It would be great for a business meeting or a school project.
Reviewer:
Jason Veenman
Rating:
Review:
This recipe works treat. The result was better than Grandma's old recipe. Don't use that much lemon juice though or it will seriously overpower. Make sure not to over mix the dough and your dumplings will be nice and fluffy like mine were. Yum. And it put my Girlfiend in a happy mood too.
Reviewer:
Donna Bradney
Rating:
Review:
I love the sweet taste and served with ice-cream or custard just makes this dessert a real treat.
Reviewer:
Ruby Grounds
Rating:
Review:
I love them with vanilla ice cream for a dessert that will impress the family!!
Reviewer:
Becca
Rating:
Review:
My dumplings did not look like the picture at all! They were much larger (there were ten of them) and much paler. The syrup and the dumplings themselves were almost yellow...nothing close to the color of the picture. But they tasted wonderful, i'm just a little baffled as to why they look nothing like the picture. They are however a very tasty treat
Reviewer:
Francis O'Neill
Rating:
Review:
it is good with ice cream
Reviewer:
CALAGM
Rating:
Review:
in a word, MMmmmmmmmm I did change the recipe a little by adding a touch of lemon peel into the dumpling dough, and only added the juice of half a lemon..
Reviewer:
Ann
Rating:
Review:
excellent, little too much lemon but I loved it.
Reviewer:
BOB
Rating:
Review:
great recipe, if you leave out the lemon altoghther!
Reviewer:
nicole
Rating:
Review:
it was terrible! this is by far the worst dumpling recipe ive ever used !! my goodness the method and ingredients are all wrong,! i thought id give it a try but its terrible!
Reviewer:
Cathryn
Rating:
Review:
Absolutely delicious. Tasted just like my Nanna's when she used to make them. A+
Reviewer:
Belinda
Rating:
Review:
The best ever!
Reviewer:
Samantha
Rating:
Review:
These were perfect and nice and fluffy...thanks for the recipe!!
Reviewer:
Lynn
Rating:
Review:
Excellent. A little too much lemon though. 1/2 the amount would be better. Husband loved them.
Reviewer:
Unknown
Rating:
Review:
Just a bit to much lemon and try adding saultarners.
Reviewer:
Eleanor
Rating:
Review:
Best ever recipe, a thousand thank you's!!
Reviewer:
Silvana
Rating:
Review:
Absolutley delicious! Light and fluffy soaked in sweet syrup. Kids loved them and a very easy dessert!
Reviewer:
war
Rating:
Review:
Make dumplings in plum sauce and honey.
Reviewer:
Hendri
Rating:
Review:
Excellent recipe. Used half the juice of a lemon and it was brilliant. Light and fluffy.