Diana's Desserts - www.dianasdesserts.com
See more recipes in
Cupcakes
Vanilla Bean Cupcakes with Vanilla Bean Frosting
in Diana's Recipe Book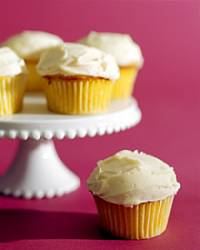 Average Rating:
(total ratings: 13)
[Read reviews]
[Post a review]
Servings: Makes 12 cupcakes
Comments:
These scrumptious cupcakes have a double dose of vanilla, in the cupcake batter and in the frosting. If you are a vanilla lover (as I am), you will love the wonderful vanilla flavor (using both vanilla extract and vanilla beans). If you like, you can decorate these little cakes with sprinkles or edible flowers (or whatever you like) or just simply frost them. They're lovely either way.

Note:
I have given you 2 Vanilla Bean Buttercream frosting variations. One makes enough to frost 24 cupcakes and the other makes enough for 12 cupcakes. Use whichever one you like. Both are delicious.
Ingredients:

3/4 cup (1 1/2 sticks/6 oz./170g) unsalted butter, softened
1 1/2 cups granulated sugar
6 large egg whites
3/4 cup whole milk
2 teaspoons pure vanilla extract
2 vanilla beans, halved lengthwise, seeds scraped and reserved, beans discarded
2 cups all-purpose flour
2 teaspoons baking powder
1/4 teaspoon coarse salt

Vanilla Bean Buttercream Frosting (see recipe below)
Instructions:
Preheat oven to 350 degrees F/180 degrees C. Line a 12-cup muffin pan with paper baking cups; set aside.

Put butter and granulated sugar into the bowl of an electric mixer fitted with the paddle attachment; mix on medium speed until pale and fluffy, about 3 minutes. Add egg whites, milk, vanilla extract, and vanilla seeds; mix until combined, scraping down sides of bowl as needed. Add flour, baking powder, and salt; mix until just combined.

Divide batter among paper baking cups in muffin pan, filling each cup about 3/4 full. Bake in preheated oven until very light golden brown, approximately 24-27 minutes. Transfer pan to a wire rack; let cool completely. Frost with Vanilla Bean Buttercream Frosting. Cupcakes can be stored, covered loosely with plastic wrap, in the refrigerator.

Makes 12 cupcakes.

Vanilla Bean Buttercream Frosting

Makes enough to frost 24 cupcakes

Note:
This makes enough frosting for 24 cupcakes. Since the above cupcake recipe makes just 12 cupcakes, you may either store the unused frosting in the refrigerator for another use, or cut the recipe in half to frost the above 12 cupcakes.

Ingredients:
1/2 cup (1 stick/4 oz./113g) unsalted butter, softened
1/2 vanilla bean, seeds scraped and reserved, beans discarded
1/2 tsp. salt
1/3 cup milk
4 cups confectioners' sugar (16 ounces/440 grams), plus more if necessary

Instructions:
Cream the butter in a medium-size bowl until very smooth. Stir in the reserved vanilla bean seeds until they're evenly distributed. Add the salt and milk, and stir until combined. Sift the sugar over the butter mixture and stir the mixture until it's perfectly smooth. If the frosting is too thin, add a few more tablespoons of confectioners' sugar, and stir until smooth. Cover with plastic wrap until you're ready to use; mix well just before using for frosting the cupcakes.

Alternate Vanilla Bean Buttercream Frosting

If you prefer to skip the vanilla bean, increase the extract to 1 1/2 teaspoons. Buttercream frosting can be made ahead and refrigerated; if refrigerated, however, it must stand at room temperature to soften before use. If using a hand-held mixer, increase mixing times significantly (at least 50 percent). This recipe can be doubled to make enough for a two-layer cake.

Makes 1 1/2 cups, enough for 12 cupcakes

Ingredients:
10 tablespoons (1 1/4 sticks/5 oz./140g) unsalted butter, softened
1/2 vanilla bean, halved lengthwise
1 1/4 cups confectioners' sugar
Pinch of salt
1/2 teaspoon vanilla extract
1 tablespoon heavy cream

Instructions:
In standing mixer fitted with whisk attachment, beat butter at medium-high speed until smooth, about 20 seconds. Using paring knife, scrape seeds from vanilla bean into butter and beat mixture at medium-high speed to combine, about 15 seconds. Add confectioners' sugar and salt; beat at medium-low speed until most of the sugar is moistened, about 45 seconds. Scrape down bowl and beat at medium speed until mixture is fully combined, about 15 seconds; scrape bowl, add vanilla and heavy cream, and beat at medium speed until incorporated, about 10 seconds, then increase speed to medium-high and beat until light and fluffy, about 4 minutes, scraping down bowl once or twice.
Date: June 9, 2007
Reviews
Reviewer:
Pepper
Rating:
Review:
For some reason when I made them they didn't turn out right. I have no idea why as I followed the recipe exactly.
Reviewer:
SABRINA
Rating:
Review:
I HAVEENT TRYED IT BUT IM GUESSING ITS GOOD!!!!!
Reviewer:
Maria
Rating:
Review:
Delicious! I brought these to work to hand out to my bosses for Boss' Day. I was pleasantly surprised that this recipe yielded enough batter for 18 cupcakes! I filled each cup w/ 2 heaping cookie scoopfuls to fill 3/4 way up to the top. I found it key to make sure the butter and egg whites were at room temp for easier mixing, and I mixed until slightly frothy before adding the dry ingredients. BTW, I don't have coarse salt, so I used a small pinch of regular salt. As for the frosting, I opted to use the 2nd given recipe, but I had to make a 1/2 recipe extra frosting. It was the perfect consistency for piping beautiful swirls on top. I made them last night, cooled completely, and stored them loosely covered at room temp. It seems to taste better the next day after sitting out! I made the frosting today and added colored sprinkles for a festive look. These are DEFINITELY not your plain cupcakes. My bosses and I give this recipe a 2 thumbs up! P.S.I buried the scraped vanilla beans in my sugar canister instead of discarding :)
Reviewer:
hairina
Rating:
Review:
They were so delicious...i've tried many of your cupcake recipes...and this is the best, everyone loves them....
Reviewer:
Patrick
Rating:
Review:
Amazing! I absolutely loved these cupcakes, we made a couple of small changes but it is an amazing recipe!
Reviewer:
Dhana
Rating:
Review:
Hi Diana, this is a lovely recipe. I felt however that the number of vanilla beans could be higher, or maybe the brand I used (McCormick) was not strong enough. I suggest using at least 2 to 4 beans for the cupcakes. I added 3 tsp. lemon juice and 1 tsp. lemon zest to the frosting and it added such a kick! Everyone loved it! Thanks for an awesome recipe.
Reviewer:
E.
Rating:
Review:
Mhmm. I just finished making them! They're very good. I messed up in the first batch and that was kind of a downer but the result was delicious when I mixed the batter properly.
Kudos!
Reviewer:
Gigi
Rating:
Review:
These cupcakes were really good.. but mine were too dense and I think it's because I didn't whip the butter and sugar until pale and fluffy as I didn't have my electric mixer. So that is a very crucial step! Also, I put those paper cupcake/muffin wrappers in the pan and the cupcakes stuck to them a lot so in the end all i got all a dense cupcakes where half of the cupcake came off on the paper. I will try to make them again soon enough and see if it's any better. But overall it had a very good taste.
Reviewer:
tammy
Rating:
Review:
I made these cupcakes and the frosting for my daughters bday this year. I made 3 different cupcakes these were the only ones that got finished and the kids were asking for more. i am in fact making these again today for my future son in law. I am going to add an extra vanilla bean or two to the cake itself but this is a wonderful recipe and a huge hit in my house.
Reviewer:
Rachael
Rating:
Review:
This frosting is TERRIBLE! Waste of an expensive vanilla bean!
Reviewer:
Stewart
Rating:
Review:
The frosting is DELICIOUS.
Reviewer:
Felicia
Rating:
Review:
Hi Diana, I was wondering if I would need to beat the egg whites separately until fluffy Or just till they are blended? I am looking to bake a light cupcake, not the dense type. Would really appreciate a response! Thank you so much! Am assuming it will turn out great although I have not tried it yet.
Reviewer:
Jennifer
Rating:
Review:
If I could kiss you right now I would my kids wanted seconds they were that good!!! Awesome super easy recipe!!