Diana's Desserts - www.dianasdesserts.com
See more recipes in
Cupcakes
Little Lemon Curd Cupcakes
in Diana's Recipe Book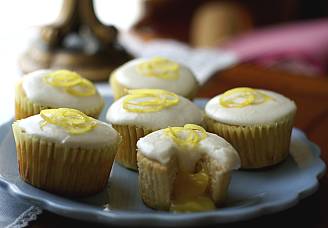 Average Rating:
(total ratings: 5)
[Read reviews]
[Post a review]
Servings: Makes 12 cupcakes
Comments:
For all the lemon lover's out there, here's a sweet and tangy lemon curd cupcake recipe for you. The secret to these little goodies it that the small amount of lemon curd is inside each cupcake. You may use yellow food coloring to tint the frosting or you may leave it plain. Either way, they're so delicious!
Ingredients:

Lemon Curd:
3 tablespoons plus 1-1/2 teaspoons granulated sugar
3 tablespoons lemon juice
4-1/2 teaspoons butter
1 egg, lightly beaten
1 teaspoon grated lemon peel

OR, alternately use store-bought ready made lemon curd (a 10-ounce jar will be sufficient for this recipe)

Batter:
3/4 cup (1 1/2 sticks/6 oz./170g) butter, softened
1 cup granulated sugar
2 eggs
1 teaspoon vanilla extract
1 teaspoon grated lemon peel
1 1/2 cups cake flour
1/2 teaspoon baking powder
1/4 teaspoon baking soda
1/4 teaspoon salt
2/3 cup buttermilk

Frosting:
2 tablespoons (1/4 stick/1 oz./28g) butter, softened
1/2 teaspoon vanilla extract
Pinch salt
2 cups confectioners' sugar
2 to 4 tablespoons milk
Yellow food coloring (optional)

Garnish: (optional)
Thin strips of lemon peel
Instructions:
For Lemon Curd:
In a heavy saucepan, cook and stir sugar, lemon juice and butter until smooth. Stir a small amount into egg; return all to pan. Bring to a gentle boil, stirring constantly; cook 2 minutes longer. Stir in lemon peel. Cool 10 minutes. Cover and chill for 1-1/2 hours or until thickened.

(Or, alternately use store-bought ready made lemon curd).

For Cupcake Batter:
In a mixing bowl, cream butter and sugar. Add eggs, one at a time, beating well after each. Add vanilla and lemon peel. Combine flour, baking powder, baking soda and salt; add to creamed mixture alternately with buttermilk.

Fill 12 paper-lined muffin cups three-fourths full. Bake at 350 degrees F/180 degrees C for 20-25 minutes or until a toothpick comes out clean. Cool 10 minutes; remove from pan to a wire rack. Cool completely.

Cut a small hole in the corner of a pastry or plastic bag; insert a small round pastry tip. Fill bag with lemon curd. Insert tip 1 inch into center of each cupcake; fill with curd just until tops of cupcakes begin to crack.

For Frosting and Garnish:
Place all frosting ingredients (including a couple of drops of yellow food coloring, if using) in mixing bowl and beat on medium-low speed with an electric mixer for 30 seconds, then increase speed to medium and beat for an additional 2-3 minutes until frosting is dense and creamy. Frost cooled and filled cupcakes. If desired, garnish each cupcake with thin strips of lemon peel. Store cupcakes in refrigerator loosely covered with plastic wrap.

Makes 12 cupcakes.

Photograph taken by Diana Baker Woodall ©2007
Date: June 3, 2007
Reviews
Reviewer:
Edileusa Goncalves
Rating:
Review:
i tried it 3 times, then it worked. it was because i am Brazilian and i didn't understand very well the recipe... but now it so good!!! thanks a lot
Reviewer:
jtg
Rating:
Review:
we love the cupcakes when it came out of the oven. it smelled heavenly and tasted wonderful. i was unable to put a lot of curd in because the pastry tip i used might be too small. we didnt like the frosting much as it kept melting and sliding off the cupcake. it was pretty messy....the cupcakes didn't taste as good after refrigeration too. can you recommend icing that wont melt? we live in a hot,humid country. thanks
Reviewer:
nina
Rating:
Review:
it's so gorgeous...thanks diana...i've made some changes in the recipe..i've replaced the lemon with orange and i didn't put the curd in it...but they turned out excellent!
Reviewer:
Rozie
Rating:
Review:
I made these and they tasted amazing and turned out perfect! Thank you for the tasty recipe! Everyone I have baked them for has been impressed!
Reviewer:
Sonia
Rating:
Review:
It's lemon season here and I will definitely make this recipe of yours. Judging from the review, I can't wait to have my first bite.