Diana's Desserts - www.dianasdesserts.com
See more recipes in
Cupcakes
Red Velvet Cupcakes
in Diana's Recipe Book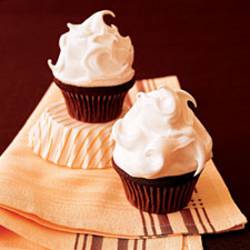 Average Rating:
(total ratings: 19)
[Read reviews]
[Post a review]
Servings: Makes 36 cupcakes
Comments:
If you love red velvet cake, then you will adore these delicious red velvet cupcakes with vanilla cream cheese frosting. Quick and easy to make and now everyone can have their own "individual" cake.
Ingredients:

3 3/4 cups cake flour
1/4 cup unsweetened cocoa
1 1/2 tsp. baking soda
1 1/2 tsp. baking powder
1 tsp. salt
1 1/2 cups buttermilk
3 tsp. white or apple cider vinegar
1 1/2 tsp. vanilla extract
3 tbsp. red food coloring
2 1/4 cups granulated sugar
3/4 cup (1 1/2 sticks/6 oz./170g) unsalted butter
3 large eggs, at room temperature

Vanilla Cream Cheese Frosting (see recipe below)
Instructions:
Preheat oven to 350 degrees F/180 degrees C. Line 3 (12 cup) muffin pans with muffin or cupcake liners.

Sift flour, cocoa powder, baking soda, baking powder and salt into medium bowl. Set aside.

Whisk buttermilk, vinegar, vanilla, and food coloring in small bowl to blend. Set aside.

Beat sugar and butter in large bowl with electric mixer until light and fluffy, about 3 minutes. Add eggs 1 at a time, beating well after each addition, about 30 seconds. Beat in flour mixture in 4 additions alternately with buttermilk mixture in 3 additions.

Divide the batter evenly into prepared muffin pans (fill each cup about 2/3 full). Bake cupcakes in preheated oven for 20 to 22 minutes, turning the pans once, halfway through baking.

Note:
You may have to bake the cupcakes in 2 batches.

Using a cake tester or toothpick or wooden skewer, insert into center of cupcake to check for doneness. Tester should come out clean. Remove cupcakes from oven and cool in pans for 10 minutes, then transfer to cooling rack to cool completely before frosting.

Vanilla Bean Cream Cheese Frosting

Ingredients:
12 oz. cream cheese, at room temperature
1/4 cup (1/2 stick/2 oz./56g) butter, at room temperature
4 to 5 cups sifted confectioners' sugar
Seeds of 1/2 vanilla bean
1 tsp. vanilla extract

Instructions:
In a large mixing bowl, beat the cream cheese, butter, vanilla bean seeds and vanilla extract together until smooth. Add the sugar and on low speed, beat until incorporated. Increase the speed to high and mix until very light and fluffy.

Note:
Frost the cupcakes with a butter knife or pipe it on with a big star tip.

Makes 36 cupcakes.
Source: Internet
Date: May 28, 2007
Reviews
Reviewer:
SuGaMaMa
Rating:
Review:
GREAT RED VELVET RECIPE!!! I used my own cream cheese frosting recipe because I didn't have a vanilla bean. The red velvet batter is perfect. The cupcakes came out moist, sweet, non-oily, and the most beautiful color. I will make these again. Thanks!!
Reviewer:
Cat (Katy)
Rating:
Review:
they tasted great & looked great too! the frosting made it the most delicious & beautiful cupcake! I made it & turned out fantasticia!
Reviewer:
monica
Rating:
Review:
Great pretty little delicious things! I used an AP flour and cornstarch substitution for the cake flour, no vanilla bean seeds and half the food coloring since it was all I had, and it still came out great! Just like the picture.
Reviewer:
Janet
Rating:
Review:
I didn't use frosting... but I mixed thick cream, dessert whip and a little milk and turned out great!
Reviewer:
Murielle
Rating:
Review:
Wow, they were really good,Thanks
Reviewer:
Lori Burr
Rating:
Review:
This is an amazing recipe. I made them for a party that I catered. BIG HIT!!!!! They were sooooo delicious. I love your website, so many wonderful recipes. I plan on trying a lot more.
Reviewer:
annette
Rating:
Review:
my family loves this recipe! simply amazing...very easy too.
Reviewer:
g
Rating:
Review:
These were very nice but for some reason my cream cheese frosting didn't get "fluffy". Will give them another go and hopefully get a better result!
Reviewer:
Rachel Tourville
Rating:
Review:
Great cupcakes!! My friends and family loved them.
Reviewer:
Diana
Rating:
Review:
Hi Asma,
You can use vanilla extract or vanilla essence instead of the vanilla bean......Diana, Diana's Desserts
Reviewer:
Asma Amin
Rating:
Review:
Fantastic! I have made these cupcakes just now. I didn't make the frosting as I don't have cream cheese at this time. I will make these with frosting again for my friends brunch party next week. They are so light and airy that they just melt in the mouth.
Diana, vanilla beans are not available here in Kuwait so what substitute can I use instead?
Reviewer:
Bren
Rating:
Review:
Buttermilk can be substituted in recipes by adding 1 Tablespoon of white distilled vinegar, apple cider vinegar or freshly squeezed lemon juice to 1 cup of dairy or non-dairy (such as soy) milk and allowing it to "sit" for five minutes.
Reviewer:
Julia
Rating:
Review:
Hi, I wanted to try to bake these Red Velvet Cupcakes, however, in my country, I cant find buttermilk. After research, I think I can substitute this with 1 cup of milk + 1 tbsp. of vinegar/lemon juice. Is it ok? Please advise.
Reviewer:
Kristen
Rating:
Review:
If I were to make mini cupcakes, how long should I bake them?
Reviewer:
Nikolina
Rating:
Review:
I absolutely loved these cupcakes. They came out awesome. I'm definitely gonna use this recipe again.
Reviewer:
SHAJIA AHMED
Rating:
Review:
HELLO DIANA,
CAN I MAKE THE RED VELVET CUPCAKES USING ALL PURPOSE FLOUR? THE RECIPE CALLS FOR CAKE FLOUR WHICH I DO NOT HAVE. MANY THANKS.
Reviewer:
Rezii
Rating:
Review:
Yummy work. Can you tell me how you did the frosting? The design in the picture.
Reviewer:
Audrey
Rating:
Review:
The cake was absolutely divine ...
Reviewer:
sabrina
Rating:
Review:
I tried this recipe and it turned out a bit bitter. Is it the color I used? Maybe the vinegar? On second attempt, I substituted the buttermilk with yogurt, no vinegar, it taste great but the color was not bright. Please advice as I need to bake for my sister's engagement day in two weeks.