Diana's Desserts - www.dianasdesserts.com
See more recipes in
The Basics and The Classics
Classic Chocolate Mousse
in Diana's Recipe Book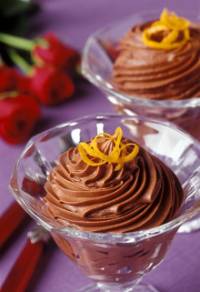 [Be the first to post a review!]
Servings: 6-8
Comments:
What is a Mousse?

A French term meaning "froth" or "foam," mousse is a rich, airy dish that can be either sweet or savory and hot or cold. Cold dessert mousses are usually made with fruit puree or a flavoring such as chocolate. Their fluffiness is due to the addition of whipped cream or beaten egg whites and they're often fortified with gelatin. Savory mousses can be made from meat, fish, shellfish, foie gras, cheese or even vegetables. Hot mousses usually get their light texture from the addition of beaten egg whites. They're generally baked in a water bath to prevent the mixture from curdling.

Source: From The New Food Lover's Companion, Second Edition, by Sharon Tyler Herbst

This is the easiest and quickest chocolate mousse you'll ever make and it is so yummy! It has a dark chocolate color with a bittersweet chocolate taste for those of you who love their chocolate mousse deeply rich. Great for any occasion or make it when you need something special but quick.
Ingredients:

1 quart (32 oz./4 cups/946mL/1 liter) heavy cream
14 ounces (397g) bittersweet chocolate, melted

Instructions:
Whip the cream to soft peaks and add about 1/3 of the melted chocolate. Fold gently with a rubber spatula. Mix the remaining chocolate into the whipped cream. Mix only until combined, as you will deflate the cream if you over mix. Place the mousse in a large pastry bag and pipe into decorative serving cups.

Makes 6-8 servings.
Source: Jacques Torres
Date: May 22, 2007