Diana's Desserts - www.dianasdesserts.com
See more recipes in
The Basics and The Classics
Classic Brownies
in Diana's Recipe Book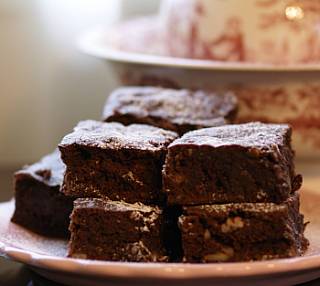 Average Rating:
(total ratings: 9)
[Read reviews]
[Post a review]
Servings: Makes 12 to 16 brownies
Comments:
As with chocolate chip cookies, everyone needs an excellent classic brownie recipe. Here's one that will suit almost every chocolate lover's taste buds. A truly scrumptious brownie.....Diana, Diana's Desserts
Ingredients:

14 tbsp. (1 3/4 sticks/7 oz./200g) butter, cut into 1/2-inch pieces
10 oz. best quality semisweet or bittersweet chocolate, or very dark milk chocolate
1 3/4 cups light brown sugar
4 tbsp. milk
3 large eggs
1 tsp. vanilla extract
1 3/4 cups all-purpose flour
1 cup chopped walnuts or pecans (optional)
Confectioners' sugar, for dusting (optional)
Instructions:
1. Preheat oven to 350 degrees F/180 degrees C. Butter a non-stick 11-inch x 7-inch x 1.5-inch deep baking pan, or line the pan with parchment paper or aluminum foil and butter paper or foil (I recommend lining the pan with enough parchment paper or foil so you have a 2-inch overhang on all sides, so you can lift the brownies out easily once they have cooled.)

2. Break the chocolate into pieces and place into a medium size saucepan, add the butter, sugar and milk, then warm gently, stirring frequently until melted and evenly mixed. Remove from heat and allow mixture to cool slightly (about 5 minutes), then beat in the eggs one at a time. Stir in vanilla. Fold in the flour and chopped nuts (nuts are an optional ingredient.)

3. Spoon mixture into the prepared baking pan. Place pan in preheated oven and bake for 25 to 30 minutes (do not overbake or the brownies will be dry.) Remove brownies from oven and let cool in pan for 15 minutes, then lift brownies out of pan using the parchment paper or foil overhang and transfer brownies to a wire rack to cool completely. Remove parchment paper or foil (if used) and cut brownies into squares when completely cooled. If desired, dust with confectioners' sugar.

Storing Brownies:
Brownies will keep in a airtight container for several days.

Makes 12-16 brownies (depending on what size you cut them).

Note:
You may also bake these brownies in a 9-inch square baking pan, if needed. The brownies will be a bit thicker. I would recommend baking them for no more then 25 minutes.

Photograph taken by Diana Baker Woodall ©2007
Source: DianasDesserts.com
Date: May 19, 2007
Reviews
Reviewer:
Silvia
Rating:
Review:
I would like to give 6 cakes to this delicious recipe. I've always used your "The Best Brownies" recipe for my brownies which was excellent indeed, although this one beats it 10 to 1. These are just perfect. I cooked mine for 20 minutes and they were just soo fudgy, but yet they would hold together perfecty without giving me the impression they were underbaked. I found that with the other recipe the brownies would stay too undercooked inside and overcooked on the outside. And note that I LOVE my brownies to be extra FUDGY! This has become my new brownies recipe. Thanks, Diana
Reviewer:
wanna
Rating:
Review:
Can I substitute the chocolate for cocoa powder instead? What is the measurement?
Reviewer:
Diana, Diana's Desserts
Rating:
Review:
Hi Shimul, the brownies should be completely cooled before eating them. They should not be eaten hot. If the brownies seem too buttery, reduce the amount of butter in the recipe to 1 1/4 to 1 1/2 sticks (5 to 6 ounces or 141 to 170 grams, instead of 1 3/4 sticks-7 ounces or 200 grams). Good luck and please leave a comment if you make them again with less butter to let us know how they turned out.....Sincerely, Diana, Diana's Desserts
Reviewer:
Diana, DianasDesserts.com
Rating:
Review:
Hi Wanna,
You may substitute the chocolate in this recipe with 1/3 to 1/2 cup unsweetened cocoa powder, although I feel that these brownies taste best using pure semisweet, bittersweet or very dark milk chocolate. Try them with cocoa powder and see if you like them. Good luck and enjoy!
Reviewer:
Shimul
Rating:
Review:
Hi Diana, Thank you so much for this recipe. I made it this past weekend and the brownies came out very good...the only thing though, I thought they were a little too buttery and I didn't think I could eat them hot. Any chance you would have any suggestions on that? Can I just reduce the butter a bit?
Reviewer:
Jiehui
Rating:
Review:
Hi Diana, Can I substitute light brown sugar with normal brown sugar instead?
Reviewer:
Winni
Rating:
Review:
Hi Diana, is the butter used in the recipe salted or unsalted?
Reviewer:
SHAJIA
Rating:
Review:
I baked these brownies yesterday for my son's school party. Though it was my first ever attempt at baking brownies, these were awesome. Moist and chocolatey. For frosting I stirred together 11/2 cups of icing sugar, 1/2 cup cocoa and and 1 to 2 tbsps of hot water to bring it together. Spread over warm brownies and leave it. You will get a complete professional look just like in stores. Thank you Diana.
Reviewer:
M N
Rating:
Review:
Hi Diana. I would want to give this a 5 cake rating, however, I think I messed up and so can't tell the outcome until I make it right. Since it's required, I put 4... here's the problem:
I heated oven to 180 C. The mix seemed fine, nice thick and gooey.
After baking for exactly 25 minutes, the toothpick came out nice and clean. The brownie looked good on top with a thin crust like layer.
Until I sliced it after cooling - it was way to gooey in the center up until 1" away from the sides. The square cut from a center section would not hold up. The sides seemed perfect. I even have an oven thermometer. What happened?