Diana's Desserts - www.dianasdesserts.com
See more recipes in
Cheesecakes
New York Style Cheesecake
in Diana's Recipe Book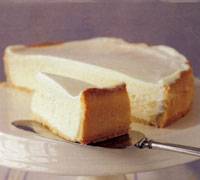 Average Rating:
(total ratings: 8)
[Read reviews]
[Post a review]
Servings: 12-16
Comments:
This is one version of the famous New York Cheesecake. This one is made with sour cream added to the cheesecake batter.
Ingredients:

1/2 cup (1 stick/4 oz/113g) unsalted butter, softened
1/4 cup brown sugar, firmly packed
4 large eggs
1 1/4 cups all-purpose flour
4 (8-ounce) packages cream cheese, softened
1 1/4 cups granulated sugar
1/4 cup all-purpose flour
4 teaspoons vanilla extract
2 (8-ounce) cartons dairy sour cream
1/4 cup granulated sugar


Instructions:
For Crust:
Preheat oven to 350 degrees F/180 degrees C.

In a large mixing bowl beat butter on medium to high speed for 30 seconds. Add brown sugar. Beat until fluffy. Add one of the eggs; beat well. Slowly beat in the 1-1/4 cups flour until combined. Divide dough in half. Cover and refrigerate one portion. Spread remaining portion onto the bottom of an ungreased 10-inch springform pan with sides removed. Place on baking sheet. Bake for 10 minutes. Let cool completely. When bottom crust has cooled, attach sides of pan. Press chilled dough onto sides to a height of about 1-3/4 inches. Set aside.

For Cream Cheese Filling:
Increase oven temperature to 450 degrees F/230 degrees C. In a large mixing bowl beat cream cheese and the 1-1/4 cups granulated sugar until fluffy. Beat in the 1/4 cup flour at low speed until smooth. Add the remaining 3 eggs and 3 teaspoons of the vanilla all at once, beating at low speed until just combined. Stir in 1/2 cup of the sour cream. Pour batter into the crust-lined pan. Place on a shallow baking pan in oven. Bake for 10 minutes. Reduce oven temperature to 300 degrees F. Bake for 30 minutes more or until center appears nearly set when gently shaken. Remove from oven.

For the Sour Cream Topping:
Stir together remaining sour cream, the 1/4 cup granulated sugar, and the remaining 1 teaspoon vanilla. Using a spoon, spread mixture evenly over top of baked cheesecake. Return to oven and bake for 15 minutes more.

Remove from oven. Cool on wire rack for 15 minutes. Loosen crust from sides of pan. Cool for 30 minutes more. Remove sides of pan and cool completely. Cover and chill at least 4 hours or overnight. Let stand at room temperature for 15 minutes before slicing.

Makes 16 servings.

MAKE AHEAD TIP:
You can seal the cooled cake in a freezer bag or airtight container and freeze for up to 1 month. To thaw, place cheesecake in refrigerator for 24 hours, or thaw individual pieces at room temperature for 30 minutes.
Source: DianasDesserts.com
Date: June 9, 2002
Reviews
Reviewer:
Tichonn
Rating:
Review:
Easy and excellent!!!! A winner
Reviewer:
Heather
Rating:
Review:
This cheesecake recipe is the best!!! I searched the internet for this recipe for an hour... It was well worth it. Try this, it's excellent!!! My dinner guests were in heaven after having this cheesecake!
Reviewer:
Harold
Rating:
Review:
The best I have ever made
Reviewer:
lisa
Rating:
Review:
Love it. I always make this for the holidays.
Reviewer:
Shahnool
Rating:
Review:
This is the best cheesecake I have ever made, but I have a problem, the cheesecake cracks at the top after I remove it from the oven, any tips?
Reviewer:
Suzanne
Rating:
Review:
Shahnool, to prevent your cheesecake from cracking after it's cooked, grease your pan more before you add the cream cheese filling and close all the windows to prevent air draft when you remove your cake from the oven. Good luck!
Reviewer:
Jack Kessler
Rating:
Review:
Like most available cheesecake recipes, the one lacking ingredient is lemon zest as is used in Pennsylvania Dutch recipes. This gives it a tang that causes the saliva glands at back of mouth to water! Really makes a difference. Also the use of cottage cheese gives a much nicer texture.
Reviewer:
Julie
Rating:
Review:
I am from Germany and fell in love with the New York cheesecake when I tried it in the US: From that day one I tried lot of recipes to find the perfect one...When I finished that one I nearly started crying because I remembered my wonderful holidays. Thank you, Therefore...this recipe is the best from nearly 20 I tried out...