Diana's Desserts - www.dianasdesserts.com
See more recipes in
Miscellaneous Desserts, Etc.
Boston Cream Pie
in Diana's Recipe Book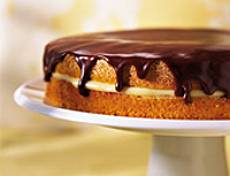 Average Rating:
(total ratings: 7)
[Read reviews]
[Post a review]
Servings: 12
Comments:
Boston Cream Pie
Chefs speculate that this American bakery classic, created at Boston's Parker House Hotel in the mid-1850s, was originally called a pie because it wasn't very high. Cake flour (versus all-purpose flour) makes the texture of the layers feathery light; adding vanilla bean to the filling and coffee powder to the glaze intensifies their flavor. So dust off that favorite cake plate and serve up a slice of a classic.
Ingredients:

1 1/3 cups milk, divided
1 vanilla bean, split lengthwise, or 1 teaspoon vanilla extract
1/3 cup granulated sugar
2 tablespoons cornstarch
3 large egg yolks
2 tablespoons (1/4 stick/1 oz/28g) butter or margarine, cut up
2 cups cake flour (not self-rising)
2 teaspoons baking powder
1/4 teaspoon salt
1/2 cup (1 stick/4 oz/113g) butter or margarine, softened
1 cup granulated sugar
2 large eggs, at room temperature
3/4 cup milk, at room temperature
1 teaspoon vanilla extract
1/4 cup heavy or whipping cream
1 teaspoon instant coffee powder
4 ounces semisweet chocolate squares, finely chopped
1 tablespoon light corn syrup
1/4 cup confectioners' sugar, sifted
Instructions:
1. TO MAKE CUSTARD:
Combine 1 cup milk and vanilla bean in a microwave safe bowl. Microwave on High 1 minute, until milk is hot. Whisk sugar and cornstarch in a 2-quart saucepan until blended. Whisk in remaining 1/3 cup milk and egg yolks until smooth. Remove vanilla beans from milk and scrape seeds into mixture in saucepan (discard bean); gradually whisk in hot milk. Cook custard over medium-low heat, whisking gently until it comes to a full boil. Reduce heat and boil for 1 minute, whisking gently. Remove from heat and stir (not whisk) in butter until melted. Strain custard through a sieve into a medium bowl. (Stir in vanilla extract, if using.) Cover surface directly with plastic wrap. Refrigerate 2 hours until cold. (Can be made ahead. Refrigerate overnight. To proceed with recipe, stir custard until smooth.)

2. TO MAKE CAKE:
Preheat oven to 350 degree F/180 degrees C. Grease and flour a 9-inch springform pan. Whisk flour, baking powder, and salt in a bowl until blended. Beat butter in a large mixer bowl until softened, about 1 minute. Gradually beat in sugar, then beat 4 to 5 minutes, until fluffy. At low speed, beat in eggs one at a time until well blended. Combine milk and vanilla in glass measure. Alternately beat in flour mixture with milk mixture, beginning and ending with flour mixture, beating just until blended. Spread batter evenly into prepared pan.

3. Bake 35 to 40 minutes, or until a toothpick inserted in center of cake comes out clean. Cool cake in pan 10 minutes. Run a knife around side of pan and detach springform ring. Invert cake onto a wire rack. Remove pan bottom and invert cake gain onto rack. Cool. (Can be made ahead. Wrap well and freeze up to two weeks. Thaw at room temperature 2 hours.)

4.TO MAKE GLAZE:
Bring cream and instant coffee to a boil in a 1-quart saucepan. Remove pan from heat; add chocolate. Cover and let stand 1 minute. Whisk until chocolate melts. Add corn syrup and confectioners' sugar; whisk until smooth. (If there are any lumps of sugar remaining, let stand a few minutes and whisk again.) Let stand 10 minutes to cool.

5.TO ASSEMBLE CAKE:
Split cake in half horizontally with a long serrated knife. Remove top. Place bottom layer on a cake stand or serving plate. Spoon chilled custard onto bottom layer and spread up to 1/2 inch from edge. Top with remaining cake layer, cut side down. Spoon glaze onto center of cake. Spread evenly on cake, letting some run down sides. Let stand until glaze firms up, about 30 minutes.

Makes 12 servings.
Source: Ladies Home Journal
Date: June 8, 2002
Reviews
Reviewer:
Phillbob1
Rating:
Review:
I also folded the cold custard with freshly whipped heavy cream so it came out like Boston Creme-mousse pie. I love most of your recipies. They're great!
Reviewer:
Prerana
Rating:
Reviewer:
Sanaz
Rating:
Review:
I love your recipes. Thank you
Reviewer:
;lkasdifelkfna
Rating:
Reviewer:
sadie
Rating:
Reviewer:
Grace
Rating:
Review:
This recipe is delicious. The cake and custard was good, but there was a little too much custard. I think the custard recipe could be cut in half.
Reviewer:
SHAJIA AHMED
Rating:
Review:
I just baked the cake and made my own custard from the box. It turned out great. My guests loved this cake. Thanks Diana.