Diana's Desserts - www.dianasdesserts.com
See more recipes in
Muffins
High-Rise Blueberry Banana Muffins
in Diana's Recipe Book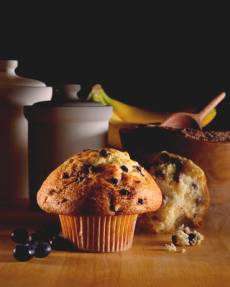 Average Rating:
(total ratings: 13)
[Read reviews]
[Post a review]
Servings: Makes 12 muffins
Comments:
The recipe that you are using MUST have a thick batter in order to produce High-Rise muffins. Thin batters usually bake flatter muffins no matter what you do because they don't provide a strong foundation from which a muffin can puff in the oven.

Fill the muffin cups almost or to the top of the rim, instead of 1/2 or 2/3's full, suggested by most recipes. You'll get fewer muffins from the batch, such as 9 muffins out of a dozen mixture, so fill the empty muffin tins half full with water so they won't smoke during baking. Do this after you place the filled muffin tins on the oven shelf. I use a small cream pitcher with a spout.

To cause a batter to dome, you have to preheat the oven to 425 degrees F/220 degrees C, even though the recipe may say to use 350 or 375 degrees F. As soon as you put the muffin batter in the oven, reduce the heat to what the recipe says. The initial high heat of 425 degrees F causes the batter to have greater oven spring or the rapid rise during the first few minutes of baking. This results in a high domed muffin.

IMPORTANT NOTE:
The comments above are from Sarah Phillips of Baking911's Website. The recipe below is NOT Sarah Phillips recipe and I am sorry if there was some confusion about this.
Ingredients:

1 1/2 cups all-purpose flour
1 tsp. baking soda
1 tsp. baking powder
1/2 tsp. salt
3 large ripe bananas
3/4 cup granulated sugar
1 large egg, slightly beaten
1/3 cup unsalted butter, melted
1 cup fresh or frozen blueberries (if using frozen blueberries, do not thaw)
1 tbsp. all-purpose flour
Instructions:
1. Preheat oven to 425 degrees F/220 degrees C (you will reduce the oven temperature to 375 degrees F/190 degrees C when you put muffins into bake). Grease and flour a 12-cup muffin tin or line with paper liners.

2. Combine 1 1/2 cups flour, baking soda, baking powder and salt in a medium bowl; make a well in the center.

3. In another bowl, mash bananas; add sugar, egg and melted butter; mix well. Pour mixture into well. Mix batter until just moistened; do not over mix.

4. Toss blueberries with 1 tablespoon flour and gently fold into batter.

5. Fill prepared muffin cups almost to the top of rims. Place muffin pan in oven and immediately reduce oven temperature to 375 degrees F/190 degrees C. Bake for 18 to 20 minutes or until muffins test done. Cool in pan on wire rack.

Makes 12 muffins.
Source: DianasDesserts.com
Date: April 22, 2007
Reviews
Reviewer:
Carrie
Rating:
Review:
Excellent recipe! Very easy and taste great. I only managed to make 9 with the recipe and not quite as high rise as the picture, but still really good.
Reviewer:
Sarah Phillips
Rating:
Review:
This is not a recipe by Sarah Phillips at baking911.com. The advice has been taken from the website, but not the recipe, which I have had a few complaints about.
Reviewer:
Zaneta
Rating:
Review:
I modified the recipe according to what I had in the kitchen and it turned out beautifully. 1 1/2 cups spelt, 2 large bananas, 1/2 cup berry sugar + 1/2 cup walnuts as well as the cup of blueberries.
Reviewer:
Emily Greenwood
Rating:
Review:
I tried this recipe. There was no liquid added to it... Why? I asked family friend, food technologist Julie Finnin, who got us to add milk... It turned out fine. But not nearly as tasty as I was hoping for. Really not great... Sorry.
Reviewer:
Brandy
Rating:
Review:
Good advice on how to make a taller muffin, but a very bland recipe. I added lemon zest and cinnamon and it was better.
Reviewer:
Imogen
Rating:
Review:
These are delicious. I loved them.
Reviewer:
Zhani
Rating:
Review:
They tasted great, although they were quite oily and did not rise as much as I would have liked. I added cinnamon, vanilla essence, and cranberries in to make up for not having any bananas. What is the recipe they use in shops to get the HUGE muffins?
Reviewer:
M3g
Rating:
Review:
Very delicious.
Reviewer:
David
Rating:
Review:
Excellent muffins, they were great even though they did not rise as much as the picture above.
I prefer things very potent, so I imagine that in making these muffins again (which I plan on doing today!) I would use some cinnamon, perhaps a little vanilla.
I'm noticing that there were several negative reviews of this recipe after posters had ALTERED the recipe... If you're reviewing an altered recipe, you're reviewing YOUR recipe NOT THE RECIPE LISTED HERE.
Please people, give accurate reviews on the actual recipe - it helps us all.
Reviewer:
Veganoid
Rating:
Review:
The 1/3 cup of butter is a no no! Can I substitute a plant based fat? Thanks.
Reviewer:
netta
Rating:
Reviewer:
Roberto
Rating:
Review:
Excellent result and great tasting muffins, an instant hit with my kids! I read somewhere that baking powder looses its strength if too old. After checking the date on the jar I found it was out of date by more than 2 years. I didn't have any soda at home so I just compensated by adding a third tb of baking powder. Wow, they rose exceptionally high. Followed the rest of the recipe exactly. Thanks!
Reviewer:
Autumn
Rating:
Review:
Easy, simple recipe that produced only nine but good sized, puffy topped muffins... I added a sprinkle of organic brown sugar on top for a fantastic crunchy surprise.