Diana's Desserts - www.dianasdesserts.com
See more recipes in
Coffee Cakes - Sweet Rolls - Doughnuts
Boston Cream Doughnuts
in Diana's Recipe Book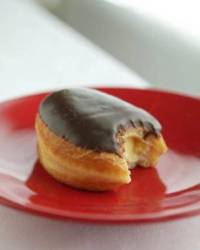 Average Rating:
(total ratings: 19)
[Read reviews]
[Post a review]
Servings: Makes 14 doughnuts
Comments:
These doughnuts require a little time to make, but they are far better than anything you'll find in any doughnut shop. The recipe was created by Carols Harlam, a talented baker, dessert maker, and perfectionist. It was inspired by a drive through New England, where she and her family frequently stopped at roadside diners for glazed doughnuts and coffee. Make sure your oil is properly preheated before frying the doughnuts. When it is at the right temperature, the surface will quiver slightly.....Tish Boyle, from Diner Desserts
Ingredients:

Vanilla Cream Filling:
2/3 cup granulated sugar
2 cups whole milk, divided
1/2 vanilla bean, split lengthwise
1/4 cup cornstarch
5 large egg yolks
3 tablespoons unsalted butter, softened

Doughnuts:
3/4 cup warm (105 to 110 degrees F) whole milk
2 1/4 teaspoons (I envelope) active dry yeast
1/3 cup granulated sugar
2 3/4 cups unbleached all-purpose flour
1/4 teaspoon ground cardamom
1/4 teaspoon freshly grated nutmeg
1 teaspoon salt
4 large egg yolks
1/2 cup (1 stick) unsalted butter, cut into tablespoons, softened

Vegetable oil for frying

Chocolate Glaze:
4 ounces bittersweet chocolate, finely chopped
3 tablespoons water
2 tablespoons light corn syrup
1/3 cup granulated sugar
3 tablespoons unsalted butter, softened
Instructions:
To Make the Vanilla Cream Filling:

1. In a saucepan, combine the sugar, 1 1/2 cups of the milk, and the vanilla bean. Cook over low heat, stirring constantly with a wooden spoon, until the sugar is dissolved. Raise the heat and scald the mixture.

2. Meanwhile, place the cornstarch in a medium bowl. Using a wire whisk, gradually whisk in the remaining 1/2 cup milk until smooth. Add the egg yolks and whisk until well blended.

3. Slowly pour 1/3 cup of the hot milk mixture into the yolk mixture, whisking constantly. Gradually whisk in the rest of the hot milk. Return the milk-yolk mixture to the saucepan and bring to a boil over medium heat. Boil gently for 1 minute, stirring constantly.

4. Remove the pan from the heat and whisk in the butter. Pass the mixture through a fine-mesh sieve into a bowl. Cover with plastic wrap, pressing it directly onto the surface, and refrigerate until chilled.

To Make the Doughnuts:

1. Place the warm milk, yeast, and 1 teaspoon of the sugar in the bowl of an electric mixer. Stir the yeast into the mixture and let stand for 10 minutes, or until foamy.

2. Add 1 cup of the flour and, using the paddle attachment or beaters, beat on low speed for 2 minutes to form the sponge. Remove the bowl from the stand, cover with plastic wrap, and let the sponge stand at room temperature until well risen, about 30 minutes.

3. In a medium bowl, whisk together the remaining 1 3/4 cups flour with the cardamom, nutmeg, and salt; set aside.

4. Return the bowl containing the sponge to the mixer stand. Using the paddle attachment on medium speed, add the egg yolks and mix until incorporated, then beat in the remaining sugar. Add the butter, 1 tablespoon at a time, beating until each tablespoon is absorbed before adding the next. Add the flour-spice mixture and beat on medium speed for 5 minutes. The dough will not form a ball. It will be soft and part of it will wrap itself around the paddle.

5. Scrape the dough into a well-buttered bowl and turn as needed to coat all sides with the butter. Cover the bowl with buttered plastic wrap, buttered side down, and let the dough rise in a warm, draft-free place for about I hour, or until it has slightly more than doubled in volume.

6. Turn out the dough onto a lightly oiled work surface. Using your hands, gently press down on it to deflate it and flatten it evenly to no less then 1/2 inch thick. Cover loosely with plastic wrap and let the dough rest for 5 minutes.

7. Line a baking sheet with parchment or waxed paper. Using a floured 2 1/2-inch biscuit cutter, cut out 14 dough rounds. Gently transfer the rounds to the lined baking sheet, reshaping them if necessary. Space the rounds at least 1-inch apart to allow for expansion. Let rise for about 30 minutes, or until almost doubled in size.

8. While the doughnuts are rising, pour the oil into a deep-fat fryer or large straight-sided saucepan to a depth of 2 to 3 inches. Heat the oil to 360 degrees F. Line a baking sheet with paper towels.

9. Fry the doughnuts, 3 or 4 at a time, for about 1 minute, or until golden brown on the first side. Turn and fry on the second side until golden brown. It may take slightly less time for the second side to cook than the first. The midline of the doughnut will be lighter than the rest of it, which is characteristic. Using a slotted spoon, transfer the doughnuts to the paper towels to drain, then place on a wire rack to cool. As soon as the doughnuts are cool enough to handle, use a long, thin, plain pastry tip to poke a hole through the midline to the center of each doughnut. Let cool completely before filling.

10. Remove the vanilla cream filling from the refrigerator and beat with the electric mixer on medium speed until smooth.

11. Scrape the cream filling into a large pastry bag fitted with a medium plain tip (such as Ateco #2). Pipe the filling into the hole in the middle of each doughnut until the doughnut feels full. Wipe off any excess cream. Return the filled doughnuts to the rack as they are filled.

To Make the Chocolate Glaze:

1. Place the chopped chocolate in a medium heatproof bowl. Set aside.

2. Combine the water, corn syrup, and sugar in a heavy-bottomed, medium saucepan. Place over low heat and cook, stirring constantly with a wooden spoon, until the sugar is dissolved. Raise the heat and bring to a full boil.

3. Pour the hot syrup over the chopped chocolate. Let stand for 3 minutes to melt the chocolate, then whisk gently until smooth. Whisk in the butter. Let the glaze cool until it starts to thicken slightly, stirring occasionally.

4. Spread a scant tablespoon of chocolate glaze over the top of each doughnut. Place the glazed doughnuts back on the rack and let stand until set. The doughnuts are best served within a few hours.

Makes 14 doughnuts.
Source: Diner Desserts by Tish Boyle
Date: March 5, 2007
Reviews
Reviewer:
Reem
Rating:
Review:
amazing!
Reviewer:
margret
Rating:
Review:
amazing!
Reviewer:
Bob
Rating:
Review:
Decent, but missing that special "flare".
Reviewer:
Ana
Rating:
Review:
My sister said this is the best "dessert" I've ever made. Thank you so much!
Reviewer:
laylena
Rating:
Reviewer:
mr wonga
Rating:
Review:
Amazing! In England we usually eat scones but these are much better. I was struggling to get an alternative for corn syrup though.
Reviewer:
Meranda
Rating:
Review:
This was a HORRIBLE recipe. we got 7 doughnuts out of this and they didn't rise or anything.. Very disappointed!
Reviewer:
kat
Rating:
Review:
Can't wait to make 'em!
Reviewer:
Christina
Rating:
Review:
AMAZING! I MADE THEM AND THEY ARE DELICIOUS AND I'M ONLY 14 YEARS OF AGE!!
Reviewer:
kat
Rating:
Review:
Can't wait to make 'em. LOVE DOUGHNUTS! so excited!
Reviewer:
Hannah
Rating:
Review:
Absolotley amazing
Reviewer:
casimir
Rating:
Review:
not good. i have quite a bit of experience with baking and i still couldn't get these right. my advice is to find a simpler recipe for the donuts themselves. they were way too heavy.
Reviewer:
cool girl
Rating:
Review:
ok
Reviewer:
Robin
Rating:
Review:
This is awesome!
Reviewer:
Geri O'Keefe-Curtis
Rating:
Review:
My favorite donuts - can't wait to try the recipe!.
Reviewer:
Esther
Rating:
Review:
I've been looking for a recipe for these, hoping to make them this next week.
Reviewer:
barb
Rating:
Review:
dough very very sticky and hard to work with will not be making these again...sorry
Reviewer:
karen
Rating:
Review:
These sound good, a little time consuming maybe, but I think I'll give them a try. Will let you know. Thanks
Reviewer:
sherri
Rating:
Review:
much too time consuming for 14 doughnuts....now if it had made two or four dozen, it might be worth the time and effort