Diana's Desserts - www.dianasdesserts.com
See more recipes in
Easter
Greek Easter Bread (Tsoureki)
in Diana's Recipe Book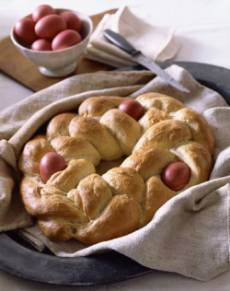 Average Rating:
(total ratings: 2)
[Read reviews]
[Post a review]
Servings: Makes 3 loafs
Comments:
This braided, sweet bread is found in all Greek shops and homes during the Easter Holiday.
Ingredients:

2 envelopes (1/2 oz./14 grams/4 1/2 tsp.) active dry yeast
1/2 cup warm water
1 cup (2 sticks/8 oz./226g) unsalted butter
1 1/4 cups granulated sugar PLUS 1 tablespoon
5 eggs
2 cups warm milk
10 cups all-purpose flour
1/2 tsp. ground mastic OR mahlepi (also spelled makhlepi)* (See Notes Below)

Optional:
Red dyed hard-boiled Easter Eggs
Instructions:
Dissolve the yeast in the warm water with 1 tbsp. sugar, set it aside to ferment and proof, about 10 minutes.

Cream the butter and sugar in a large bowl until it is light. Beat in four of the eggs, one at a time, beating with each addition. On low speed, slowly pour in the warm milk. Add 1 cup of the flour and the mahlepi and mix into the other ingredients. Then add the dissolved yeast and slowly start adding the remaining flour.

When the mixture gets too thick to stir, remove it from the mixer. Dip both your hands into flour so they don't get sticky, and start kneading the dough by hand, until all the flour is incorporated. It should be pliable and smooth, not stiff.

Cover the dough with a smooth cloth towel and set it in a warm place to rise, about 1 hour, until it is double in bulk. Knead it again for 1 minute and then set it aside to rise once more.

Knead the dough again for 1 minute, and then divide it into 12 balls (each ball being the size of an orange). This will yield you 4 loaves. Roll each ball on a floured board into a rope 1 1/2 to 2 inches thick and 15 to 20 inches long.

Take three ropes, and press the edges of the ropes together and tuck the end under the loaf. Braid the length of the ropes and when finished, press the other end together and tuck under the loaf. Set each loaf on a well-greased sheet and cover so they rise again and are doubled in bulk.

Preheat oven to 275 degrees F/135 degrees C. Beat the last egg lightly and brush the tops of the braided loaves with it. Bake the loaves for 15 minutes then lower the heat to 250 degrees F/120 degrees C and continue baking until they are golden brown, about 30 minutes. They can be stored in airtight bags or even frozen to enjoy on another day.

Makes 3 loafs.

*Notes:
Mastic can be purchased online at Parthenon Foods. Mastic can also be found at most Middle Eastern food markets or at Greek food markets.

Mahlepi can be purchased at most Greek markets or stores online. It can be purchased at: Greekolivewarehouse.com and at: Greekshops.com

Variation:
For a little variation, you can add pieces of dried orange peel and mix it into the dough. If you would like to get more decorative with your Tsoureki, you can push hard-boiled, dyed eggs into the loaf right before it is baked. They make the loaves that much more festive.
Date: March 5, 2007
Reviews
Reviewer:
Grace
Rating:
Review:
On my first attempt the bread turned out good. It's soft and delicious to eat when it's still warm. Thanks Diana!
Reviewer:
nkw
Rating:
Review:
Flavor was excellent, but the cooking temperature and time are off. Baking per the instructions, the bread turned out much too doughy. I made three loaves and increased the time and temperature with each try.