Diana's Desserts - www.dianasdesserts.com
See more recipes in
Chinese New Year
Banana and Mango Spring Rolls with Ganache
in Diana's Recipe Book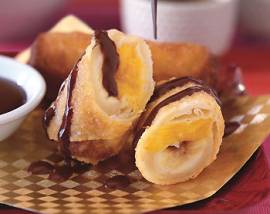 [Be the first to post a review!]
Servings: 8
Comments:
East meets West in this dessert version of the spring roll.

Ingredients:

Ganache:
1 (14-ounce) can unsweetened coconut milk
1/3 cup palm sugar or 1/3 cup (packed) golden brown sugar
1 1/2 teaspoons ground ginger
8 ounces semisweet chocolate, chopped

Spring Rolls:
8 (8-inch) square frozen spring roll pastry wrappers, thawed
4 small ripe Chinese bananas (dwarf bananas), peeled, halved lengthwise, or 2 regular bananas, peeled, halved lengthwise, then halved crosswise
2 Champagne mangoes (small orange kidney-shaped mangoes) or 1 regular mango, peeled, pitted, cut lengthwise into 3-inch-long, 1/2-inch-wide strips
1 egg, beaten to blend
Vegetable oil (preferably grapeseed oil; for frying)

Fresh mint sprigs
Instructions:
For Ganache:
Combine coconut milk, palm sugar, and ginger in heavy medium saucepan. Bring mixture to simmer over medium heat, stirring until sugar dissolves. Remove from heat. Add chocolate and whisk until mixture is melted and smooth. DO AHEAD Ganache can be made 1 day ahead. Cover and refrigerate. Before serving, stir over low heat just until pourable.

For Spring Rolls:
Line baking sheet with parchment paper. Place 1 spring roll wrapper on work surface in diamond shape (1 pointed end toward you and 1 pointed end in opposite direction). Place 1 banana piece across center of wrapper, then 2 mango strips. Fold bottom pointed corner of spring roll wrapper up over fruit, then fold in sides over fruit. Brush unfolded part of spring roll wrapper with beaten egg. Roll up wrapper, enclosing fruit completely. Place on prepared baking sheet. Repeat with remaining spring roll wrappers, banana halves, mango strips, and beaten egg. DO AHEAD Spring rolls can be made 4 hours ahead. Cover with plastic wrap and refrigerate.

Pour enough vegetable oil into heavy deep skillet to reach depth of 1 1/2 inches; heat oil to between 360°F/182°C and 375°F/190°C. Working in 2 batches, add spring rolls to hot oil and cook until golden and crisp, turning often, about 3 minutes per batch. Using slotted spoon, transfer spring rolls to paper towels to drain.

Place 1 spring roll on each of 8 plates. Garnish with mint sprigs. Drizzle with coconut-chocolate ganache.

Makes 8 servings.
Source: Bon Appétit, February 2007
Date: February 17, 2007