Diana's Desserts - www.dianasdesserts.com
See more recipes in
Holidays and Celebrations
Galette des Rois for Epiphany
in Diana's Recipe Book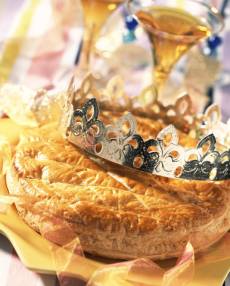 Average Rating:
(total ratings: 1)
[Read reviews]
[Post a review]
Servings: Makes 8-10 servings
Comments:
The galette is typically served on January 6, Epiphany,the Feast of the Kings. It is an ancient festival which celebrates the 3 kings who brought gifts to Jesus, soon after he was born. The cake is baked with a trinket inside, a fava bean or a fève. Whoever finds the bean or fève in their piece of cake is the king or queen for the day.
Ingredients:

For Pastry:
1 2/3 cups all-purpose flour
1/4 teaspoon salt
1 tablespoon granulated sugar
1 cup (2 sticks/8 oz./226g) unsalted butter, frozen
1/2 cup ice water

For Filling:
1/4 cup pure almond paste (2 oz.)
1/4 cup granulated sugar
2 tablespoons (1/4 stick/1 oz./28g) unsalted butter, softened
1 large egg
1/4 teaspoon vanilla extract
1/4 teaspoon almond extract
2 tablespoons all-purpose flour
1 whole almond or a dried bean, such as a fava or lima bean

For Glaze:
1 large egg
1 tablespoon milk
1/2 tablespoon confectioners' sugar, for dusting

Special equipment:
A pastry or bench scraper; 2 large baking sheets (at least 12 inches wide), not dark metal (or pastry may overbrown)
Instructions:
Make Dough (rough puff pastry):
Sift together flour, salt, and sugar into a chilled large metal bowl. Set a grater over flour mixture and coarsely grate frozen butter into flour, gently lifting flour and tossing to coat butter.

Drizzle ice water evenly over flour mixture and gently stir with a fork until incorporated. Turn out mixture onto a lightly floured surface and divide into 6 portions. With heel of your hand, smear each portion once or twice in a forward motion to help distribute fat. Gather dough together with scraper and form into a 6- to 7-inch square. Wrap in plastic wrap and chill at least 1 hour. (Dough will be lumpy and streaky.)

Make Filling While Pastry Chills:
Purée almond paste, sugar, butter, and a pinch of salt in a food processor until smooth. Add egg, vanilla, and almond extract and purée until incorporated. Add flour and pulse until incorporated. Transfer to a small bowl and chill, covered, to firm at least 1 hour.

Roll out Pastry:
Roll out dough on a well-floured surface with a floured rolling pin into a 21 x 7-inch rectangle and arrange rectangle with a short side nearest you. Fold into thirds, first the top down and then the bottom up (like a letter), brushing off excess flour, to form a roughly 7-inch square. Rewrap dough and chill 20 minutes.

Arrange square on floured surface so that a side with 3 layers visible is nearest you and roll into a 21 x 7-inch rectangle, rolling lengthwise away from and toward yourself, but not side to side. Fold in thirds, brush off excess flour, and chill 20 minutes. Repeat rolling out, folding in thirds, and chilling 3 more times. After last round of rolling and folding, chill rewrapped dough 1 hour.

Assemble and Glaze Galette:
Roll out dough in same manner into a rectangle 24 inches long, then cut in half crosswise. On a floured surface, roll out each piece of pastry into a 12-inch square and transfer to separate baking sheets by rolling pastry around rolling pin, brushing off excess flour, then unrolling onto baking sheets. Chill squares until firm, about 10 minutes in freezer or 30 minutes in refrigerator.

Put an oven rack in lowest position and another in top third of oven and preheat oven to 450 degrees F/220 degrees C.

Stir together egg and milk in a small bowl with a fork to make an egg wash.

Using a plate as a guide, cut 1 pastry square on baking sheet into an 11-inch round, reserving excess dough for another use. Using tip of a knife and a smaller plate as a guide, score a 9-inch circle, leaving a 1-inch border all around. (If at any time pastry becomes too soft to work with, chill until firm.) Cut a 1/2-inch circle in center of round to serve as a steam vent, then score curved lines close together inside 9-inch circle in a pinwheel design and lightly brush pastry all over with egg wash. Chill scored pastry on a baking sheet while preparing remaining pastry.

Cut remaining square into an 11-inch round in same manner. Brush some of egg wash in a 1-inch wide border around edge of round and mound chilled filling in center, spreading to about 1 1/2 inches from edge. Bury almond or bean anywhere in filling. Slide chilled pastry round gently over filling, scored side up, and press edges of rounds together to seal. Cut decorative notches, 1 inch apart, around sealed edge of galette.

Using a fine-mesh sieve, dust top of galette with confectioners' sugar.

Bake Galette:
Bake on baking sheet on bottom rack of oven until puffed and golden, 15 to 20 minutes. Transfer galette to upper third of oven and continue baking until very puffed and deep golden brown, 10 to 15 minutes more. Transfer to a rack to cool slightly, 5 to 10 minutes (galette will deflate slightly). Serve warm.

Notes:
Dough can be chilled up to 1 day at any step in the procedure.
Filling can be chilled up to 1 day.
Galette can be assembled, but not baked, 6 hours ahead and chilled, loosely covered. Transfer directly to oven to bake.

Makes 8 to 10 servings.

Source: Gourmet Features, January 2006, originally published 1954.
Date: January 16, 2007
Reviews
Reviewer:
kandace stevens
Rating:
Review:
it sounds good