Diana's Desserts - www.dianasdesserts.com
See more recipes in
Pastry
Pastry Cream
in Diana's Recipe Book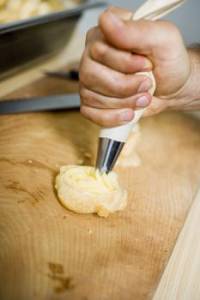 [Be the first to post a review!]
Servings: Makes About 1 1/2 cups
Comments:
Use this delicious pastry cream to fill your eclairs or cream puffs, or other "French" style pastries.
Ingredients:

1 cup milk
1/4 cup sugar
1 1/2 tbsp. cornstarch
Pinch of salt
2 egg yolks, lightly beaten
2 tbsp. (1/4 stick/1 ounce/28 grams) unsalted butter
1 tsp. vanilla extract
Instructions:
Bring the milk to a simmer in a heavy bottomed saucepan.

Meanwhile, in a mixing bowl, stir together the sugar, cornstarch and salt. Gradually add the hot milk to the sugar mixture, whisking constantly. Pour the milk mixture back into the saucepan and cook over medium heat, stirring constantly, until the mixture boils and thickens slightly, 7 to 10 minutes. Whisk in the egg yolks, then cook, stirring, until slightly thicker, about 2 minutes more. Remove the saucepan from the heat and stir in the butter.

Let cool to room temperature, stirring occasionally. Add the vanilla, cover and refrigerate until thoroughly chilled. Pastry cream will keep in the refrigerator, tightly covered, for up to 3 days.

Makes about 1 1/2 cups.
Date: February 20, 2002