Diana's Desserts - www.dianasdesserts.com
See more recipes in
Frostings -Toppings - Sauces - Fillings
Chocolate Ganache Icing
in Diana's Recipe Book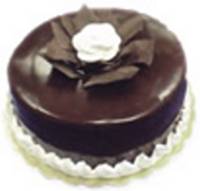 Average Rating:
(total ratings: 4)
[Read reviews]
[Post a review]
Servings: Makes enough for a 9- Inch Cake
Comments:
The word ganache (gahn-AHSH) is a French term meaning a rich icing made of semisweet chocolate and whipping cream, which are heated and stirred together until the chocolate melts. Ganache is used to coat and fill a cake, coat truffles, and ice eclairs, etc.
Ingredients:

6 oz. bittersweet or semisweet chocolate
1 cup heavy cream


Instructions:
PREPARATION:
Finely chop chocolate into small pieces and place in a medium bowl or on parchment paper. Heat heavy cream, stirring occasionally, until bubbles begin to appear around the edges. Pour chocolate shavings into the cream and stir with a wooden spoon or rubber spatula. Let it cool in the refrigerator, stirring occasionally. It has to cool down for 20 or 30 minutes before it's ready to work with.

To frost a chocolate cake, cut cake into two layers and squirt simple syrup on the inside layers. To make the simple syrup, boil one part water with one part sugar. This is used to keep the cake moist.

Spread the ganache in the center of the cake, trying not to let any run down the sides. Replace the top layer of cake, squirt some more simple syrup on the cake and spread it.

To coat the cake, place the cake on a ring or a cake screen. Spread the icing on the top and around the sides of the cake. Use a cake comb to create a design on the top of the cake.

NOTE: You can purchase the comb and cake ring at craft or baking supply stores or click on the "Babykakes" banner on my website. They carry cake combs and rings at this Internet Cake Decorating and Supply store.
Source: DianasDesserts.com
Date: May 25, 2002
Reviews
Reviewer:
Vivian
Rating:
Reviewer:
Maria
Rating:
Review:
This recipe ONLY calls for 2 ingredients, so I put more thought into the QUALITY of ingredients. I choose to make this ganache memorable. I used this ganache to pour over a single layer 9" round cake for Valentine's day. I find semi-sweet chocolate a little too sweet for ganaches, so I opted to use a 50/50 blend of Valhrhona brand: Le Noir Gastronomie bittersweet chocolate and Scharffen Berger brand: semi sweet baking chunks. The heavy cream was organically certified. There was definitely a distinguishable difference in flavor from using higher quality ingredients! It only took about 30 minutes in the fridge to set up to the consistency I desired. Still pourable but slightly thickened. I didn't bother applying a simple sugar syrup to my chocolate cake only because I was certain the assembled cake would be eaten in less than 4 hours (preserving moisture was not a concern). I topped my cake with some wild strawberries I found at the deli. This is the ideal icing for those desiring a smooth glossy finish. This cake was made at around 5:00 pm this evening. It is now 11:15 pm, and not a single crumb is left. Thanks for posting this recipe, Diana! Happy V-day '09!
Reviewer:
Shobhit
Rating:
Review:
I found that it is very good but but can you tell me this process in a simpler way and send it to my g-mail account. Thank you Diana
Reviewer:
Alia
Rating:
Review:
The best & the easiest ever! my ultimate chocolate frosting! deeelicious & fool proof !!