Diana's Desserts - www.dianasdesserts.com
See more recipes in
Muffins
Norma's Cranberry-Orange Muffins
in Diana's Recipe Book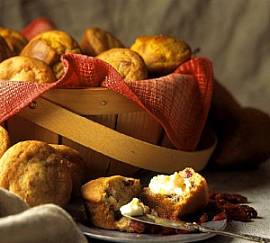 [Be the first to post a review!]
Servings: Makes 16 muffins
Comments:
About these Muffins:
This is a wonderful and delicious recipe for Cranberry-Orange Muffins that was given to me by my sister-in-law Norma Baker. She makes these yummy muffins every Thanksgiving and I know her family have come to expect them every year during the holiday season. The muffin batter can also be used to make a loaf bread so it's a great "twofer" recipe....Diana, Diana's Desserts

Note:
Since I posted this recipe for my sister-in-law's Norma's Cranberry Orange Muffins, my brother David has passed away. This special recipe is dedicated to you my dear brother.....Diana
Ingredients:

2 cups all-purpose flour, sifted
1 cup granulated sugar
1 1/2 tsp. double acting baking powder
1/2 tsp. baking soda
1 tsp. salt
1/4 cup shortening
3/4 cup orange juice
1 tbsp. grated orange zest
1 large egg, well beaten
1 to 2 cups fresh or frozen cranberries, coarsely chopped
1/2 cup chopped walnuts or pecans (optional)
Instructions:
Coarsely chop the cranberries in a food processor (if you have one), otherwise coarsely chop by hand. Set aside.

Preheat oven to 375 degrees F/190 degrees C. Grease muffin pan or line muffin pan cups with paper muffin liners.

Sift together flour, sugar, baking powder, baking soda and salt. Cut in shortening until mixture resembles coarse cornmeal.

In a small bowl combine orange juice and grated orange zest with well beaten egg. Pour mixture into above flour mixture, combining just enough to moisten. Fold in coarsely chopped cranberries and chopped nuts (if using). Spoon mixture into prepared muffin pan cups or paper muffin liners, filling about 1/2 full. Bake in preheated oven for 30 minutes. Let muffins cool in pan for 10 minutes, then transfer to wire rack to cool completely.

Makes 16 muffins.

Cranberry-Orange Loaf Variation
Batter may be used to make a loaf bread, if desired. Spoon batter into a greased 9 x 5 x 3-inch loaf pan and bake in preheated 350 degree F/180 degree C oven for approximately 1 hour or until golden and toothpick inserted into center of loaf comes out clean. Let loaf cool in pan for 10 minutes, then transfer to wire rack to cool completely.
Source: Norma Baker
Date: November 27, 2006