Diana's Desserts - www.dianasdesserts.com
See more recipes in
Holidays and Celebrations
Steamed Persimmon Pudding Cake with Hard Sauce
in Diana's Recipe Book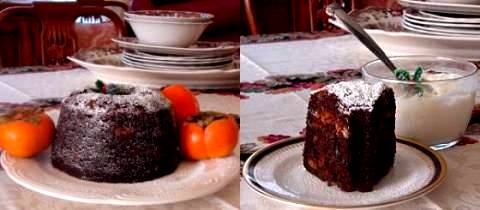 Average Rating:
(total ratings: 4)
[Read reviews]
[Post a review]
Servings: 10-12
Comments:
What is a Persimmon?

Definition: [puhr-SIHM-muhn] The most widely available persimmon in the United States is the Hachiya, also called Japanese persimmon. It's large (up to 3 inches in diameter) and round, with a slightly elongated, pointed base. The Fuyu persimmon is smaller and more tomato-shaped. When ripe, both have a red-orange skin and flesh. The Hachiya is quite soft when completely ripe and has a smooth, creamy texture and a tangy-sweet flavor. If eaten even slightly underripe, it will pucker the mouth with an incredible astringency. The Fuyu, however, is still firm when ripe (firm like an apple) and is not at all astringent. Persimmons are available from October to February. Choose fruit that is plump and soft but not mushy (the Fuyu should be quite firm). The skin should be smooth, glossy and brightly colored. Persimmons that are not quite ripe can be ripened at room temperature. Store ripe fruit in the refrigerator for up to 3 days. Persimmons can be used in baked goods, puddings and other desserts, as well as eaten out of hand. They contain a good amount of vitamin A and some vitamin C.

Source: From The New Food Lover's Companion, Second Edition, by Sharon Tyler Herbst

Comments:
Persimmon Pudding is a traditional American dessert. Although American, Persimmon Pudding is similar to tradtional English dessert puddings such as Christmas pudding or quince pudding. This style of pudding is generally either steamed or cooked in an oven with a water bath, or Bain-marie. These methods of cooking ensure the pudding remains moist and does not dry out or form a crust.

The pudding is often served with ice cream, Crème Anglaise, whipped cream, apple sauce, or hard sauce. The dessert is best served warm, although it can be served cold as well. Persimmon pudding lasts quite a while when refrigerated, and may be made in large batches to be served over the course of several days. As the pudding ages the various individual flavors mellow and blend together.

Serve this moist delicious pudding cake during the holiday season, for Thanksgiving, Christmas or New Years.
Ingredients:

For the Pudding:
1/2 cup (1 stick/4 oz./113g) unsalted butter, softened, plus extra for the pudding mold
1 cup granulated sugar
1 cup sifted all-purpose flour
1 cup persimmon pulp (from 2 to 3 ripe persimmons, peeled and seeded)
1 tablespoon brandy
2 large eggs, slightly beaten
2 teaspoons baking soda mixed with 2 teaspoons warm water
1/2 teaspoon vanilla extract
1/2 teaspoon ground cinnamon
1 teaspoon ground ginger
1 teaspoon ground cloves
1/2 cup chopped walnuts
1 cup golden raisins

For the Hard Sauce:
1/2 cup (1 stick/4 oz./113g) unsalted butter, softened
1 cup confectioners' sugar
1 tablespoon brandy

Garnish (optional)
Confectioners' sugar
Instructions:
To Make the Pudding:
In a large bowl, cream together the butter and sugar with an electric mixer at medium speed. Add the flour, 1/2 cup at a time, alternating with the persimmon pulp, brandy, eggs, and baking soda/warm water mixture. Stir in the vanilla, spices, walnuts, and raisins and mix on low until the batter comes together, about 5 minutes.

Butter the top and bottom of a 2-quart pudding mold with a lid. Spoon in the mixture. Put the buttered lid on tightly and lock into place. Put the mold in a bigger pot filled with water to come halfway up the side of the mold; cover the pot.

Note: It is necessary to have a well-buttered mold and enough water for ample steam for the pudding to cook correctly.

Bring the water to a simmer and let simmer over low to medium-low heat for about 2 hours. Make sure the water doesn't evaporate; add more hot water if it does. The pudding should be checked with a cake tester once it's been steaming for 1 1/2 hours. When the tester comes out clean, the pudding is done. Take the mold out of the water, remove lid, and unmold when cool, about 45 minutes to 1 hour.

While the pudding is steaming, prepare the hard sauce.

To Make the Hard Sauce:
Cream the butter and sugar together with an electric mixer. Beat in the brandy. Chill at least 1 hour. Serve with the warm pudding.

Pudding is best served warm, but may also be served at room temperature. If desired, garnish pudding with confectioners' sugar. Slice pudding and serve with hard sauce.

Makes 10-12 servings.

Photograph taken by Diana Baker Woodall© 2006
Date: November 24, 2006
Reviews
Reviewer:
Anne Marie
Rating:
Review:
This is almost exactly the same recipe as my grandmother's, which I've been serving for over 25 years. The only variation: baking soda and water were mixed into the persimmon pulp, causing it to gel. This mixture then mixed into butter/flour/sugar/spice mixture. My grandmother grew up in San Francisco, and this was always a holiday tradition! Try it for Thanksgiving or Christmas and you'll get raves.
Reviewer:
Barbara Hernandez
Rating:
Review:
This pudding is very easy to make and has a wonderful rich flavor that improves over a day or two. The hard sauce is easy and delicious, perfectly complimenting the dense richness of the pudding. If you don't have a pudding mold, a glass bowl on a rack inside a large soup pot works just fine. Just put a dinner plate over the bowl to keep the steam out. I made this for Thanksgiving and it was a real hit. I recommend using currants instead of raisins, as raisins can make this almost too moist.
Reviewer:
Cathy whitney
Rating:
Review:
Just made this last night...OMG..it took me back to my moms pudding! Simply perfect, and the best. I will keep this as my go to steamed pudding.
Reviewer:
K
Rating:
Review:
Wonderful. Fabulous. I use Capt Morgan's Spiced Rum rather than brandy to pump up the spice and my measuring spoons are probably overly rounded up with spice. Also, if my persimmons yield too much pulp, I toss it all in. Pretty forgiving recipe. I had lost my old recipe and this is very similar and I am glad I found it. It is better several days later. I like serving it with a simple under sweetened whipped cream with brandy in the cream.