Diana's Desserts - www.dianasdesserts.com
See more recipes in
Miscellaneous Desserts, Etc.
Whoopie Pies
in Diana's Recipe Book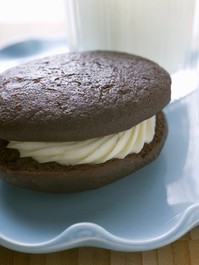 Average Rating:
(total ratings: 3)
[Read reviews]
[Post a review]
Servings: 8
Comments:
What is a Whoopie Pie?

From Wikipedia, the free online encyclopedia

A Whoopie Pie, sometimes alternatively called a gob, is a baked good traditional to the Pennsylvania Dutch culture as well as New England, made of two small, chocolate, disk-shaped cakes with a sweet, creamy frosting sandwiched between them.

Small, compact, durable, and convenient to carry about the person, they are popular both as a simple dessert or as a snack food. They can be purchased wrapped in plastic at Amish farmers' markets throughout Pennsylvania and Ohio and are often found in restaurants and gift shops throughout Pennsylvania Dutch Country. As one of the most common delicacies of the cuisine, recipes for whoopie pies are almost always included in Pennsylvania Dutch cookbooks.

It is a mystery as to where the whoopie pie was actually developed. While many claim it first originated among the Pennsylvania Dutch, others speculate that it was first invented in a Bangor, Maine bakery from leftover cake batter. Beyond Pennsylvania, the whoopie pie is also common throughout New England and neighboring parts of Canada, and Nancy Baggett, author of "The All-American Cookie Book," proposes that the confection began as a commercial product in that region. In her book, she claims that the first commercially made whoopie pies were manufactured by the Berwick Cake Company in Dudley Square, Roxbury, Massachusetts, starting around 1927. Some speculate that they were actually introduced to Maine and the rest of New England by migrating Amish sects. Many believe that the name derives from the expression that the taste of the cookie would provoke. The ingredients found in a whoopie pie differ from recipe to recipe. The filling can range from rich, complex buttercreams or whipped creams to common Marshmallow Fluff found in stores. Many recipes call for vegetable shortening to be added, as this allows the finished whoopie pie to be stored and transported without being easily squashed or melted. Some unconventional variations include the use of pumpkin, oatmeal, or banana flavored cakes rather than chocolate and cream cheese or peanut butter instead of cream in the center. Many people familiar with the treat, however, would say that nothing can compare to the simplicity of the original chocolate version.

We prefer Droste brand Dutch-process cocoa for this recipe because it gives the cakes a richer chocolate flavor. Though whoopie pies can be served on the same day they're made, we think the cakes are much better a day after baking.
Ingredients:

For Cakes:
2 cups all-purpose flour
1/2 cup Dutch-process cocoa powder
1 1/4 teaspoons baking soda
1 teaspoon salt
1 cup well-shaken buttermilk
1 teaspoon vanilla etract
1/2 cup (1 stick/4 oz./113g) unsalted butter, softened
1 cup packed brown sugar
1 large egg

For Filling:
1 cup (1 stick/4 oz./113g) unsalted butter, softened
1 1/4 cups confectioners' sugar
2 cups marshmallow cream, such as Marshmallow Fluff
1 teaspoon vanilla extract
Instructions:
Make Cakes:
Preheat oven to 350°F/180°C. Lightly butter two large baking sheets.

Whisk together flour, cocoa, baking soda, and salt in a bowl until combined. Stir together buttermilk and vanilla in a small bowl.

Beat together butter and brown sugar in a large bowl with an electric mixer at medium-high speed until pale and fluffy, about 3 minutes in a standing mixer or 5 minutes with a handheld, then add egg, beating until combined well. Reduce speed to low and alternately mix in flour mixture and buttermilk in batches, beginning and ending with flour, scraping down side of bowl occasionally, and mixing until smooth.

Spoon 1/4-cup mounds of batter about 2 inches apart onto prepared baking sheets. Bake in upper and lower thirds of preheated oven, switching position of sheets halfway through baking, until tops are puffed and cakes spring back when touched, 11 to 13 minutes. Transfer with a metal spatula to a rack to cool completely.

Make Filling:
Beat together butter, confectioners sugar, marshmallow, and vanilla in a bowl with electric mixer at medium speed until smooth, about 3 minutes.

Assemble Pies:
Spread a rounded tablespoon of filling on flat sides of half of cakes and top with remaining cakes. (SEE NOTES).

Notes:
1. You may also pipe the filling on the cakes.

2. Cakes can be made 3 days ahead and kept, layered between sheets of wax paper, in an airtight container at room temperature.

3. Filling can be made 4 hours ahead and kept, covered, at room temperature.

Makes 8 Whoopie pies.

Gourmet
Gourmet Entertains
January 2003
Date: November 8, 2006
Reviews
Reviewer:
Jen
Rating:
Review:
Mmmmmmmm...
Reviewer:
sara ulianelli
Rating:
Review:
very tasty!!!!!!!!
Reviewer:
Bob Sanders
Rating: