Diana's Desserts - www.dianasdesserts.com
See more recipes in
Cookies
Checkerboard Cookies
in Diana's Recipe Book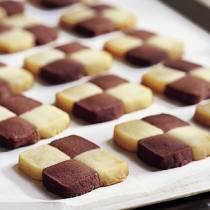 Average Rating:
(total ratings: 6)
[Read reviews]
[Post a review]
Servings: Makes about 5 dozen cookies
Comments:
These cookies are known as icebox, or refrigerator, cookies. This type of cookie is made by forming dough into a log or rectangular block and chilling it thoroughly. You can also use different types of dough together—vanilla and chocolate, peanut butter and chocolate—to make patterned cookies. Cookies are then sliced off the log or block and baked. When slicing the dough, give the log or block a quarter turn after every half dozen or so slices to keep the cookies perfectly square or round.

REFRIGERATOR COOKIES:
Heirloom Recipes for Modern Tastes

By Sidney Carlisle

The electric refrigerator has to have been one of the most important improvements in culinary history. Replacing one's old icebox with a new refrigerator was the ultimate in convenience and a huge step forward for health and sanitation. Not only could perishable items and leftover foods be kept chilled at a safe temperature, but it was possible to shop for enough food for several days at a time.

The refrigerator eliminated the need to leave an ice card out for the ice man, meant an end to carrying off melted water from the old icebox, and gave homemakers the benefit of year-round refrigeration. The refrigerator could also be placed in the kitchen or pantry, rather than near a door or on the porch where the ice man could have easy access.
Naturally, the refrigerator manufacturers wanted every home to have a new fridge, so along with the refrigerators came new recipes that required refrigeration before the dish could be served. Jellied salads, cold soups, frozen desserts and aspic-covered concoctions became part of home menus. Other recipes were updated, among them icebox rolls and icebox cookies. Icebox cookies were renamed refrigerator cookies, although of course the basic recipe remained the same. The cookie dough was mixed, and then the directions advised you to place the dough in the 'refrigerator' until thoroughly chilled.

Fortunately, for those of us who love homemade treats, these recipes have survived. Whether you call them icebox or refrigerator cookies, they are still convenient and they taste mighty good. No cooking experience is really necessary to prepare refrigerator cookies from scratch. What could be easier or tastier? The cookie dough is very simple to make and once chilled, the cookies may be baked a few at a time as needed. Almost any dough can be frozen and will keep a couple of months if carefully wrapped. The baked cookies also freeze well, and sometimes it's better to bake all the cookies at once and then freeze some to serve later. This method messes up the kitchen and the cookie sheets only once.

Not long ago I was in a demo kitchen in a store on a busy Saturday at the mall. I was slicing refrigerator cookies and baking them in the store. The cookie smell wafted out into the mall and attracted a crowd. As I visited with people, I was stunned to discover that they thought the dough was from the grocery. Not just folks under 30, but people who were old enough to know better. The majority of the people eating cookies, and they managed to eat 21 dozen, had never seen or heard of homemade refrigerator or icebox cookies.

Although many of us have limited time for baking, perhaps the refrigerator method will inspire some of you. If you can spare a few minutes to mix the dough, you can find time later to finish the cookies. And even better, maybe a husband, wife, friend, or a teenager would be willing to slice and bake. No matter who ends up doing the baking, everyone will benefit.

Source of article: Texascooking.com

Ingredients:

2 cups all-purpose flour
1/2 cup granulated sugar
Pinch of salt
1 cup (2 sticks/8 oz./226g) cold unsalted butter, cut into small pieces
1 whole egg plus 1 egg yolk
1/2 tsp. vanilla extract
3 tbsp. unsweetened Dutch process cocoa powder
Instructions:
In a food processor, combine the flour, sugar and salt. Add the butter pieces in 2 additions, pulsing after each addition, until the mixture resembles coarse crumbs. Add the egg yolk and vanilla and pulse until the dough holds together. Divide the dough in half. Transfer one-half to a lightly floured work surface and knead in the cocoa until incorporated.

Lightly dust the work surface and a rolling pin with flour. Roll out each dough half into a 3 x 9-inch rectangle, 1/2 to 3/4 inch thick; trim the edges to even out. Place each rectangle on a large baking sheet and cover with plastic wrap. Refrigerate until well chilled, about 30 minutes. Meanwhile, in a small bowl, beat the whole egg until blended. Set aside.

Remove the dough from the refrigerator. Using a sharp knife, cut each rectangle into 4 strips about 3/4 inch wide (you should have 4 strips of each color). Arrange 2 chocolate strips and 2 plain strips in a checkerboard pattern, brushing the beaten egg between the strips and gently pressing them together. Repeat with the remaining dough. Wrap in plastic wrap and use a knife to square off the edges of each block. Refrigerate until well chilled, about 30 minutes.

Preheat oven to 350 degrees F/180 degrees C. Lightly grease 2 baking sheets or line them with parchment paper.

Remove the blocks from the refrigerator, unwrap and cut each crosswise into slices 1/4 inch thick. Place them 1 1/2 inches apart on the prepared baking sheets. Bake until the cookies feel firm when lightly pressed, about 15 minutes. Let the cookies sit on the baking sheets for 2 minutes, then use a spatula to transfer them to wire racks to cool completely.

Makes about 5 dozen cookies.
Date: November 7, 2006
Reviews
Reviewer:
Nitu
Rating:
Review:
These cookies are delicious. And they are very easy to make. Making lots of squares is always hard to keep in shape but because of making just four squares is a really cool idea and they are still checkerboards, you know! Thanks Nitu
Reviewer:
ernest wong
Rating:
Review:
nice
Reviewer:
Lesley
Rating:
Review:
These are pretty good, and I liked the 4 squares, but I had to add some milk because it wasn't sticking together. Oh and it only made like 3 dozen cookies for me. They're tasty and cute though!
Reviewer:
Sarah
Rating:
Review:
very nice. i added some walnuts which made them divine. love the recipe. Thanks
Reviewer:
Humera
Rating:
Review:
These turned out great!!
Reviewer:
angel
Rating:
Review:
excellent