Diana's Desserts - www.dianasdesserts.com
See more recipes in
Frostings -Toppings - Sauces - Fillings
White Chocolate Frosting
in Diana's Recipe Book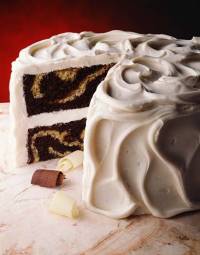 Average Rating:
(total ratings: 16)
[Read reviews]
[Post a review]
Servings: Fills and frosts an 8 or 9-inch two layer cake
Comments:
Use the best quality white chocolate for this frosting. It really does make a big difference in taste and texture. A few good quality brands are Lindt, Callebaut, Scharffen Berger and Valrhona. You can find these online or at specialty chocolate stores and at some upscale supermarkets.
Ingredients:

3/4 cup (4 ounces) good quality white chocolate, chopped
2 1/2 tablespoons all-purpose flour
1 cup milk
1/2 cup (1 stick/4 oz./113g) unsalted butter, softened
1 cup confectioners' sugar
1 1/2 teaspoons vanilla extract

Instructions:
Combine the chocolate and flour in a medium saucepan. Blend in the milk. Cook over medium heat, stirring constantly, until very thick. Remove from heat and cool. In a large bowl, cream the butter, sugar and vanilla. Beat until light and fluffy, about 3 minutes. Gradually add the cooled chocolate mixture, beating after each addition. Beat on high speed until frosting is a whipped cream consistency.

Makes enough to frost and fill a 8 or 9-inch 2-layer cake.
Date: October 31, 2006
Reviews
Reviewer:
Anne
Rating:
Review:
A perfect compliment to my red velvet cake! Delicious and light (fluffy, not calories!) A marvelous recipe!
Reviewer:
Wendy
Rating:
Review:
I believe there is a mistake in the recipe. 1 cup of butter is not the same as 1 stick. Should it be 1/2 c. butter?
Reviewer:
Diana, Diana's Desserts
Rating:
Review:
Wendy, I have corrected this mistake. Yes, the amount of butter used is 1/2 cup, which is 1 stick/4 oz./113g. Sorry about the mistake....Diana, Diana's Desserts
Reviewer:
Maria
Rating:
Review:
This was sooo good on my fresh strawberry cupcakes. I did decide to use less powdered sugar and I had to wait awhile for the chocolate mixture to cool so it wouldn't melt the butter. This was enough to pipe onto 18 cupcakes, and I garnished them each with a slice of strawberry. This is very similar to the same frosting I put on my red velvet cupcakes- minus the white chocolate. I used Bakers White chocolate. Can't go wrong with Bakers!
Reviewer:
Linda
Rating:
Review:
I dont know what I did but it hasnt worked, tastes devine but its just not whipping up all fluffy. My poor Mixmaster has been on for ages and its still runny. What did I do? I let the chocolate mix cool but perhaps it needs to be really cold? Will try again.
Reviewer:
Ingrid
Rating:
Review:
I made this frosting to spread on the 'Marble Gugelhupf Cake' and it was a big hit with all my dinner guests. Thanks again Diana.
Reviewer:
Jazzmein
Rating:
Review:
Hi! I need help. I did the white chocolate frosting recipe and followed it perfectly but the frosting didn't mixed well, it was like trying to mix oil and water with other stuff in it. Does anyone knows what I did wrong? I used good quality products except instead of butter I used Blue Bonnet, it's compost of oil spread. I have a Kitchen Aid mixer, is it possible I used the wrong attachment? I'm knew to all this.
Reviewer:
Lolabee
Rating:
Review:
the frosting tastes okay, but it takes way too long to be whipped into the right consistency...
Reviewer:
P.
Rating:
Review:
Though Lindt White chocolate was used,I would not recommend this recipe!!It only got slightly thicker then potato soup and had a flour aftertaste.
Reviewer:
Mary Lynn
Rating:
Review:
Loved this icing! You definitely have to be patient when you make it...don't take the chocolate off the stove before it's really thickened, and don't mix it in with the butter and sugar until it's well and truly cooled. Turned out light and creamy and absolutely delicious!
Reviewer:
Claudine
Rating:
Review:
I made three batches of this to ice a rainbow cake (martha stewarts) for a big family gathering to celebrate one of the daughter's 6th Birthdays and it was a big success! Actually the third batch i made didn't turn out, it separated because my butter was slightly warmer than room temperature...but on the whole I would use this recipe again in a flash and make sure to take my time making it.
Reviewer:
Greatgram25
Rating:
Review:
So much hard work and it tastes like flour! Have to make another kind for my cake.
Reviewer:
Blanca
Rating:
Review:
Great recipe! Plus, it was easier than I thought to get a good result. I used it to top some chocolate muffins and it was a complete success.
Reviewer:
Raghad Gorani
Rating:
Review:
The most important thing in this recipe is to use a good quality white chocolate.
Reviewer:
Gina W
Rating:
Review:
I just made a trial run of this recipe to see if I would like it to use to ice my son's wedding cake and 200 cupcakes in 3 weeks. Because of all the comments about it having a strong flour taste, I decided to use organic Corn Starch instead (half the amount of flour). It turned out fantastic and I think it's a winner for the wedding! I just have to multiply this recipe by 8 or 10 for all the icing I'm going to have to do. Does anyone know if there is any special conversion I would need to use or can I just multiply everything by however many batches I need to make?
Reviewer:
Gina W
Rating:
Review:
Just finished making the icing for the wedding. I had to divide it up into 3 batches. Since the wedding is going to be outdoors, I cut the milk in half and increased the powdered sugar some. They all taste great and seem to be a good consistency. I will definitely make this again when it's for a lesser occasion because it tastes SO good. The corn starch works great, so you might want to consider changing the recipe from flour to that. It only takes half the amount. I just used a little of the milk to dissolve it and added it after the chocolate had melted in the milk on the stove. Thickened to a pudding-like consistency.