Diana's Desserts - www.dianasdesserts.com
See more recipes in
Christmas
Buttery Spritz Cookies
in Diana's Recipe Book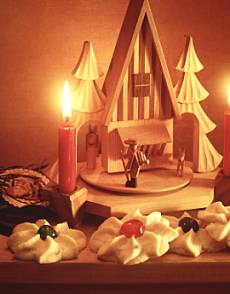 Average Rating:
(total ratings: 2)
[Read reviews]
[Post a review]
Servings: Makes about 5 1/2 dozen, depending on shape
Comments:
Spritz cookies are a very buttery cookie that originated in Scandinavia. The dough is placed in a cookie press and pressed out into various shapes of your choice, then they are decorated with colored sprinkles, candied cherries or other candied fruit, chopped nuts or pearl sugar......Diana, Diana's Desserts

As much as I love to make homebaked cookies, sometimes I wish I had a handy tool that could mass-produce enough cookies to satisfy a hungry/holiday crowd.

A cookie press is the perfect solution because I can put my time and effort into making a variety of spritz recipes from scratch. Besides being fun for producing identical cookies super-quickly, the process is simple. Fill the press with the cookie dough, then hold the press perpendicular to an ungreased cookie sheet and press out the desired design.

The secret lies in the dough, which should be neither too soft nor too firm. It it's too soft, the cookie will have no definition; if it's too firm, the cookie will bake too dry.

The key to achieving the perfect consistency in the following spritz cookie recipes is using softened butter, which requires less mixing. In this way you incorporate less air into the dough so that the dough will keep its shape during baking. To test the dough's consistency before baking a batch, press a small amount of dough through the press cylinder. If the dough is too soft so that it doesn't go through cleanly, chill the dough for about 15 minutes. If the dough seems too firm, stir into the dough about 1 or 2 teaspoons whole milk.

Lastly, pressing the dough out onto cool, ungreased baking sheets makes it possible for each application to stick on contact. Then, when you lift the press, the dough remains on the baking sheet. Now you're ready to press out another portion, keeping them about an inch apart.....Flo Braker, author of "Sweet Miniatures" and "The Simple Art of Perfect Baking".
Ingredients:

2 cups all-purpose flour
1/4 teaspoon salt
1 cup (2 sticks/8 oz./226g) unsalted butter, at room temperature
2/3 cup granulated sugar
1 egg yolk
1 teaspoon vanilla extract
Candied cherries, colored sprinkles, chopped nuts, candied fruit, pearl sugar (optional)
Instructions:
Adjust rack in lower third of oven; preheat oven to 325 degrees F/160 degrees C. Combine the flour and salt; stir to blend, then set aside.

Beat the butter and sugar in a large bowl until very creamy and well blended. Beat in the egg yolk and vanilla. Gradually add the flour mixture. Follow manufacturer's directions for inserting desired design plate and filling cookie press. When filling the metal cylinder with dough, pack it firmly. Cover any unused dough with plastic wrap. (If you aren't using all the dough at one time, refrigerate unused portion; bring to room temperature before piping.) Press out cookies on a baking sheet, spacing them about 1 inch apart. If desired, decorate with candied cherries, colored sprinkles, chopped nuts, pearl sugar or the like.

Bake for 9 to 11 minutes, or until the edges are barely golden. Let cool completely. Pack into an airtight metal container; will keep well for up to 1 week.

Makes about 5 1/2 dozen cookies, depending on shape.

Nutritional Information Per Cookie:
45 calories, 0g protein, 5g carbohydrate, 3g fat (2g saturated), 11mg cholesterol, 9mg sodium, 0g fiber.

Source: Flo Braker, author of "The Simple Art of Perfect Baking" and "Sweet Miniatures."
Date: October 29, 2006
Reviews
Reviewer:
Lei
Rating:
Review:
It's good but too sweet.
Reviewer:
Anita
Rating:
Review:
I have been using Flo Braker's Spritz cookie recipe for years (this recipe as stated above). The recipe is easy, very tasty, and everyone loves them! The only difference I've done in the last couple of years is I have changed my salt composition from 100% sodium to half sodium and half potassium chloride. This makes the cookie taste less sweet, but very buttery nonetheless.