Diana's Desserts - www.dianasdesserts.com
See more recipes in
Chocolate Sweets
Chocolate Tart with Creme Fraiche
in Diana's Recipe Book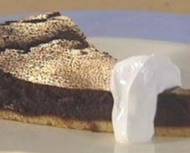 Average Rating:
(total ratings: 1)
[Read reviews]
[Post a review]
Servings: 6
Ingredients:

5 oz. unsalted butter
5 1/2 oz. best quality cooking chocolate, (70 percent cocoa solids)
8 Tbsp. unsweetened cocoa powder, sifted
1 pinch salt
4 large eggs
1 cup (7 ounces) superfine sugar
3 Tbsp. golden syrup, or light corn syrup
3 Tbsp. sour cream or 3 Tbsp. creme fraiche
1 10-inch flan or tart shell, "baked blind" (see recipe and instructions below)


Instructions:
Prepare tart shell, and "Bake Blind". ( See Recipe and Instructions below).

For the Chocolate Filling:
Place the butter, chocolate, cocoa powder and salt in a bowl over a pan of simmering
water and allow to melt slowly, stirring occasionally until well mixed.

In a separate bowl beat the eggs and sugar together until light and well creamed,
and then add the golden syrup and sour cream or crème fraiche.

Stir the chocolate mixture into this mixture, scraping all the chocolate out with a
spatula. Once you've mixed it well, pour it into the pre-baked pastry shell.

Place into a preheated 150C/300F degree oven for 40 to 45 minutes. During
cooking a beautiful crust will form on top.

Carefully remove the tart from the oven and allow to cool on a rack for at least 45
minutes, during which time the skin will crack and the filling will shrink slightly.
Cut tart into wedges, and serve with a dollap of Creme Fraiche.


TART SHELL RECIPE
(Pate Sucre or Sweet Dough)

Makes: Two 9 to 10 inch tart shells
NOTE: Divide ingredients in half to make one 9 to 10 inch tart shell

Ingredients:
2 1/3 cups cake or pastry flour
1/3 cup sugar
1/2 pound (2 sticks) unsalted butter, chilled, cut into small
pieces
2 egg yolks
1 or 2 tablespoons heavy cream


Instructions:
In a food processor fitted with the steel blade, combine the flour and sugar. Add the
butter and process until the texture resembles fine meal.

In a small bowl, whisk together the yolks and 1 tablespoon of the cream. Scrape
into the machine and process until a ball begins to form, using the additional
tablespoon of cream, if necessary. Remove the dough from the machine, and on a
lightly floured surface, press down into a circle. Wrap in plastic wrap and refrigerate
for at least 1 hour. Remove from refrigerator, and "Bake Blind".

Use as needed for tart or pie shell.

BAKING TART SHELL "BLIND"

INSTRUCTIONS FOR "BAKING BLIND"
Pre-heat oven to 350F/180C.
Roll out the pastry and line the tart or pie pan carefully,
making sure there are no holes. If there are, patch
them with some of the leftover pastry dough. Line
the pastry with parchment or waxed paper and fill
with baking beans or pie weights, if you
have them. If not, you can use any dried beans or
rice. Bake the pastry "Blind" (without the chocolate filling)
at 350F/180C degrees for 15 to 20 minutes, or until
the crust is a light golden brown. Remove the paper and beans,
and allow crust to cool. After crust has cooled completely,
pour chocolate mixture in pre-baked tart shell, and bake at
300F/150C degrees for 40-45 minutes as recipe states above.













Source: DianasDesserts.com
Date: May 15, 2002
Reviews
Reviewer:
Lydz
Rating:
Review:
Mmm!! Would definitely make again..and it's not too complicated!! Thank you!!