Diana's Desserts - www.dianasdesserts.com
See more recipes in
Autumn - Winter
Apple-Cinnamon Empanadas
in Diana's Recipe Book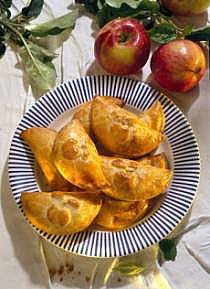 Average Rating:
(total ratings: 27)
[Read reviews]
[Post a review]
Servings: Makes 10-12 empanadas
Comments:
What are Empanadas?

Definition: [em-pah-NAH-dah; em-pah-NAH-thah] Empanar is Spanish for "to bake in pastry," and these Mexican and Spanish specialties are usually single-serving turnovers with a pastry crust and savory meat-and-vegetable filling. They can also be filled with fruit and served as dessert. Empanadas range in size from the huge empanada gallega, large enough to feed an entire family, to empanaditas--tiny, ravioli-size pastries.

From The New Food Lover's Companion, Second Edition, by Sharon Tyler Herbst

These empanadas (called turnovers in English) make a great snack or dessert, or serve them at breakfast with coffee, tea or hot cocoa. If desired, other fruits besides apples can be used, such as cherries, peaches, or blueberries. If you're in a hurry, canned or jarred pie filling can be used instead of making a homemade filling such as what is used in this recipe, or if you're in a REALLY BIG HURRY, you can use refrigerated pie crusts such as Pillsbury pie crusts, and just cut out the dough for the empanadas with a round cookie cutter. If desired, you can make smaller "empanaditas", cutting the dough into 2 to 2 1/2-inch circles with a round cookie cutter and serve these as an hors d'oeuvre (an appetizer).
Ingredients:

3 firm baking apples (such as Granny Smith)
1 cup granulated sugar
1 tsp. ground cinnamon
1/2 tsp. ground nutmeg
2 cups all-purpose flour
1/2 tsp. salt
2/3 cup solid vegetable shortening (such as Crisco)
6 tbsp. water

Egg Wash:
1 egg
1 tbsp. water
Instructions:
Preheat oven to 350 degrees F/180 degrees C. Coat 1 or 2 nonstick cookie sheets with cooking spray or line regular (not nonstick) cookie sheets with parchment paper. Set aside.

For Filling:
Peel and core apples. Slice apples into quarters. Slice each quarter across the narrow side into thin slices.

Place the apples, sugar, cinnamon and nutmeg in a saucepan over medium heat. Cook, stirring constantly, until the apples are soft, about 10 to 12 minutes. Remove from heat. Place in refrigerator to cool.

For Pastry:
In a medium mixing bowl, combine flour and salt. Cut in the shortening until pieces are the size of small peas. Add a small amount of water to slightly moisten. Form dough into a ball.

On a lightly floured surface roll out the dough to about 1/8 inch thick and using a 3 1/2-inch to 4-inch round cookie cutter, cut out dough circles. Take the dough scraps, work them together, reroll, and cut out as many circles as possible. If you have extra dough scraps, cut out small apple shaped designs to place on top of each empanada for a decorative look.

To Assemble:
Whisk together the egg and water to make an egg wash. Place a large spoonful of the apple mixture in the center of each dough circle. Using a pastry brush, lightly brush the egg wash around the edge of half of each circle of dough, about 1/3-inch from the edge. Fold the dough over the filling so that the edges meet and using the tines of a fork, press the edges together.

Arrange the empanadas 2 inches apart on prepared cookie sheets. If you made small apple shaped designs with extra dough scraps, place them on top of each empanada now. Lightly brush tops of empanadas with egg wash. Bake in preheated oven for 15 to 17 minutes, or until lightly browned. Remove the empanadas from oven and let them sit at least 5 minutes before serving.

Makes 10-12 empanadas.
Date: October 24, 2006
Reviews
Reviewer:
Isabel Martinez
Rating:
Review:
They were very good, but the time you say to cook it was too long. Also there were too many empananas for me.
Reviewer:
Salva
Rating:
Review:
excellent just as usuall! thanks
Reviewer:
charlie
Rating:
Review:
they were excellent, but the time was too long.
Reviewer:
adsf
Rating:
Reviewer:
Ashley
Rating:
Review:
These were wonderful! The recipe was very simple and there were plenty enough to go around!
Reviewer:
jessica
Rating:
Review:
tasty, excellent, amazing
Reviewer:
Tiffany V
Rating:
Review:
These were so good! I changed a few things, but for the most part I followed everything else! I had to turn the heat down to leave them in for the 15 to 17 minutes, but they came out perfect. Thanks!
Reviewer:
SB baby
Rating:
Review:
Tthey were good, but i didn't like the dough, so i used pre made dough in which they turned out excellent.
Reviewer:
PL GURL
Rating:
Review:
saved my life, tastes great...very easy!
Reviewer:
Tiffany
Rating:
Review:
They came our burnt, but were good.
Reviewer:
Jay
Rating:
Review:
PERFECTION!!
Reviewer:
Miranda
Rating:
Review:
So yummy. I found it better to use a 6" bowl to cut them out - then you get a dozen nice sized ones.
Reviewer:
Christina maria
Rating:
Review:
Best dough and easy recipe and delicious and healthy. Everyone loves them!
Reviewer:
Vanessa
Rating:
Review:
Dough was perfect.. As long as you follow the recipe you will really enjoy this perfect fall treat! The apples fit perfectly in the dough and the extra sugar/cinnamon syrup serves as a great coating.
Reviewer:
katelynn dc
Rating:
Review:
I didn't use the same apple filling as the recipe said but I did follow every other direction and they came out crumbly, they cracked and didn't hold more than one of my apple slices. I don't think I did anything wrong but feel free to try it, maybe you will have better luck.
Reviewer:
Sidney Nask
Rating:
Review:
I loved this recipe! They turned out perfect and golden brown! I had to keep them in a little longer than it called for. P-E-R-F-E-C-T. I'm going to make these for guests and desserts. Thank you so much for sharing your talents with me. -Sidney Nask
Reviewer:
13 year old chef
Rating:
Review:
If you want to make less Empanadas, then don't fold the top in half. This way it makes about 6 Empanadas.
Reviewer:
funny bunny
Rating:
Review:
I luved them!
Reviewer:
Raquel
Rating:
Reviewer:
James
Rating:
Review:
Delicious!! We got an A on our project because of this!
Reviewer:
Alane
Rating:
Review:
Everybody loved them! Next time I will be sure to use plenty of filling.
Reviewer:
Deanna A.
Rating:
Review:
Awesome recipe! Thank you so much! So easy and so good! My recommendations for someone who is thinking about trying this is to follow everything and use plenty of water in the dough to make it moist. I learned that the hard way the first time!
Reviewer:
Monica
Rating:
Review:
Lovely. At first I thought I had too little dough, but nothing was wasted in the end. Thank you!
Reviewer:
Yusuf Leon
Rating:
Review:
too much time but very delicioso
Reviewer:
Lovelt
Rating:
Review:
I follwed the directions but they came out stale... It would have tasted good if it wasnt stale
Reviewer:
Corrina
Rating:
Review:
I cut up the apples a bit differently (pretty much cut the cored and peeled apple into 16ths and cut it into tiny cubes) and substituted the dough for my own. There was a lot of extra syrup, but I drizzled that over some ice cream that I served them with, and everyone loved them. I will definitely make them again sometime!
Reviewer:
ashley
Rating:
Review:
it was very good thanks for the tips