Diana's Desserts - www.dianasdesserts.com
See more recipes in
Diabetic and Lower Carb Treats
Christmas Pudding
in Diana's Recipe Book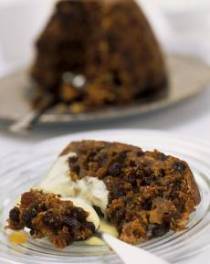 Average Rating:
(total ratings: 1)
[Read reviews]
[Post a review]
Servings: Makes 2 (550g/1 lb. 4 oz.) puddings, 6 servings
Comments:
Here'a a real treat for the diabetics and people on low-fat or low-carbohydrate diets. It's a traditional English Christmas Pudding, but made with Splenda, an artificial sweetener with no sugar in it but since Splenda is made from sugar, it makes all your baked goodies taste so good. One serving of this wonderful pudding has only 39 grams of carbs and 12.9 grams of fat. Enjoy!
Ingredients:

For the Christmas Pudding:
75g/3oz. plain flour (all-purpose flour)
1 1/2 tsp. baking powder
1/2 tsp. ground cinnamon
1/2 tsp. grated nutmeg
1/2 tsp. ground allspice
110g/4oz. fresh white breadcrumbs
110g/4oz. reduced fat shredded vegetable suet (in the US, you will need to use Crisco Zero Trans Fat Shortening)
4 tbsp. Splenda Granulated
110g/4oz. raisins
110g/4oz. sultanas
110g/4oz. currants
1 small carrot, peeled and grated
1 small cooking apple, peeled and grated
25g/1oz. ground almonds
2 medium eggs, beaten
300ml/10 oz. non-fat or skim milk

For the White Sauce:
450ml/15 oz. low-fat or semi-skimmed milk
1 tbsp. cornflour (in the US, it's called cornstarch)
3 egg yolks, beaten
3 tbsp Splenda Granulated
1/2 tsp. vanilla extract
Instructions:
For the Christmas Pudding:
Makes 2 (550g/1lb 4oz.) puddings, 6 sevings
Preparation time:15 minutes
Cooking time: 5-7 hours plus reheating

For the White Sauce:
Serves: 6
Preparation time: 2 minutes
Cooking time: 3 minutes

For the Christmas Pudding:
1. Sift the flour and baking powder into a large bowl. Stir in the spices, breadcrumbs, suet (or shortening), Splenda Granulated, dried fruits, carrot, apple and ground almonds.
2. Beat together the eggs and milk and stir into the dry ingredients. Tradition has it that prior to cooking each family member would stir the pudding and make a wish.
3. Grease 2 (700ml/1 1/4 pt.) basins and cut 2 circles of non-stick baking parchment to line the bases. Spoon the mixture into the basins to about two thirds the way up and level the surface. Cover the tops with non-stick baking parchment, pleated in the middle to allow room for the pudding to rise slightly and tie round with string or elastic.
4. You may find it useful to put a loop of string under the basin for ease when lifting it out of the hot steamer. Cook in a steamer for 5-7 hours according to the darkness of colour required.

Makes 2 (550g/1 lb. 4oz.) puddings, 6 servings total.

For the White Sauce:
1. Blend 3 tbsp. of the milk with the cornflour (cornstarch) until smooth. Pour the remainder of the milk into a small pan and bring to the boil over a low heat.
2. Add the blended cornflour (cornstarch) and egg yolks and stirring continuously bring back to the boil.
3. Cook for 1 minute until the mixture coats the back of the spoon. If the mixture is at all lumpy strain through a sieve. Stir in the Splenda Granulated and the vanilla extract and serve.

Tips
If desired, you could also add 75g/3oz. chopped candied peel (not included in Nutrition Information) with the dried fruits. Cooked puddings can be stored in an airtight container in the refrigerator for up to 5 days.

To reheat, steam for 1 to 2 hours or microwave on high for 4 to 5 minutes or until piping hot. For true Christmas indulgence pour over 3 tbsp. brandy and flame.

Make this sauce ahead of time. Once made, immediately cover the surface with a layer of plastic wrap to prevent a skin forming and leave to cool. Chill until required. To reheat simply pour into a small pan and gently bring back to the boil, stirring continuously or place in a microwaveable container and heat on high for 1 minute, stirring half way through, until hot.

Nutritional Information

Per serving (including white sauce): Energy: 1299kJ/310kcal Carbohydrate: 39.2g Fat: 12.9g
Source: Splenda UK
Date: October 20, 2006
Reviews
Reviewer:
Ethel Ardvaark
Rating:
Review:
Sounds delicious but, once again, the sugar content has been glossed over. Diabetics need to know how much of those carbs are sugars! You don't say but dried vine fruits are absolutely full of sugars. Not everyone will realise this but they'll be in trouble if they eat this thinking it is sugar-free.