Diana's Desserts - www.dianasdesserts.com
See more recipes in
Diabetic and Lower Carb Treats
Luxury Christmas Cake with Splenda Marzipan
in Diana's Recipe Book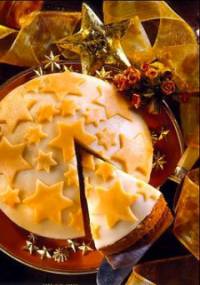 Average Rating:
(total ratings: 8)
[Read reviews]
[Post a review]
Servings: Makes 1 (8-inch/20cm) cake, 14 servings
Comments:
"A guest to Diana's Desserts website requested some ideas for a Christmas Cake for her recently diagnosed Mother-In-Law with diabetes. I found this recipe for what sounds like a very scrumptious and traditional Christmas Cake on Splenda.co.uk's website. Hope you make this and that it becomes a Christmas favorite.

This is by no means a low calorie, low-fat or low-carbohydrate (sugar) dessert but all of the above are at least half of what a regular Christmas Cake (made with sugar) would be. So for the diabetics and others on a low-fat or low-sugar diet, still be careful and eat only a small serving and watch your other carbohydrate and fat intake for the day so you can enjoy this special treat.

The ingredients are mostly in weights as that's how they do it in the UK. So, get out your kitchen scales. Diana, Diana's Desserts
Ingredients:

Ingredients:
For the Christmas Cake:
9 oz./250g raisins
9 oz./250g sultanas
9 oz./250g currants
4 oz./110g glace cherries, halved
3 oz./75g dried cranberries
2 oz./50g candied peel, chopped
15 oz./450ml non-fat or skim milk
9 oz./266ml polyunsaturated fat spread (59% fat)
8 tbsp. Splenda Granulated
5 eggs, beaten
3 oz./75g chopped walnuts
4 1/2 oz./125g plain flour (In the US it's called all-purpose flour)
4 1/2 oz./125g self-raising flour

For the Splenda Marzipan:
10 oz./300g ground almonds
2 eggs, beaten
10 tbsp. Splenda Granulated
1 tbsp. almond essence or almond extract
Instructions:
For the Christmas Cake:
Preparation time: 20 minutes plus soaking time
Cooking time: 4 to 4 1/2 hours

For the Splenda Marzipan:
Makes: Enough to cover a 8-inch/20cm cake
Preparation time: 5 minutes plus 1 hour chilling time
Cooking time: No cooking required

For the Christmas Cake:
1. Place all the dried fruit in a large bowl and pour over the milk. Leave to soak in the refrigerator overnight or until virtually all the milk is absorbed.
2. Preheat the oven to 300 degrees F/150 degrees C/Fan/Gas Mark 2. Line a 8-inch/20cm deep cake pan and tie a double layer of newspaper or brown paper around the outside.
3. Beat together the spread and the Splenda Granulated until pale and smooth. Gradually beat in the eggs a little at a time until well combined. Fold in the walnuts, half the flour and half the soaked fruit and then the remainder of both.
4. Spoon into the prepared pan, making a slight dip in the middle to allow the cake to rise to a level surface and bake for 4 to 4 1/2 hours. The cake should be golden, slightly shrunken from the sides and a skewer inserted should come out clean.
5. Leave to cool in the pan before covering with foil and storing in an airtight container in the refrigerator.

Makes 1 (8-inch/20cm) cake, 14 servings.

For the Splenda Marzipan:
1. Beat all the ingredients together using a wooden spoon or electric mixer, until smooth. Cover and chill for 1 hour before using.
2. Lightly flour a work surface and roll the marzipan to approx 3/8-inch/1cm thickness. If not using right away, cover with plastic kitchen wrap and store in the refrigerator for up to 5 days.

Tips:
Cake can be stored in an airtight container in the refrigerator for up to 1 week.
If you want an extra moist cake, skewer down to the bottom in several places and drizzle over 4 tbsp. brandy, whiskey or rum. (Not included in Nutrition Information).
Use the Splenda marzipan to cover the Christmas cake by making shapes with cutters to decorate the top.

Nutritional Information

Per portion with Splenda Marzipan (excluding brandy, whiskey and rum): Energy: 2188kJ/523kcal Carbohydrate: 56.4g Fat: 26.6g
Source: Splenda UK
Date: October 20, 2006
Reviews
Reviewer:
angela
Rating:
Reviewer:
Mic
Rating:
Review:
Hmm, it sounds great! But um... can we use anything to substitute the Splenda Granulated? And is that the sweetner you're talking about? Or can i just use the sugar?
Reviewer:
Diana
Rating:
Review:
Mic, yes you can use sugar instead of the Splenda Granulated, which is a sugar substitute but the cake will be much higher in carbohydrates using sugar......Diana, Diana's Desserts
Reviewer:
Crissie
Rating:
Review:
Thank you Diana! My husband is a very sweet tooth diabetic. I was looking for something wholesome to replace the commerce marzipan! Thank you for providing the answer.
Reviewer:
Louise
Rating:
Review:
Sounds great. The problem I've been having is finding a low calorie cake recipe where someone has acknowledged that the icing is far worse than the cake. Okay, my mother will be angry it's not the same as the "normal" cake, but this is what I'm making this year! Maybe I'll make her cake, and ice it this way...
Reviewer:
louise
Rating:
Reviewer:
kay
Rating:
Review:
Great recipe, only unsure how long we can leave the marzipan on the cake for as it's made with raw eggs?
Reviewer:
angie
Rating:
Review:
hi there i live in the u.k what is gramham cracks we don't have them here what else can i use.and it nice you have put some repices up a web site for people like me and your mum with diabetes to use.allso do have a repice for mince tarts or pies as you may call them.i have writen down your christmas cake.and christmas pudding which i will try.as we can not buy them in the shop as you would say store thank you xx i will put a rateing up as good but not yet cook them