Diana's Desserts - www.dianasdesserts.com
See more recipes in
Cookies
Orange Almond Shortbread Thumbprints with Ganache
in Diana's Recipe Book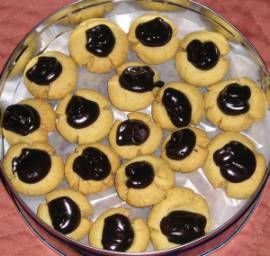 [Be the first to post a review!]
Servings: Makes 40 cookies
Comments:
I was given the approval of posting this recipe on my website by Greg (anapestic) from blogger.com. Thank you.

Greg's
Notes:

The ganache in this recipe is very thick, so that you can overfill the cookies. You will, after filling all the cookies, still have some ganache left. What you do with it is between you and your conscience.

If you do not have turbinado sugar sitting around, you can use either white or brown sugar instead.

You could, of course, fill these cookies with something other than chocolate (especially if you're one of those unfortunate people who don't find the combination of fruit and chocolate pleasing; I once made a friend a chocolate oblivion truffle torte for his birthday, and I was preparing to serve it to him by putting a pool of raspberry puree on the plate, and he informed me that he did not like chocolate and fruit together, so I gave him the torte alone, he ate it with much pleasure, and I had twice as much sauce for myself: a win-win situation). Raspberry preserves or orange marmalade for example. Lemon curd. In some of those cases, you may want to consider whether orange zest or lemon zest is the better choice. The orange and the chocolate make a very rich, very good combination that is positively decadent. Miss Bennett would surely not approve, and her superior judgment would keep her from indulging, but Miss Tulliver would likely eat it with relish (this very difference was, in fact, the reason I initially preferred The Mill on the Floss to Pride and Prejudice, but it no longer seems reasonable to judge a novel entirely by whether the heroine would fully appreciate my cooking). The cookie is very crisp, and the ganache is very tender, and I find the contrast in textures especially pleasing.

Because the ganache is tender, if you want to store the cookies in more than one layer, you should put one layer in the bottom of your cookie tin and then put the cookies in the freezer for eight minutes to make the tops firm enough to stack. Cover the first layer with a round of waxed paper, then add a second layer of cookies, and repeat the process until all of the cookies have been placed in the tin. Then store them in the refrigerator, but let them come to room temperature (remove them from the tin and place them in a single layer first) before serving.

If you want to give these cookies as a gift to a host at a holiday party, you will not want to purchase a special tin for the task. Instead, present them to the recipient in a regular butter cookie tin (that you will have cleaned out, of course). That way, he (or she) will first think that you are horribly cheap and lazy for having brought her (or him) a three-dollar tin of store-bought cookies. Then, upon opening the tin, he (or she) will next think that you have made the common (and good, but perhaps ordinary) peanut butter cookie topped with a milk chocolate kiss. Only upon actually tasting a cookie will your recipient find that she (or he) has been given something homemade, delicious, and rare. And then he (or she) will both appreciate your cleverness in having pulled one over on her (or him) and your thoughtfulness in having concealed your riches in a plain wrapping, making it acceptable for him (or her) to put the tin away for herself (or himself) without offering any to his (or her) other guests. I suppose that this sort of maneuver might be considered devious, but if we learn anything from reading Jane Austen it's that polite society is little more than a cover story for vicious parlor intrigues, and if you want to acquire for yourself a handsome gentleman with ten thousand a year, you're going to have to be either beautiful, charming, and clever, or (and I may be paraphrasing just a little bit here) have a collection of damned good recipes and know how to use them.
Ingredients:

Thumbprints:
1/2 cup toasted blanched almonds
1/4 cup turbinado sugar
Zest of one orange, grated
1/2 cup (1 stick/4 oz./113g) butter
1 cup all-purpose flour
1 tsp. vanilla extract

Gananche:
1/3 cup heavy cream
8 ounces semisweet chocolate (chopped or chips)
Instructions:
In the bowl of your food processor, process the almonds until they are very finely chopped, but not oily. Add the sugar and the orange zest, and process again. Cut the butter into six to eight pieces, add to the bowl, and process until the whole deal masses up into a ball. Add half the flour and process again until well blended. Add the vanilla and process again. Add the rest of the flour and process until the mixture works itself into a cohesive mass. Take it out of the food processor and knead it very briefly, then wrap in plastic wrap and refrigerate.

Preheat the oven to 350 degrees F/180 degrees C.

Remove the dough from the refrigerator and cut into small pieces of more or less uniform mass. You should have approximately forty pieces. Roll the pieces into balls and place them on your cookie sheet. The centers do not need to be more than two inches apart. All forty of them will fit on a half-sheet pan.

Using either your fingertip or an implement that is round and blunt and shaped much like your fingertip, press a depression into each ball. This will also flatten them out. You can repair major cracks, but just ignore minor ones.

Bake in the middle of preheated oven for approximately 20 minutes. They will be golden brown on the top and if you carefully lift one off the sheet, it will be slightly darker brown on the bottom. Remove the pan from the oven to cool.

While the cookies are cooling, make the ganache. Put the cream in a pyrex measuring cup and heat for one minute on high in the microwave. Dump the chocolate pieces into the cream and stir with a fork until smooth. If the chocolate does not melt completely, put the mixture back in the microwave on high for another fifteen seconds and stir again. Repeat if necessary.

Using a teaspoon, fill the cookie hollows with ganache.

Makes 40 cookies.

Source: Greg (anapestic) from blogger.com. Photograph taken by Greg.
Date: October 16, 2006