Diana's Desserts - www.dianasdesserts.com
See more recipes in
Miscellaneous Desserts, Etc.
Miracle Margarita Flan Cake
in Diana's Recipe Book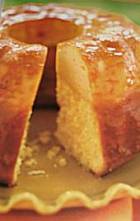 Average Rating:
(total ratings: 9)
[Read reviews]
[Post a review]
Servings: 14-16
Comments:
This dessert combines the creamy allure of caramel flan with a tequila-scented butter cake. The Bundt pan is layered with caramel ice cream topping from a jar, a cake batter made from a mix (augmented with lime zest and tequila) and a three-egg custard mixture. As it bakes (here's where the miracle comes in), the custard rises to the top, creating a flan atop the fine-crumbed cake

From the Author, W. Park Kerr:
"Whoever invented this cake is a genius. It has been in my family's repertoire of favorite desserts for as long as I can remember. A culinary freak, this crazy miracle cake implodes in the pan, yet still comes out luscious! Made with the classic ingredients of the perfect suburban 1950's dessert, it's perfumed with coconut and the zest of citrus, then laced with orange essence of Grand Marnier and a tequilla kick. I'm telling you, this cake is extremely, deliciously addictive. So throw one of these decadent desserts together for your next dinner party and impress the hell out of your guests, without having to flambe anything."
Ingredients:

1 (14-ounce) can sweetened condensed milk
1 (12-ounce) can evaporated milk
3 eggs
3 tablespoons orange liqueur, such as Grand Marnier
1 teaspoon very finely grated orange peel (zest), colored part only
Vegetable oil cooking spray
1/2 cup caramel ice cream topping (Cajeta), (see notes below)
1 (18.25-ounce) box butter recipe cake mix, such as Duncan Hines Moist Deluxe Butter Recipe Golden cake mix
Ingredients listed on cake mix package, substituting 1/2 cup tequila for part of water
1 teaspoon very finely grated lime peel (zest), colored part only
Optional: 1 cup sweetened flaked coconut; (see notes below)

Notes:
Cajeta, a caramel sauce made with goat milk, can be substituted for caramel ice cream topping. Cajeta is sold in Latin American markets.
If you like coconut, it makes a nice addition to this cake.
Instructions:
1. Preheat oven to 325 degrees F/160 degrees C.

2. In large bowl, whisk sweetened condensed milk, evaporated milk, 3 eggs, orange liqueur and orange zest. Set aside.

3. Generously spray a 12-cup bundt pan with nonstick cooking spray. Pour caramel sauce in bottom of pan. Set aside.

4. Prepare cake mix according to package directions, substituting 1/2 cup tequila for 1/2 cup of required water and adding lime zest. If using, fold coconut into batter. Pour batter on top of caramel in pan. Stir milk mixture and gradually pour over cake batter (milk mixture will sink and batter will rise).

5. Bake in preheated oven for 45 to 50 minutes or until toothpick inserted in center comes out clean. Let cool in pan on wire rack 15 minutes. Unmold onto serving plate. Let cool completely.

Makes 14-16 servings.

Nutritional Information (per serving):Calories 650 (80 percent from fat), fat 57.7 g (sat 8.9 g), protein 2.5 g, carbohydrates 30.1 g, fiber 0.8 g, cholesterol 32 mg, sodium 540 mg.

Source: Viva Margarita
Fabulous Fiestas in a Glass, Munchies, and More By W. Park Kerr
Photographs by Leigh Beisch
Hardcover
Published in April, 2004
ISBN 0811840220
Date: October 15, 2006
Reviews
Reviewer:
Christine Norris
Rating:
Review:
Can this be any more decadent? If you are going to use a cake mix, the Duncan Hines Golden Butter is the best. Almost like a pound cake. Well, there goes my diet, but what a way to go! Thanks.
Reviewer:
fnieto
Rating:
Review:
I have made this cake several times, each time, its been a hit. Thanks!
Reviewer:
Amber
Rating:
Review:
This cake is so cool! Although I advise anyone making this cake to let it sit in the fridge overnight before eating. If you eat it too soon after it comes out the oven, the tequila taste is overwhelming! But I think this one is a winner
Reviewer:
Janury
Rating:
Review:
OMG, this is awesome, the best cake i've had in my life. Thanks!!!!
Reviewer:
Jackie
Rating:
Review:
OMG, the texture & flavor of this cake is amazing! If you like Mexican food or just like Margaritas, you will LOVE this recipe. And, it couldn't get any easier...I will seek out cajeta for this the next time I make it though. I'm sure that the 'real thing' is MUCH better than the best caramel ice cream topping!
Reviewer:
Julia
Rating:
Review:
I don't usually make recipes involving mixes, but this one looked too good to resist. I loved it, but it still tasted like a cake mix to me. Does anyone know a cake recipe that would be a good substitute for the mix? Other than that, this cake was amazing!
Reviewer:
Joanne
Rating:
Review:
A co-worker made this cake for one of our potlucks and I was hooked from then. She gave me the recipe and I've made it several times. LOL, it can get expensive ! But OMG, it is soooo worth the treat!
Reviewer:
Cooki Turner
Rating:
Review:
This is one of the very best cakes I have ever baked and then served to guests. The combination of all ingredients for flavor and taste is pure "nirvana". Nothing but rave reviews from friends. A dessert that is requested for many gatherings.
Reviewer:
DebbieAnne
Rating:
Review:
I have made this cake several times and it is a hit every time!!! Today I made it for my sister and myself's birthday celebration. The best!