Diana's Desserts - www.dianasdesserts.com
See more recipes in
Quick Breads
British Style Popovers (Yorkshire Puddings)
in Diana's Recipe Book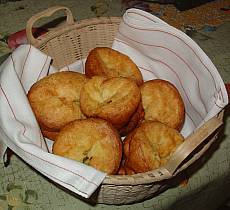 Average Rating:
(total ratings: 4)
[Read reviews]
[Post a review]
Servings: 6 regular size popovers, or 12 mini popovers
Comments:
What are Popovers?

Popovers (or individual size Yorkshire Puddings) are a puffy, muffin-size bread with a crisp brown crust and a somewhat hollow, moist interior. Basic popovers begin with a simple batter of eggs, milk, butter and flour. The high proportion of liquid in the batter creates steam that leavens the bread. Popovers may be baked in muffin tins or special popover pans, which have extra-deep cups. The name is said to come from the fact that as the batter bakes and expands, it "pops over" the sides of the cup-shaped indentations. Popovers can be plain or variously flavored with items such as cheese, spices or herbs.

Source: The New Food Lover's Companion, Second Edition, by Sharon Tyler Herbst

Just five simple ingredients are needed to make these popovers. High, hollow, and steamy in the center, with a dark crusty outer layer, they literally pop up and over the rim of the pan as they bake. Popovers can be baked in a regular 6 cup popover pan, a 12 cup mini popover pan, muffin tins or custard cups. Don't forget to preheat the oven before you bake your batch of popovers and do not under any circumstances open the oven door until the popovers are done!

Popovers are delicious served with Roast Beef or Prime Rib. Spoon some of the juice (au jus) from your roast beef or prime rib over popovers and meat, and serve with mashed potatoes and a nice vegetable such as peas or carrots for a very traditional "British" style meal.
Ingredients:

1 1/4 cups all-purpose flour
1/4 tsp. salt
3 large eggs
1 1/4 cups milk
2 tbsp. unsalted butter, cut into 6 even pieces (or 12 pieces, if making 12 mini popovers)
1 tbsp. unsalted butter, melted


Instructions:
1. Oil, butter or spray (with nonstick vegetable oil spray) a 6-cup regular size or a 12-cup mini popover or muffin pan. Preheat oven to 400°F (200°C) and set rack in middle of oven.

2. Place popover pan on rack in preheated oven for 2 minutes.

3. While popover pan is preheating, blend flour, salt, eggs, milk and melted butter until mixture is the consistency of heavy cream, about 1 to 2 minutes. This can be mixed in a food processor, blender, electric mixer, or with a hand mixer. The batter can be made ahead of time and stored in the refrigerator. Batter should be used at room temperature.

4. Place 1 small piece of butter in each cup of popover pan and place pan back in preheated oven until butter is bubbly, about 1 minute.

5. Fill each cup half full with batter and bake 20 minutes. Reduce temperature to 300°F (150°C) and continue baking 20 minutes.

Makes 6 regular size or 12 mini popovers.

Flavor Variations:
If desired, herbs, such as finely chopped fresh rosemary or fresh Italian flat-leaf parsely can be added to the batter for an herb-flavored popover. For six large or 12 mini popovers, use a combination of 1 1/2 tablespoons fresh rosemary, and 1 teaspoon Italian flat-leaf parsely. Add to popover batter.

Also, crumbled blue cheese (Roquefort, or other strong flavored cheese) can be added to this recipe. Place a scant 1/2 teaspoon of crumbled cheese in each popover (or muffin) cup, then add the popover batter to each cup and cook per above instructions.

Tip:
Popovers are best eaten right from the oven. Serve with butter, jam or other sweet or savory spreads if not serving with a traditional "British" style dinner.

Photograph taken by Diana Baker Woodall© 2004
Source: DianasDesserts.com
Date: October 28, 2003
Reviews
Reviewer:
amy
Rating:
Review:
My mom use to make them when she was little, then she taught me and all my friends and family love them.
Reviewer:
unknown
Rating:
Reviewer:
Yum
Rating:
Review:
Delicious!
Reviewer:
Betsy
Rating:
Review:
So delicious! My oven must be hotter than most, they were done in just 10 min at 300. So keep an eye on them!