Diana's Desserts - www.dianasdesserts.com
See more recipes in
Rosh Hashanah Menu
Chocolate Roulade with Mascarpone Filling
in Diana's Recipe Book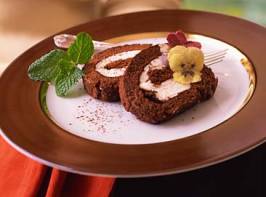 [Be the first to post a review!]
Servings: 8
Comments:
Make something a bit differnt for Rosh Hashanah this year, a wonderful and very pretty chocolate roulade. This recipe is also wheat-free (uses potato flour), so it's suitable for coeliacs.
Ingredients:

For Chocolate Cake:
6 eggs, separated
1/2 cup superfine baker's sugar or caster sugar
1/4 cup Dutch process cocoa, plus extra, for dusting
2 tbsp. potato flour (potato starch)
4 1/2 oz. dark chocolate, melted

For Marmalade Cream Filling:* (see note below)
1/4 cup orange marmalade
1 1/2 tbsp. orange-flavoured liqueur (such as Cointreau or Grand Marnier)
10 oz. mascarpone cheese
2 oz. pistachios, lightly roasted, coarsely chopped

Garnish: (optional)
Raspberries or edible flowers
Mint sprigs
Instructions:
1. Preheat oven to 350 degrees F/180 degrees C. Line a 15 x 10-inch jelly roll pan (swiss roll tin) with parchment paper.

2. Using an electric mixer, whisk yolks and sugar until thick and pale. Sift cocoa and starch over then fold in gently. Add chocolate and 2 tbsp. water and stir gently to combine. Using an electric mixer, whisk egg whites in a clean bowl until soft peaks form, then fold into chocolate mixture. Spoon mixture into prepared pan and smooth top. Bake in preheated oven for 12-15 minutes or until cake springs back when lightly pressed. Dust top of cake heavily with cocoa then cover with a piece of parchment paper. Invert cake, with paper, on to a work surface, then gently peel away the parchment paper.

3. Working quickly while cake is still hot, gently roll up from long side, using paper as a guide. Let cool completely before filling.

4. For Mascarpone Cream Filling *(see note below):
Combine marmalade, liqueur and 2 tbsp. water in a small saucepan and stir over low-medium heat until combined and marmalade has melted. Combine with mascarpone in a bowl and whisk until thick. Stir in pistachios. Gently unroll cake and spread with filling, leaving a half inch (2 cm) border. Re-roll cake (it may crack a little), then wrap in foil and refrigerate for 30 minutes or until filling is firm. Cake will keep, refrigerated, for up to 3 days. Serve topped with raspberries, edible flowers or mint sprigs.

Note:
The cream filling may be made without the marmalade and pistachio's. If desired, you may make a cream filling with just the mascarpone cheese and orange liqueur.

Makes 8 servings.

Tips:
Grease the jelly roll pan before lining it. This will make the paper sit flat and adhere to the corners.

To fold egg whites into a batter, always use a large metal spoon and a light hand to preserve the air. Start by stirring 1/4 of the egg whites into the batter to lighten it, then gently fold in remaining egg white.

Potato flour (potato starch) is available at most supermarkets in the baking or flour section.

For the best flavor, use a dark chocolate with at least 60 % cocoa solids.
Date: September 17, 2006