Diana's Desserts - www.dianasdesserts.com
See more recipes in
Ramadan
Kunafa
in Diana's Recipe Book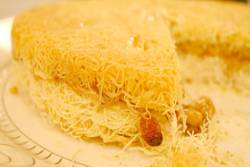 Average Rating:
(total ratings: 12)
[Read reviews]
[Post a review]
Servings: 12
Comments:
Kunafa is traditionally eaten during Ramadan in arab and middle-eastern countries. It is served during the non-fasting hours which is called Iftar, the time between sunset and break fast.
Ingredients:

1 (1 pound) package Kataifi (can be found in most middle eastern, arab or greek grocery stores or markets)
1/2 lb. (2 sticks/8 oz./226g) butter, melted
1 1/2 cups granulated sugar
1 cup water
Juice of 1/2 lemon
1/2 tsp. rosewater or vanilla extract
1/4 cup blanched whole almonds
1/2 cup golden raisins
2 cups walnuts, coarsely chopped (or 2 1/2 cups pistachios and omit raisins)
2 1/2 tbsp. granulated sugar
2 tsp. ground cinnamon
1 lb. soft ricotta cheese (this is an alternative filling, if using ricotta omit the nuts, raisins, cinnamon and the 2 1/2 tbsp. sugar)
Butter, for buttering the pan
Instructions:
1. In a heavy bottomed saucepan over medium-high heat, add water, the 1 1/2 cups sugar and lemon juice. Stir to combine. Bring to a boil. Let simmer to a syrupy consistency. Remove from heat, let cool and add rosewater or vanilla.
2. Preheat oven to 350 degrees F/180 degrees C. Butter a 12-inch round, 2-inch high cake pan.
3. In a large bowl gently loosen kataifi. Mix very well with the 1/2 pound of melted butter. Place blanched almonds in a decorative pattern in the cake pan. Cover with half of the kataifi. Press down lightly.
4. If using the ricotta cheese, spread in an even layer over kataifi, then cover with the remaining half of the kataifi. Press down gently.
5. If using the raisins and walnuts sprinkle an even layer over kataifi. Sprinkle with cinnamon and sugar. Cover with the remainig half of the kataifi. Press down gently.
6. Bake until lightly golden, about 30 to 45 minutes. (Note: the reverse side will be more golden when you turn it out.)
7. Immediately pour cold sugar syrup evenly over the hot kunafa. Let cool completely to room temperature. Invert onto serving plate.
8. If using the ricotta cheese, kunafa should be served warm or hot. It may be difficult to invert with the ricotta filling so cut and serve from pan.

Makes 12 servings.
Source: Food TV Canada
Date: September 10, 2006
Reviews
Reviewer:
sm
Rating:
Review:
My mother makes a very light and simple version she learned from her Lebanese friend. Divide the kataifi on to 2 greased baking sheets; bake on moderately high until golden. Let cool completely. Whip some whipping cream. Spread over one sheet of Kataifi. Top with second sheet. Drizzle over sugar syrup that has been flavoured with a small amout of orange blossom water and a squeeze of lemon. Drizzle half over the top and keep remaining in a small pot for people who want to add more. Easy peasy, quick and deliciously light.
Reviewer:
fatma
Rating:
Review:
it was easy to make and i loved it and my family really enjoyed it. the thing is, we used to get it from shops so this was way better home made and all..thanks
Reviewer:
Loridale
Rating:
Review:
it's the most fantastic dessert that i've ever tasted in my whole life!!!!!
Reviewer:
ruby
Rating:
Review:
It was the most delicious dessert which I extremely loved and enjoyed to taste it !
Reviewer:
Kathleen
Rating:
Review:
I recently learned this recipe in Saudi Arabian cooking class...it is the yummiest thing I've ever eaten. I plan on making a big pan of it and taking in to my coworkers.
Reviewer:
anima
Rating:
Review:
OMG!! This is the best ever. Thanks so much!!I LOVE IT!
Reviewer:
susie
Rating:
Review:
My mom used to use sweet white cheese (queso blanco), however improvised over the years and used a variation that included ricotta and mozzarella, sweetened with a little sugar & vanilla.
Reviewer:
hiam
Rating:
Review:
Kunafah, the best Arabic sweet!
Reviewer:
susan
Rating:
Review:
This was the first time for me to make Kunafah and I really loved it. I will now take it to my coworkers after the Eid holidays. Happy Eid to everyone.
Reviewer:
Lebanese
Rating:
Review:
Mmmm. Knafeh is my favourite desert. It originates from Nablus in Palestine and till this day, its the Palestinians who make the best knafeh. And it is the Palestinian cheese (either the nabulsi or the akkawi) that makes the best knafeh.
Reviewer:
Dulcie
Rating:
Review:
I am rating this 3 stars because the filling is not quite authenic. I ended up calling my grandma in Syria who got in touch with her friend, the local pastry shop chef and got a recipe for the filling that was just divine. No measurements though. Basically, you boil 1cup water and 1/2 cup sugar- then add 1/2 cup of finely ground semolina powder. Stir this until thickened, then add Akawi cheese or any other melting non salted cheese. Stir until the cheese is fully melted. Cool a little. Pour this filling between the layers of Kataifi but careful not to go to the edge or you will not be able to invert it. Proceed with the recipe as usual.
Very easy and extremely simple yet decadent and delicious.
Reviewer:
sara
Rating:
Review:
I'm so confused! How much Kataifi do you mix in first? Then how much do you add in? Please give details!