Diana's Desserts - www.dianasdesserts.com
See more recipes in
Christmas
Sticky Toffee Date Pudding
in Diana's Recipe Book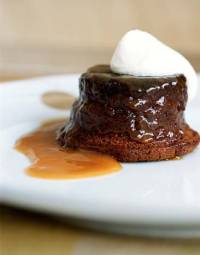 Average Rating:
(total ratings: 3)
[Read reviews]
[Post a review]
Servings: 12
Comments:
Sticky Toffee Pudding - A Christmas Time Favorite in England and becoming a favorite elsewhere.

A Little History of Sticky Toffee Pudding:
Originally called "icky sticky toffee sponge", sticky toffee pudding is a British dessert composed of a moist sponge cake made with fine chopped dates and then covered with a toffee sauce.

The dessert's origins are considered a "mystery" according the gastronomic journal, Saveur; however the dominant story is that Francis Coulson developed and served this dessert at his Sharrow Bay Country House Hotel in the Lake District in 1960. It has been stated by Coulson's former protege and chef, Juan Martin, that Coulson hinted that the original concept for the dessert was derived from a farm wife in Lancashire.

However it was also found that the Landlady of The Gait Inn, Millington invented it in 1907 and was then sold in the pub much to everyone's delight. In any case, Coulson introduced and refined the dessert to the general public making his recipe completely accessible to all those who asked.

A final story regarding the origins of the dessert involves The Udny Arms Hotel in Newburgh, Aberdeenshire. The hotel has claimed that it invented the pudding for years, and it is true that, if you ask almost anyone from the surrounding area, they will cite the hotel as the birthplace of the dish.

Source: Wikipedia.com

Which ever story is true, you definitely must try this wonderful moist and sweet pudding (they call cakes puddings in Britain). We would call these little goodies, cakes in the United States......Diana, Diana's Desserts
Ingredients:

Pudding:
1 cup whole dates
1 tsp. vanilla extract
1 tsp. baking soda
5 tbsp. butter, softened
2 cups all-purpose flour
1 teaspoon baking powder
1/4 teaspoon salt
3/4 cup granulated sugar
1 egg, beaten

Toffee Sauce:
7 tbsp. unsalted butter
3/4 cup heavy cream
1 1/3 cups dark brown sugar
3 tbsp. water
2 tbsp. rum, or to taste (optional)

Serve with: (optional)
Whipped cream, vanilla ice cream or store-bought chocolate sauce
Instructions:
Bring a large pot of water to a boil. Add the dates, and boil for 5 minutes. Strain, and place the dates in a bowl of cold water. Working in the water, remove the skins and pits from the dates. Place the dates in a medium saucepan with 1 cup water, vanilla extract, and baking soda. Bring to a boil and allow to simmer for 2 minutes (watch carefully, as it will foam). Set aside to cool.

Preheat oven to 350 degrees F/180 degrees C. Butter an 8 x 12-inch baking dish or 12 (6-ounce) ramekins very well. Combine the flour, baking powder, salt, and sugar in a bowl. Cream the butter briefly in a mixing bowl. Add the date mixture, dry ingredients, and beaten egg, and stir gently to combine. (Do not overmix.) Spoon the mixture into the prepared baking dish or ramekins until a bit less than half full. Set on a cookie sheet, and bake for 25 to 30 minutes.

Toffee Sauce:
While the pudding bakes, combine the butter, cream, and brown sugar with the 3 tablespoons water in a saucepan and bring to a boil. Reduce the heat and simmer for a few minutes, add rum (if using), and set aside, keeping the sauce warm.

Remove the pudding from the oven when a skewer inserted in the center comes out clean. If using a large baking dish, cut the pudding into 12 squares. Pour the sauce over the pudding, allowing it to seep down around the sides and cover the top of pudding. (Use a fork to pull the pudding away from the pan, to get the sauce down the sides.) Bake for 2 to 3 more minutes. If making puddings in ramekins, spoon sauce over the tops of puddings in ramekins and bake 2 to 3 more minutes. Remove and cool to room temperature. Serve with whipped cream, vanilla ice cream or top with chocolate sauce instead of toffee sauce, if desired.

Makes 12 servings.
Date: August 25, 2006
Reviews
Reviewer:
Gayle
Rating:
Review:
This is a keeper! I would watch this being made as a child,so I did do a few things as I remembered. The smell and taste are outstanding! SO EASY
Reviewer:
mark
Rating:
Review:
Your sticky toffee pud is delish!
Reviewer:
Julia
Rating:
Review:
BIG HIT!!! Every time I make it. Thanks!